COURTESY OF Jordan Silverman
Peg Tassey and the Kissing Circle
It's been 12 years since folk-rockers Peg Tassey and the Kissing Circle performed live. But for three nights this week, David Symons, Indigo Ruth-Davis and Tassey reunite to perform opening duties for formerly local klezmer band Inner Fire District. (IFD is another Symons project. He also founded Burlington's radical street band Brass Balagan and performed with Black Sea Quartet before relocating to New Orleans.)
Twelve years is a long hiatus. For a little perspective on how the world has changed since the last time anyone witnessed the KC's emotive brand of string-laden, soul-searching music, here's a partial list: Barack Obama served two terms as president of the United States; Apple introduced the iPhone; the microbrew revolution exploded; British soul singer Amy Winehouse came and went; and video stores went the way of the dodo. But here's one thing that hasn't changed: Tassey is a certified badass.
She was a fixture of the Burlington music scene in the '80s, '90s and into the '00s, appearing in multiple bands, including hard-rocking outfits Peg Tassey and Proud of It and the Velvet Ovum Band. Check out her website to hear recordings of all three projects, as well as some NSFW videos. She also founded the former fringe festival Fuck X Fuck You as a response to South by Southwest, the annual film/music/tech clusterfuck in Austin, Tex.
But why the gap?
"I had a vocal-cord injury," Tassey told Seven Days in a recent phone interview. "I had to stop for a while."
The strain on her voice box eclipsed her ability to sing for many years. But now, at the end of a lengthy respite, she's reclaimed her pipes.
A few special guests join Tassey and co. for their Thursday show, including bassist Caroline O'Connor and dancer/choreographer Sage Horsey.
"I've had dancers with my band since the 1980s," said Tassey. "Originally, I had other women come dance with me because ... I couldn't find other women to play music with back then. I really liked having other women on stage with me."
While Tassey may have more or less retired from performing, she's not leaving the music biz any time soon. For the last three years, she's been busy producing Steady Betty singer Miriam Bernardo's forthcoming album. More on that soon.
You can catch the Kissing Circle and Inner Fire District on Thursday, July 13, at the Light Club Lamp Shop in Burlington; Friday, July 14, at Whammy Bar in Calais; and Saturday, July 15, at Three Penny Taproom in Montpelier.
Dancing in the Street
In case you missed it, Madaila made a big announcement last week: the return of Madaila on Main. For the second year in a row, the ever-innovative pop quintet plans to shut down the Nectar's block of Burlington's Main Street for a massive, all-day rager on Saturday, September 2.
This year's initial lineup includes a slammin' assortment of local and regional heavy hitters, including power-funk collective Turkuaz, Americana singer-songwriter Caroline Rose, blues-rockers Wild Adriatic and, of course, Madaila themselves. And that doesn't include the after-parties at Nectar's and Club Metronome, which feature sets from Swale, Rough Francis, Harsh Armadillo and DJ Disco Phantom. Wild Adriatic also present a full set of Led Zeppelin covers, and the Medallions, a funkadelic cover band whose members bear a striking resemblance to Madaila, will lead a "super jam."
Here's another reason to be excited: This year's installment does not conflict with the return of "I Love the '90s" at the Champlain Valley Exposition. Last September, area music fans had to choose between Madaila's blowout or Vanilla Ice, Salt-N-Pepa and several other throwback artists.
This year, R&B icons TLC headline "I Love the '90s: The Party Continues Tour," along with Sugar Ray's Mark McGrath, C+C Music Factory with Freedom Williams, All-4-One, Rob Base and SNAP!. And in case you were wondering, TLC recently confirmed that they have not relaxed their policy on scrubs after comedian Paul F. Tompkins posed the question on Twitter.
Ten Years Later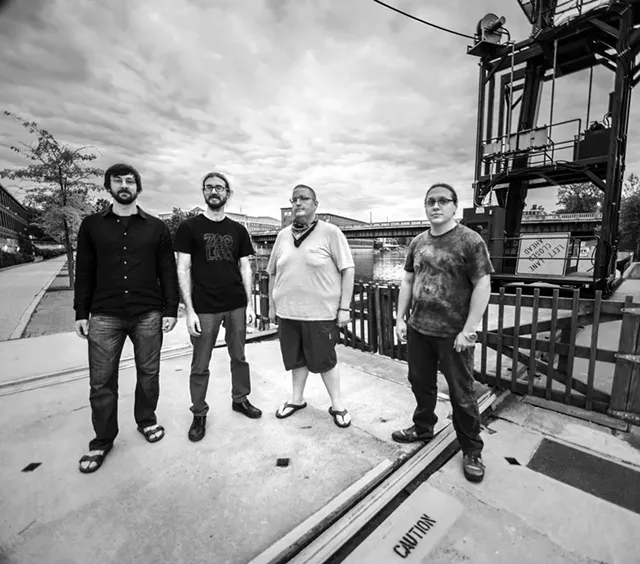 Katrick Photography
The Le Duo
The le duo celebrate their 10-year anniversary on Saturday, July 15, at Radio Bean in Burlington. Two sets are planned — one with the current lineup of guitarist Adrian Benoit, keyboardist Adam Ploof, bassist Gahlord Dewald and drummer JB Ledoux — plus a "reunion" set featuring past members. The free-jazz, improvisational quartet has had more than 40 players come and go since its inception in 2007.
There's no point in mincing words: The le duo's music is challenging. In an email to Seven Days, Ledoux writes, "Through improvisation and absurdity, the le duo endeavors to break down the barrier between performer and audience by destroying expectations of what is art/music, and allowing for the re-imagining of the spiritual/artistic connection.
"Also, sometimes [we] sound like a jam band, because Burlington," he adds.
Though many special guests are likely to appear, cellist Lauren Costello (aka ouzKXQlzn) and tabla player Leland Scott Davis (aka LSD Organic) are confirmed. Experimental filmmaker Jay Blanchard will provide visuals for "aural integration," as Ledoux puts it. And if you have a shaker or other hand-held percussion instrument — bring it, because an open percussion jam is likely to break out.
BiteTorrent
New record store alert! Seven Days recently caught a whiff of a new vinyl shop called Autumn Records set to open in Winooski. After some speculation as to who could be behind the forthcoming music emporium, we confirmed that its proprietor is none other than Burlington's master of all things experimental, Greg Davis.
"I thought it was time for Winooski to have a record shop," said Davis over the phone.
Right you are, Mr. Davis! The shop will carry a mix of new and used vinyl, with a heavy lean toward used. Though no exact date has been confirmed, Davis plans to open his doors in September.
Attention, fans of hip-hop legend Tupac Shakur: Social Club & Lounge, Paperboys Inc. and Musik Junkeez present a viewing and soundtrack release party for All Eyez on Me, the new biopic about the deceased rapper, on Saturday, July 15, at the Social Club. Big Rah of Ruff Ryders Entertainment hosts. Following the screening, stick around for an after-party featuring performances from Burlington's S.I.N.siZZle and sets from DJs Dakota and Big Rye. Additionally, rapper SFive will perform his song "Sex in the City," which appears on the film's soundtrack.
Listening In
If I were a superhero, my superpower would be the ability to get songs stuck in other people's heads. Here are five songs that have been stuck in my head this week. May they also get stuck in yours. Follow sevendaysvt on Spotify for weekly playlists with tunes by artists featured in the music section.
Cut Copy, "Need You Now"
Cults, "Offering"
Rhye, "Summer Days"
Bobby Darin, "Beyond the Sea"
Sunny & Gabe, "Vacay"