Courtesy Of George Petit
George Petit
Longtime readers may recall that for several years, the Soundbites column was designated as a "jazz-free zone" during the annual Burlington Discover Jazz Festival. I didn't do that to be a contrarian jerk — well, maybe just a little. But more because the festival was so overwhelming and inescapable that I felt it necessary to provide a musical refuge to jazz-averse readers, as well as an outlet for nonjazzy happenings. That prompted one of the all-time great reader responses from a certain local jazz musician, who shall remain nameless. He wrote: "A jazz-free Soundbites column? How is that any different from the rest of the year?"
Touché.
In recent years, I've softened my stance on writing about the BDJF in the column. Mostly that's because, well, there just isn't much happening musically that week in the greater Burlington area that doesn't now fly under the BDJF banner. When the weekly '80s dance party Retronome at Club Metronome is listed on the BDJF calendar, you know the takeover is complete. So it is that I humbly bow to our jazz overlords.
Even to casual fans, the marquee names at this year's fest should be familiar. And if you really need me to tell you why you should go see Tony Bennett or Maceo Parker, I think we should probably start seeing other people. It's not me, it's you.
I say this every year, but for me the best part of the Discover Jazz fest is just that: discovery. Most of my favorite memories of jazz fest were made not in a cushy seat at the Flynn MainStage, but at smaller clubs, or in front of outdoor stages, often watching local artists. I expect that to be true again this year. So here are some under-the-radar shows that I'm betting will be festival highlights through the first week.
The fun begins on Friday, May 30, with the traditional festival-opening block party on Church Street, Long Trail Live. Several intriguing acts are set to grace the outdoor stages on the Marketplace, including the genre-jumping organ trio Organissimo, jazz-pop trio Manner Effect and groove-heavy Afro-funk outfit Ikebe Shakedown. But I'd personally be most curious to check out the Brian Boyes-led Big Bang Bhangra Brass Band, a local ensemble that fuses Indian Bhangra, New Orleans second line and classic swing.
Radio Bean will be a consistent hot spot for local jazz throughout the festival. Friday sees the welcome return of the prodigiously talented prodigal pianist Parker Shper, who blew my mind at a BDJF show in 2011. Herbie Hancock fans may want to stick around and catch local outfit Vintage Fur, who will perform Hancock's seminal 1973 album Head Hunters.
On Saturday, May 31, the Bean will again be jumpin', this time thanks to the trio of vocalist Miriam Bernardo, multi-instrumentalist Michael Chorney and bassist Rob Morse. Then it's Brooklyn-based drummer and VT expat Conor Elmes with his outfit C Local. And stick around late at night. Some dude named Marco Benevento is playing. I've heard he's pretty good.
Saturday is also Big Joe Burrell Day, in honor of the late, great saxophonist and Unknown Blues Band front man whose likeness will forever live on in statue form on the top block of Church Street. The official Big Joe celebration takes place during the day at City Hall Park and features the Mike Tucker Organ Trio, bossa nova and French pop fusionists Banda Magda and blues guitarist David Gerald. Other outdoor stage highlights include West African groove sharks Barika on the top block of Church Street, local jazz giant James Harvey with his trio on the City Hall Stage and surf-rockers the High Breaks on the Church Street Center Stage, all appearing as part of the Twilight Jazz Series of outdoor shows on the Marketplace.
If improvisational jazz is more your speed, check out the first of a three-night invitational jam session at Signal Kitchen called Standards. Saturday's guests include Morse, Shper and Elmes.
Sunday's slate is highlighted by local marimba virtuoso Jane Boxall debuting with her new quartet with Morse pianist Randal Pierce and sax player Dan Liptak at American Flatbread. I'd also recommend Michael Bellar and the AS-IS Ensemble at Radio Bean, who will have a special guest, Jesse Murphy. He's Regina Carter's bassist — see this week's cover story. The Twilight Jazz Series looks pretty hot Sunday, too, with the Andrew Moroz Trio, Cynthia Braren, George Petit's Grok Band, Paul Asbell, Mike Martin and Trio Gusto, and Soule Monde scheduled to appear on various Church Street stages throughout the day.
And that's just the first weekend.
Happy jazz fest, folks.
Bite Torrent
Courtesy Of Patrick Watson
Patrick Watson
In other festival news, when I met with Signal Kitchen cofounder Alex Lalli a few months ago to check out the club's renovation, he hinted that he and the SK crew were working on a fest of their own. Late last week, the SK folks announced they do indeed have a festival planned for this summer called WYSIWYG, which is an acronym for "what you see is what you get."
The fest will take place on August 23 and 24 in the field behind Burlington College, where the Precipice happened last year. WYSIWYG will focus as much on local food as arts and music — read Side Dishes for that score. But the music is pretty enticing, too. Headliners include, among others, Lee Fields and the Expressions, Patrick Watson, Shakey Graves, the Barr Brothers, Moon Hooch, and Anaïs Mitchell and Jefferson Hamer. That's in addition to a slew of local favorites, to boot.
Speaking of cool music in the great outdoors, Burlington City Arts will present free lunchtime concerts every Wednesday and Friday in City Hall Park all summer long — weather permitting, obviously. The series kicks off this week with the DuPont Brothers on Wednesday, May 28, and folk songwriter Colin McCaffrey on Friday, May 30.
The series will feature some truly excellent local and regional talent, including Rob Morse and Parker Shper (June 4), Michael Chorney and Maryse Smith (June 13), the Starline Rhythm Boys (June 25), PossumHaw (June 27), Dave Keller (July 11), Gusakov Trucking Company (July 18), Wooden Dinosaur's Michael Roberts (July 30), Kick 'em Jenny (August 8) and the New Line (August 22), to name just a few.
Moving on, I always appreciate when readers write in to tell me about a band they're psyched about who are coming to town and that I might not know. As much as I try to stay on top of knowing every band who's playing everywhere all the time, sometimes I slack off and watch the Sox game instead. Sorry.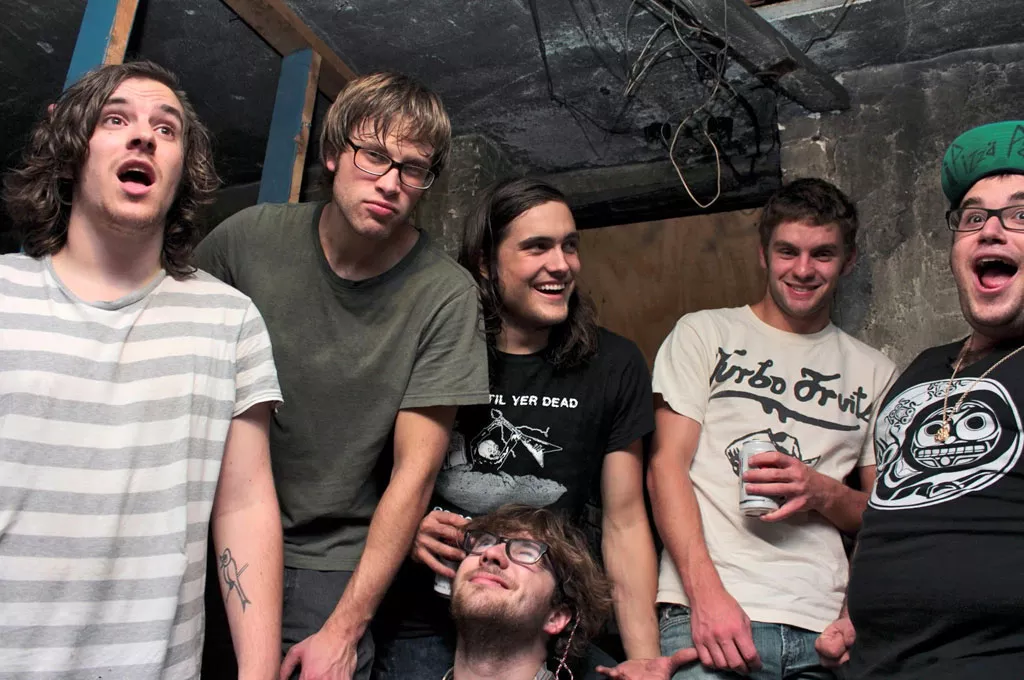 Courtesy Of Diarrhea Planet
Diarrhea Planet
Anyway, in the past week three different readers have emailed to extol the virtues of a Nashville-based punk band called Diarrhea Planet who are playing the Monkey House this Tuesday, June 3. Here's the gist of those emails: "Dude, they're awesome. And yeah, the name is pretty gross."
Dudes, you're right. DP are indeed awesome. And that name is atrocious. But who cares? Perusing the music available at the band's Bandcamp page, I'm reminded of a harder version of one of my all-time favorite punk bands, the Queers — also an unfortunate name in hindsight — with just the right touch of hair-metal guitar wankery. And I'm told DP put on one of the most raucous shows around. Thanks for the tip, y'all.
Last but not least, we close on perhaps the best pun I've seen in years.
Michael Corn is a Middlebury-based guitar teacher who will present a student recital at 51 Main at the Bridge this Thursday, May 29. Corn's students range in ages 12 to 18 and will perform solo, in duos or in trios in a variety of styles. Normally, a student music recital would not exactly be stop-the-presses news. And this one isn't either, except for one thing: the name of the recital. Ready?
Children of the Corn.
Michael Corn, if I ever have kids, you're teaching them guitar.
Listening In
A peek at what was on my iPod, turntable, eight-track player, etc., this week.
Diarrhea Planet, Yama-Uba EP
Walking Bicycles, To Him That Wills the Way
The Roots, ... And Then You Shoot Your Cousin
Sturgill Simpson, Metamodern Sounds in Country Music (Yes, still. Favorite record of the year so far.)
American Football, American Football
The original print version of this article was headlined "Jazz it Up "