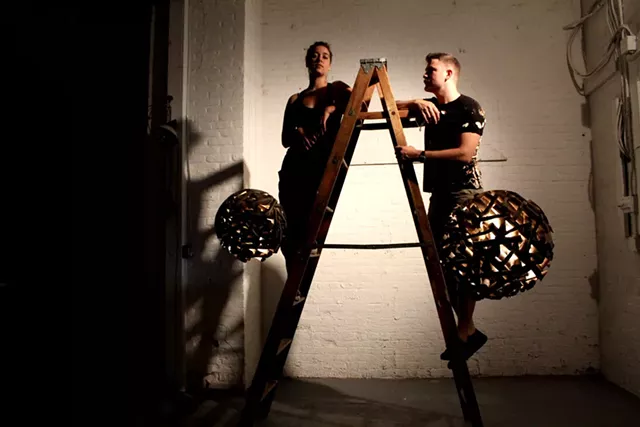 Courtesy Photo
Ivamae and Clay Mohrman
Behind the Music
I'm tired. I mean, as an adult in my thirties, I'm always at least a little bit tired. But I'm especially drained today because I just spent the last seven nights in a row singing karaoke. Why do such a crazy thing, you wonder? Um, because I'm a song-singin' badass that can't be stopped, that's why. OK, but seriously...
If you pop over to the story, you'll see that I put together a li'l roundup of seven places to do karaoke, one for each night of the week. Originally, I envisioned the feature as a first-person narrative about the endurance factor of getting my ass up in front of a mic every night for a week straight. But, as I was out reporting, I realized there might not be a full feature's worth of interesting personal experience there.
Let me sum it up for you: It was a long, fun, tedious, enlightening week, and I learned a lot about local karaoke culture. I also challenged myself to sing a new song every night, as well as one of my old standbys. I strongly encourage you to get out of your comfort zone at your next karaoke session, because, speaking from personal experience, you'll only add to your stockpile of go-to jams. For instance, I'd never sung "Never Been to Spain" by Three Dog Night before last week, and now it's all I want to sing.
A few other tidbits I learned: Every karaoke night has its own way of queuing up its singers. Some have an ongoing list of names that gets cycled through. Newcomers add their names to the end of the list, thus lengthening and prolonging the cycle. Some keep an ordered list of names and songs. Once you sing your first song, you can put your name in for a second. And some curate the order of performers as they see fit. If a newbie shows up, they get to sing before someone who's already sung twice. After experiencing all of the different ways in one week, I honestly can't say which one is the best. It really depends on how many singers there are.
One seemingly universal bit of progress is that physical song directories are out. While many places still have them, they're seldom updated and don't take into account the technical marvels of karaoke databases and YouTube. And no one likes leafing through those sticky things, anyway. Most KJs — karaoke jockeys, duh — are set up for online searching and can pull up anything from YouTube or elsewhere. All you have to do is ask. But beware! Many karaoke vids uploaded to the 'Tube don't have highlighted, follow-along lyrics. Sing at your own risk.
This is all a long-winded way of saying I freaking love karaoke, and I encourage you to get out there and find your heart-song. You must be free at least one night of the week.
Night Light
Have you gotten a chance to read the fall issue of Nest, Seven Days' home and design quarterly (tucked inside last week's issue)? In it, you'll find Rachel Elizabeth Jones' feature about Clay Mohr Lighting. Right at the end of the piece, Jones teases a collaboration of designer Clay Mohrman and singer-songwriter Ivamae. But we wouldn't leave you hanging like that! Read on for full details.
Titled "Casting Coalescence," the joint project gets underway on Saturday, September 29, at the Hive Collective in Burlington.
For those of you who've never seen Mohrman's pieces, he makes geometrically intricate LED lighting concepts fashioned from driftwood. And for those similarly unfamiliar with Ivamae, she's a neo-soul-infused guitarist and songwriter.
"[Mohrman] felt like my music fit the same emotional mood of [his] art," Ivamae tells Seven Days. "The idea is to create an experience, an environment, that the audience can sort of envelop themselves in and be a part of."
"We wanted a space that was really empty, like a blank canvas, so that [Mohrman] could hang up his pieces and no one was distracted by anything other than what we're offering them," she explains, referring to the Hive Collective. "Both of us are interested in created performances that are outside of the norm."
On the night of, ethereal guitarist Tom Pearo will set the mood with ambient entrance music as folks arrive. Mohrman's globe-like fixtures will be scattered about the room and hung from the ceiling in a celestial arrangement. Once folks are settled, Ivamae will perform a set at the center of the setup. Meanwhile, the light pieces will dim and brighten via a lighting panel, working symbiotically with the music.
Rather than sitting still, folks are encouraged to move around the room as they would in a gallery, to experience the light, shadows and sound from different angles.
"I think [we're] looking to push the experience of how people experience our art," says Mohrman. "Is it just something you walk around and view? Is it someone you just watch and take in? We're trying to come together to try and make people think about what the art is — and actually make someone a part of it."
Additionally, Ivamae will have a few limited-edition cassette tapes of some ambient compositions for sale at the event.
Oh, and just in case you were wondering, Ivamae's forthcoming, full-length album is ... still forthcoming. Sorry, folks. No real update on that front.
Smoke Show
Courtesy Photo
Bella's Bartok
I am not a beer guy. I drink it occasionally, but I mostly go for Mexican lagers: Corona, Dos Equis, Pacifico, Modelo, Tecate, etc. So I often feel like I'm out of the loop when it comes to craft beer. I don't like IPAs, which cuts the selection of local microbrews down significantly. Woe is me?
Anyway, the reason I'm discussing beers in this column is because Burlington's Switchback Brewing is gearing up for a late-season mini music fest this weekend. On Saturday, September 29, the South End brewery hosts a whole day of free music, plus a ticketed main-stage show later in the evening.
The hoopla, called Flynn on Fire Festival, is essentially a launch party for the company's new line of smoked beers. I don't think I've ever had a smoked beer before, but I sure do like other things that are smoked. (Draw from that statement what you will.)
The daytime portion is like a good ol' street fair, with vendors, foodstuffs and henna tattoos, plus performances from local singer-songwriter Jacob Green and roots-rockers Stone City Band. The nighttime portion gets considerably more rockin' with Doctor Rick, Northampton, Mass., circus punks Bella's Bartok and fire-dancing/breathing from Jericho collective Cirque de Fuego.
Sounds like a kick-ass way to burn off any last lingering shred of summer. Visit switchbackvt.com for full info.
Listening In
If I were a superhero, my superpower would be the ability to get songs stuck in other people's heads. Here are five songs that have been stuck in my head this week. May they also get stuck in yours. Follow sevendaysvt on Spotify for weekly playlists with tunes by artists featured in the music section.
BROCKHAMPTON, "THUG LIFE"
Jungle, "Smile"
St. Lucia, "Paradise Is Waiting"
Marc Baker, "No Place I'd Rather Be"
Roosevelt, "Wait Up"