courtesy of Sarah Kjelleren
Francesca Blanchard
As I was digging into deux visions, the excellent new album from local songwriter Francesca Blanchard — see the review here — it occurred to me that 2015 has been a particularly strong year for women in Vermont music. It's hardly a secret that the music biz is traditionally a male-dominated arena. That's largely been the case even in the progressive-minded Green Mountains. If you don't believe me, scroll through the last few years of album reviews in this paper and count how many of those bands are fronted by men. (I'll save you some time: Most of them.) But I can't help but feel as though that dynamic is changing and, this year especially, that more women than ever are making significant impacts on the local scene.
Blanchard's album is the latest example but it's hardly the only one. I've written at length about the brilliance that is The Way It Is, the latest record from Maryse Smith. We're almost 10 months into 2015 and I'm still not sure there's been a better local album released this year. Shannon Hawley's new record, A Different Kind of Progress, was an understated gem. Abbie Morin delivered a diverse and mysterious debut, Shadowproof. Grace Potter is, well, Grace Potter.
And it's not just the young guns. Veteran songwriter Kristina Stykos released what is probably her masterwork, Horse Thief. And jazz chanteuse Audrey Bernstein charmed on her most recent record, Alright, OK, You Win.
Singer-songwriters and solo artists aren't the only ones making noise. Questionable Company, fronted by Emma Cook, delivered a fun, funky self-titled record this year. The Michelle Sarah Band have made waves in central Vermont and beyond. Vedora signed off with a stirring farewell album, but I don't think we've heard the last from singer Caroline O'Connor. The Snaz's Dharma Ramirez figures to be one of Vermont's most dynamic front women for years to come. Jackie Buttolph impressed on her band the Leatherbound Books' debut, Tender My Hopes. In a similar folky vein, Laura Heaberlin soared on the self-titled debut from Cricket Blue — and she's a fine solo artist to boot. Fiddler and vocalist Shay Gestal proved a fine foil to Gold Town bandmate Andrew Stearns as the country duo Old Sky.
And those are just some of the artists and groups who released albums this year. Among those who didn't, Kat Wright & the Indomitable Soul Band are starting to gain recognition beyond Vermont. Miriam Bernardo remains one of Vermont's most beloved singers. And then there's her all-girl rocksteady band with Wright, Linda Bassick and Co., Steady Betty. Swale's Amanda Gustafson is still probably my favorite local vocalist — and that was true long before I had a family member in the band, thank you.
Nicole D'Elisa is currently fronting not one but two powerhouse funk bands, Grundlefunk and Nico Suave and the Bodacious Supreme. The Lynguistic Civilians' rapper Lauren Craig remains one of the area's smoothest MCs in a genre that has more Y chromosomes than most. Caroline Rose is still kicking ass and taking names a year after her breakout record, I Will Not Be Afraid.
I could go on, and I'm sure I'm overlooking a number of deserving musicians. But that's also kind of the point. It's not simply that we have talented female musicians in Vermont, because we always have. After all, next to Phish, our two best-known musical exports are Potter and Anaïs Mitchell. But the numbers might be starting to shift toward a greater gender balance in the Vermont music community overall. I won't attempt to speculate on why, but I hope the trend continues.
BiteTorrent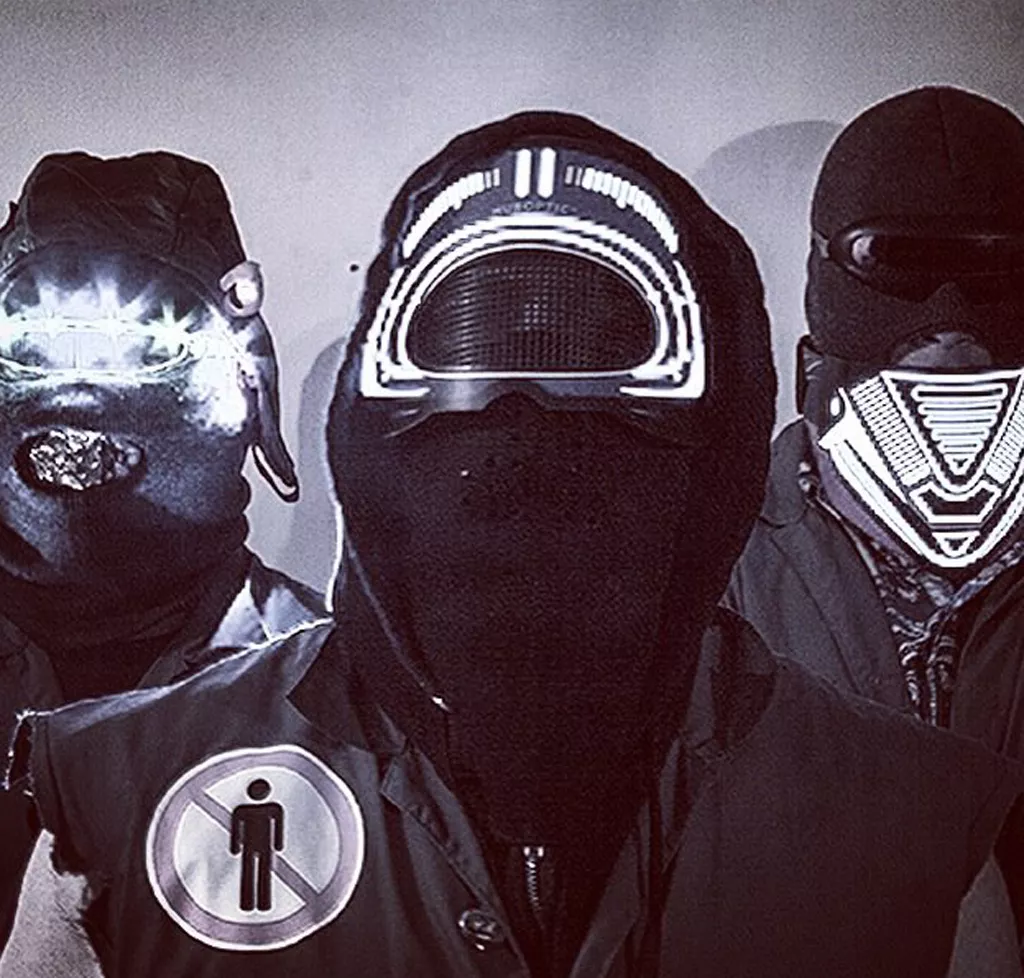 courtesy of Tsunamibots
Tsunamibots
You know who else is seeing more equitable representation in the local scene of late? Evil, human-crushing robots!
If you haven't listened to the Tsunamibots, I suggest you rectify that situation ASAP by queuing up one or both of the two albums the local robotic surf-punk band released this year: Surfing Craze in the Robotic Age and Rise of the Robots. An offshoot of the late local punk band Spit Jack (who briefly reunited last weekend so they could finally get kicked out of Charlie- O's in Montpelier), the T-bots trade in a campy brand of surf rock. Think a cross between Dick Dale and the Cylons from the original "Battlestar Galactica." Yep, it's super-gimmicky stuff. But if you love a good gimmick — as I do — they're worth checking out.
I mention the T-Bots because they're headlining a nifty showcase at the Monkey House in Winooski this Thursday, October 1, called the HellKat Hop with local rockabilly band Swillbillie. For the unfamiliar, the HKH is a monthly series founded by Jason "el Jefe" Valade that has been going on at the aforementioned Charlie-O's for about a year. In a recent email, Valade explains that idea is "to showcase one or two rockabilly, surf rock and the occasional '60s sounding garage bands from New England each month." In addition to the bands, Valade opens each show by DJing a selection of obscure cuts from the 1950s and early 1960s — calling Joel Najman!
Thursday's HellKat Hop is billed as the "inaugural" Hop at the Monkey, which implies there will likely be more hopping to come.
Happy trails to the DuPont Brothers and Dwight & Nicole. The two acts are hitting the road this week for a Northeast and mid-Atlantic tour. This is interesting on a couple of levels. For one, I like the idea of two local bands teaming up to tackle the rigors of touring together and spread the gospel of BTV music far and wide. Granted, it might be a little easier for established road acts such as those two groups to pull it off than it might for some lesser-known groups. But still, it's pretty neat. Also, the DuPonts and Dwight & Nicole must really like each other. Not only will they be sharing a van for the next few weeks, they also all live in the same apartment building in Burlington. Nifty.
Anyway, they'll play a tour kickoff show at ArtsRiot in Burlington this Saturday, October 3, before heading for points south.
On the residency beat, local proggish upstarts Coquette hole up at Nectar's every Tuesday in October for a rare early-evening residency beginning October 6, at 8 p.m. Each week a special guest group will join the band. This week that would be Windsor's Carton, who, though somewhat unknown on this side of the state, kick some serious ass.
And in case you're wondering, the reason for the early slot is that there's another band with a Tuesday residency at Nectar's this month: Local rockers Canopy will fill up the wee hours with improvisational grooves.
courtesy of Tom Brosseau
Tom Brosseau
Last but not least, songwriter and storyteller Tom Brosseau has been scoring reams of praise lately for his recent record Perfect Abandon. The North Dakota native was recently featured on NPR's "Weekend Edition," and the video for the record's first single, "Roll Along With Me," debuted on the New York Times Magazine's website. I mention this because Brosseau is playing at the Light Club Lamp Shop in Burlington this Friday, October 2. Given the attention his new record is getting, I'd guess the chances to see Brosseau in such intimate environs will be few and far between going forward.
Listening In
A peek at what was on my iPod, turntable, eight-track player, etc., this week.
Chvrches, Every Open Eye
The Arcs, Yours, Dreamily
Kurt Vile, b'lieve i'm goin down
Michael Hurley, Land of Lofi
Tom Brosseau, Perfect Abandon