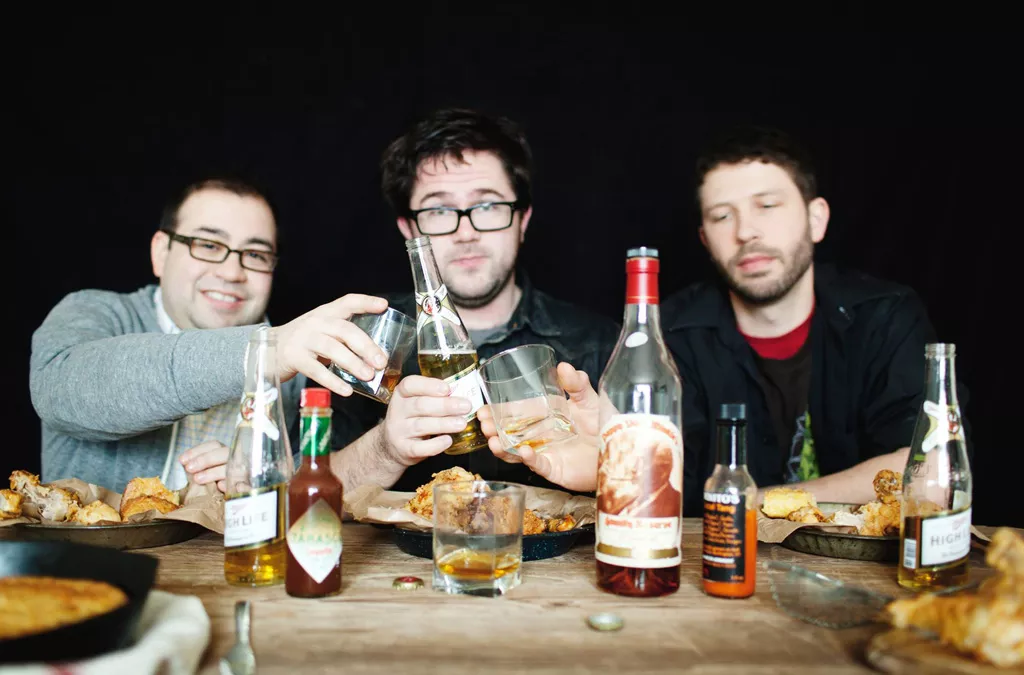 Courtesy Of Paul Sarne
Near North
Do You Wanna Get Rocked?
I'm not gonna lie, folks. As I type this, I'm giddy. In fact, I can barely see straight. I keep twirling my pen like a drumstick in my right hand, while my left arm is tucked behind my back. I'm freakin' out. That's because I'm about T-minus 24 hours away from realizing one of my oldest and greatest rock-and-roll dreams: I'm finally seeing Def Leppard in concert.
Expect a full report in these pages next week. Just know that right now I'm hot, sticky sweet, from my head to my feet, at the prospect of seeing Def Lep — all nine arms of 'em — some 25-plus years after they first rocked me to my core as a 10-year-old hair-metal fan.
In the meantime, the local show must go on. So let's get rocked — or klezmered, as the case may be.
Band of Gypsies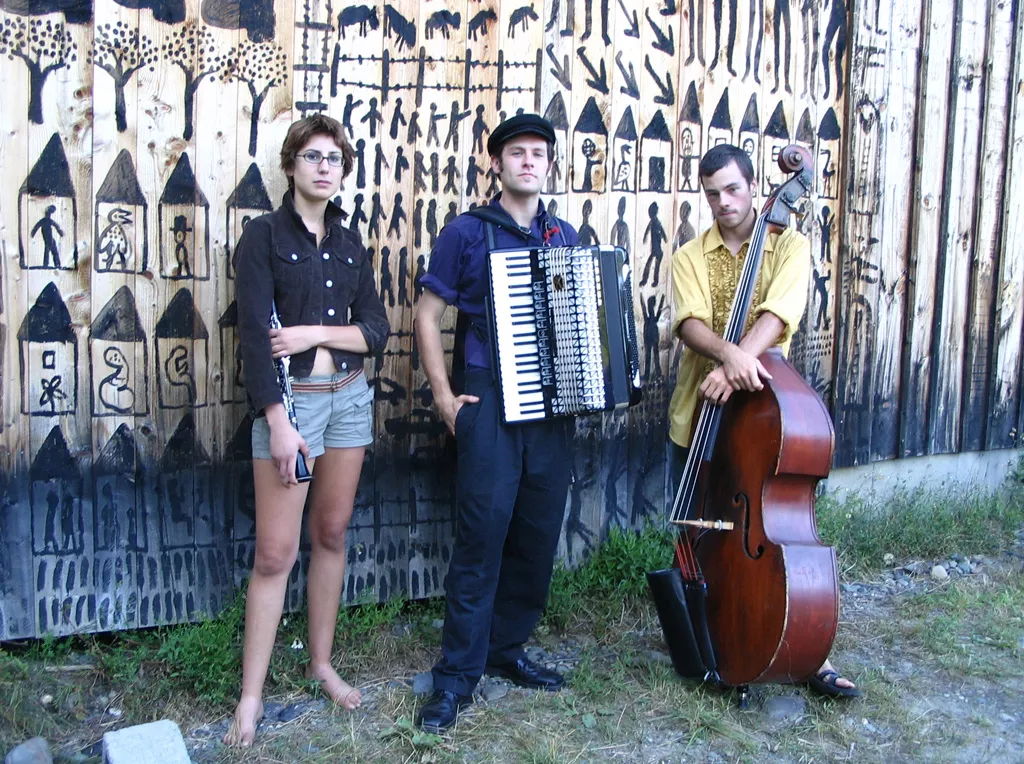 Courtesy Of Inner Fire District
Inner Fire District
We begin this week with the return of beloved local klezmer band Inner Fire District, who last played on native soil seven years ago. They begin a monthlong run of shows this week.
If you don't remember them, IFD were an evolutionary cousin of the late, great local gypsy band Black Sea Quartet, which helped popularize Eastern European music in the Green Mountains in the early 2000s. Both bands featured accordionist David Symons, who is now based in New Orleans, where he works as an accordion repairman. Symons also founded the radical street band the Brass Balagan, a group that remains active and activist; they can be seen playing pretty much any left-leaning protest rally in the state. They also remain snazzy in their signature red coveralls.
In addition to Symons, IFD featured some top-notch local talent including guitarist Tim Lang, currently of cumbia outfit Mal Maiz, upright bassist Tyler Bolles, currently of Swale — and yes, we're related — and clarinetist Zoe Christiansen. Christiansen, you may recall, made the news — namely, my first-ever cover story for Seven Days — in 2007, when she got in trouble for brazenly busking on the Church Street Marketplace (gasp!) without a permit. You'll be happy to know that the one-time scofflaw has turned out OK. She has since graduated from a little school called the New England Conservatory and currently performs with the world-renowned Klezmer Conservatory Band.
As Symons writes in a recent email to 7D, IFD combined "intricate and soulful Balkan, Yiddish and original instrumentals with a class-conscious, theatrical, Brechtian sensibility." In layman's terms, they were a lot of fun, especially if you caught them on a steamy summer night at Radio Bean, which was apt to erupt into a sweaty dance party at any moment.
IFD play three shows this week: Thursday, July 9, at Sushi Yoshi in Stowe; Saturday, July 11, at the Whammy Bar in Calais; and Wednesday, July 15, at Red Square in Burlington. They'll play several more gigs around the state throughout July. So check your local listings. Also, note that bassist John Thompson will appear with the band for about half of their gigs, so consider this half of the usual disclaimer regarding my li'l bro.
Try the Jello Shots
In other news, there's an interesting Battle of the Bands-style competition getting under way this weekend at Franny O's, of all places. The SoBu dive is better known as a destination for rock cover bands — and the scenic view of the Kmart parking lot. But this contest, dubbed the Vermont Original Music Competition, is geared toward, well, local original music.
For the next four Sundays, original acts will take to the stage vying for a spot in the finals, to be held on Saturday, August 15, as part of the Burlington Rotary's CityFest at Veterans Memorial Park. Spearheading the contest is Mark Camire, who handles booking for the bar and who, for the last couple of years, has run a nifty little local-music showcase there on Tuesdays. So the VOMC is not quite as out of the (Labatt) blue as might seem at first blush. This week's slate includes Near North, Thunder Kittens, Daniel Wyman and my new favorite band — even though I've never heard them — Pabst Blue Rhythm. Contestants on future Sundays include Miss Misery, Rehab Roadhouse, Joey Keough Kenith and the A&M Band (July 19); John Smyth, Steve Hartman, Chris Parker and Sean Casey (July 26); and Just Blaze, Gneiss, Ben Hook and the Howard Ring Band (August 2).
Park It
Courtesy Of Shane Timm
Good Old War
Moving on, the annual Battery Park Free Concert Series gets under way in Burlington this week. And the 2015 edition might just feature the strongest lineup in the history of the long-running concert series, which happens at Battery Park. And is free.
For the uninitiated, the BPFCS happens every Thursday in July. It kicks off this Thursday, July 9, with acclaimed indie-folk band Good Old War. That group is based in Philly but has a local connection in singer-guitarist Dan Schwartz, formerly of the BTV bands the Dakota and Elementrix. They're touring behind a new record, Broken Into Better Shape, produced by Dolly Parton's producer, Jason Lehning. So if you're keeping score, that means we're all, like, two degrees removed from Dolly.
Rounding out the slate are locals Kat Wright & the Indomitable Soul Band on July 16, folky funky bunch the Ryan Montbleau Band on July 23 and Kiwi alt-rock songwriter Gin Wigmore on July 30.
The Best Is Yet to Come?
Last but not least, I've received a lot of feedback following the rundown of the best local albums from the first half of 2015 that ran in this column the past two weeks. Most of it has been positive, save for the occasional pissy missive about this band not being included or that band not deserving the recognition. (To which I humbly say: Once you've listened to all of those records — some 60-plus and counting already this year — by all means, make your own damn list.) But I also received inquiries about what albums to watch for in coming months. So here's a handful of the Vermont albums I'm particularly looking forward to before year's end.
Local indie duo Pours leaked a song, "Ellie," from their forthcoming EP last week. And it's tantalizing. There's plenty of the spectral, synthy ear candy you'd expect, but with sturdier vocal melodies than were heard on the band's self-titled 2014 debut. No word on a release date, but stay tuned.
Waylon Speed's Kelly Ravin — husband of new 7D calendar writer Kristen Ravin, BTW — is set to release his latest solo effort, County Songs, in August. I can't think of a local songwriter whose progression I've enjoyed watching more over the years. The starkly beautiful, outlaw-country-tinged Leathered, Weathered, Worn & Wiser was one of my favorite local albums of 2013. Really curious to hear what's next from Ravin.
Indie rockers Villanelles have been threatening a new album for what seems like a decade. Word is that Blue Heart Attack is pressed and ready to go — and more muscular than the band's early stuff. Look for that in the fall.
Courtesy Of The High Breaks
The High Breaks
The High Breaks are also sitting on a completed album. No news on a release date, but doesn't summer feel like a particularly appropriate time for David Lynch-inspired surf rock?
Touchpants, possibly the most juvenile and deliriously offensive band ever — or at least since 2 Live Jews — have been recording at the Barn with engineer Glen Robinson (AC/DC, Keith Richards). And they solicited feedback from famed producer Bob Ezrin. Yes, really. I've heard a couple of tracks and ... well, it's kind of amazing. It seriously rocks. Hard. Depending on the delicacy of your sensibilities, you'll either be delighted or repulsed, with no in-between.
Also recently recorded at the Barn: Caroline Rose's new EP. This one I haven't heard yet. But I'm hopeful it's the psychobilly EP she told me about last summer. If it is, look out.
And finally, maybe you've heard that Grace Potter has a solo album, Midnight, coming out this summer? That I'm looking forward to hearing it might surprise longtime readers. It's true, I can't claim to be the world's biggest GPN fan. Still, I'm intrigued by her new, pop-centric direction as much as many hard-core Nocturnals fans appear to be revolted by it. But Potter long ago earned the right to go her own way. And I always find it interesting when talented people try something new. My curiosity is piqued.
Listening In
A peek at what was on my iPod, turntable, eight-track player, etc., this week.
Def Leppard,Hysteria
Def Leppard,Pyromania
Def Leppard,Vault
Def Leppard,High 'n' Dry
Def Leppard, Adrenalize