I know, I know. It's been, like, two solid weeks without any festival news. You're probably all "Yo, DB. Where's my festival news, bro?" Relax. And don't call me bro, chief. I got you.
Around Independence Day weekend, the festival slate tends to dry up. But, emboldened by a renewed sense of freedom — and hot dogs — we get back in the festie swing this week, with no end in sight until Grace Potter sings us out into fall come September. So let's dig in, shall we?
We begin with the Cambridge Music Festival, which is a music festival at the future site of the Cambridge Community Center in Jeffersonville on Saturday, July 16. (For flatlanders and/or those who never leave Burlington: Jeffersonville is a village in the town of Cambridge, hence the geographical confusion there.) It's a particularly nifty little one-day fest that combines two of my favorite locavore treats: music and comedy.
On the former score, the lineup features the ever-excellent roots-soul duo Dwight & Nicole, who I'm pretty sure are trying to set the record for playing every festival in the state this summer. Joining them are beloved BTV art rockers Swale, southern VT teenage sensations the Snaz and a hyperlocal — to the festival — entrant, Jeffersonville's Locals & Company. (See? It even says so in their name.)
Between the bands' sets, local standup comedians will keep the crowds warm — and warm up themselves for the upcoming Green Mountain Comedy Festival. (More on that in a sec.)
Comics appearing include 2015 Vermont's Funniest Comedian finalist Paul Church, the delightfully bizarre Taylor Scribner, "Cringe! A Night of Hilarious Humiliation" founder Annie Russell and the 2015 VFC champ, Kendall Farrell. Oh, and at sunset, expect a performance from Jericho-based fire-performance troupe Cirque de Fuego.
Speaking of the sun, SolarFest 2016! After a yearlong hiatus, everyone's favorite sustainability celebration is back and in new digs, no less. The fest runs Friday and Saturday, July 15 and 16, at the Southern Vermont Arts Center in Manchester.
In truth, what we should really be talking about here are all the innovations in renewable energy that will be on display. But I'll leave that to the folks leading the numerous workshops and demonstrations on green buildings, sustainable food and the like. Instead, I'll draw your attention to the music and hope that's enough to lure you into bettering yourself — and our planet — while you're there.
The main lineup features 14 artists performing on two gorgeous stages — the Arkell Pavilion and the Equinox Stage, the latter of which is a natural amphitheater overlooking Mount Equinox. Highlights include folk songwriter, children's author and professor Dar Williams, rockers Donna the Buffalo, Grammy-nominated blues singer Marcia Ball, '70s rock torch bearers Wild Adriatic, Grammy-nominated reggae singer and DJ Sister Carol, hip-hop-infused second-line badasses PitchBlak Brass Band and local dance-pop phenoms Madaila. That last band may give Dwight & Nicole a run for their money in frequency of festival appearances this summer.
Also of note is the annual Singer-Songwriter Showcase competition, which features 10 regional tunesmiths vying for a slot at next year's festival. Interestingly, only two of the contestants are Vermonters: Richard Ruane and Brendan Eprile. Give 'em hell, gents.
Meanwhile, in Middlebury, the 38th annual Middlebury Festival on the Green heads into its closing weekend on the stately Village Green.
On Thursday, July 14, traveling folkie and Pete Seeger acolyte Rik Palieri plays the lunchtime Brown Bag series show. That evening, local honky-tonk hero Brett Hughes takes the stage, backed by bassist Pat Melvin, pedal-steel ace Brett Lanier, fiddler Caleb Elder and drummer Dan Davine. Dwight & Nicole close out the day, which I'm pretty sure puts them one ahead of Madaila in the fest count.
On Friday, July 15, the evening set opens with indie folk duo the DuPont Brothers, touring behind their brilliant new album A Riddle for You. Then it's ... wait for it ... Middlebury hometown heroes Madaila! (Oh, snap. We're tied again.)
Now, it's been a little more than a month since the close of the 2016 Burlington Discover Jazz Festival, which should have been ample time for you to rest your aching jazz hands. (That's what jazz leg day is for, yo.) So they should be in peak form for the Vermont Jazz Ensemble Street Dance, which closes the FotG on Saturday, July 16.
Finally, there is one more festival you'll want to know about. But it's not a music festival. It's the annual Green Mountain Comedy Festival, which kicks off on Monday, July 18, and runs through Saturday, July 23. We'll have a deep dive in these pages next week, when the fest kicks into high gear. But in the meantime, there are worthwhile shows on the early slate that bear mentioning.
Opening the fest on Monday is the annual Best in Show showcase at Vermont Comedy Club, featuring finalists from the 2015 Vermont's Funniest Comedian contest. Scheduled to appear are Farrell, Anya Volz, Tim Bridge, Mike Thomas and 2015 winner Grant Robin. GMCF founder Kathleen Kanz hosts. That same evening, also at the VCC, is standup Sean Donnelly, who has made all the usual rounds of late-night shows and cable but who most notably has a bulldog named Rickles — as in Don Rickles. (Anyone under 30, ask your parents.)
On Tuesday, comedian Emma Willmann from SiriusXM's "The Check Spot" and the "First Time" podcast plays the early slot at VCC. Willmann recently was a finalist in the prestigious New York's Funniest Stand-Up contest hosted by Caroline's on Broadway, which is a pretty big deal. Later at VCC, catch Sam Morril, of "Last Comic Standing," "Conan" and "@Midnight" renown.
Or you could pop on over to the Light Club Lamp Shop for the annual Oddballs Show, which features several of the area's alt-iest standups, including Scribner, Robin, Sean Hunter Williams, Mae Barron, Kevin McTaggart, Jessie Baade, Madaila and Dwight & Nicole. (OK, fine, two of those are not appearing at the show. You can guess which ones.) Richard Bowen hosts.
Tune in for more on the GMCF next week.
(Disclosure: Swale bassist Tyler Bolles is my brother.)
BiteTorrent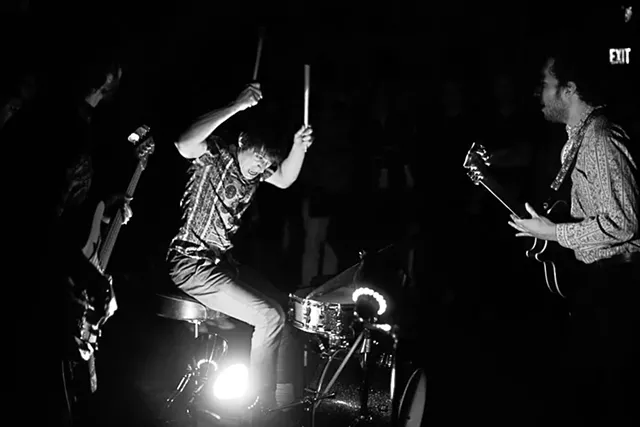 In other news, if you go to only one show this week, I'd make it Katie Trautz and Sam Moss at La Puerta Negra in Montpelier on Thursday, July 14. As you hopefully know by now, Trautz is one of the area's most deeply respected fiddlers and folk music boosters — and she's part of one of my favorite VT bands, Wooden Dinosaur, which doesn't hurt.
Moss, who currently lives in Boston but used to call Brattleboro home, also has a Wooden Dinosaur connection. He and WD's Michael Roberts recently formed a record label, Lost Honey Records, through which they released Moss' exceptional 2016 album Fable.
If you go to one other show this week — and happen to really like Montpelier, and why wouldn't you? — check out Yonatan Gat at Buch Spieler Records on Sunday, July 17. The former Monotonix axe man and founder was named the "Best Guitarist in New York" by my alt-colleagues at the Village Voice in 2013. Live, Gat's eponymous trio is just nutty — as anyone who caught them at the Skinny Pancake last year can attest. They meld Brazilian psych, Afrobeat, Middle Eastern surf and all sorts of other worldly styles with jazz intellect and punk fire. It's absurd. Jazzy Montpelier post-rock band July 26 movement open. Tickets are super limited, so give the folks at Buch Spieler a call to order.
Last but not least, I've been having a bit of gentle fun with Madaila this week. But I kid because I love. And if you've been following along, lo, these past two years, you know I love me some Madaila. One reason why: I admire their ambition.
Exhibit A — or G or Q or Y ... I've lost count at this point — is this: Madaila on Main. That's an all-day festival the band is hosting on Main Street in Burlington on Sunday, September 4, in front of Nectar's. Yup, they're commandeering a friggin' street. We'll have more details in the coming weeks. But for now, I'd hold off on making any other Labor Day weekend plans, ya dig?
Listening In
A peek at what was on my iPod, turntable, eight-track player, etc. this week. Follow sevendaysvt on Spotify for weekly playlists with tunes by artists featured in the music section.
Okkervil River, Away
The Avalanches, Wildflower
Inter Arma, Paradise Gallows
Weaves, Weaves
Bad Brains, Bad Brains