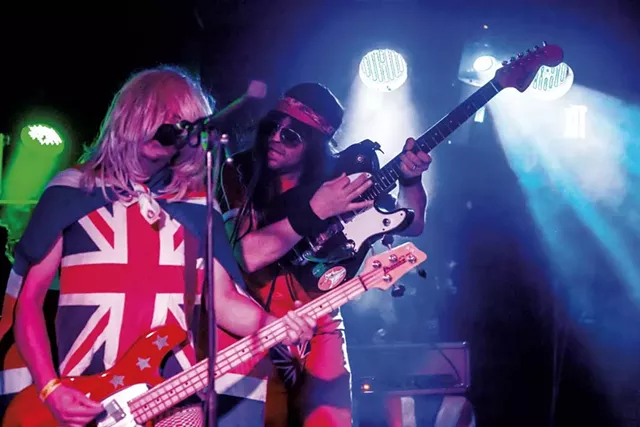 Luke Awtry Photograpy
Led LO/CO
A couple of weeks ago, I dispelled the rumors that Higher Ground was planning to open a new venue in a city or town near you. We got the straight dope right from the source. HG cofounder Alex Crothers told us unambiguously that, while he has spent several years looking into an expansion, there's nothing to report at this time. Case closed.
I also mentioned a few specific rumors I'd heard about potential locations for an HG offshoot: downtown Winooski, Burlington's Moran Plant, somewhere in New Hampshire and the Essex outlets. That last one actually turns out to be partially true. Change is coming to the Essex Cinemas — though let me state unequivocally that HG has nothing to do with it. Full stop.
However, one of the club's former owners does. You may already have heard that Kevin Statesir — who sold off his shares in the South Burlington music venue to local businessman Alan Newman two years ago — is involved in the development and operations of a new spot over at the Essex outlet mall. His past connection to HG seemingly explains how the wires got crossed and what propelled the ensuing, misinformed scuttlebutt.
Here are all of the facts you need to know about the upcoming venture.
First of all, it's called the Double E Lounge at Essex Cinemas. It occupies a vacant space within the cineplex itself, adjacent to the colossal T-Rex Theater. You'll be able to access the Double E through the cinema and its own designated entrance.
Largely a food and beverage spot, the Double E will feature eats from Waitsfield/Montpelier-based Mexican mini-chain the Mad Taco. Whether you'll be allowed to bring your tacos and margaritas into the auditoriums is currently up in the air.
"The idea is, you can come down and have a bite to eat and a drink before your movie, and we're slowly but surely going to introduce acoustic music in the lounge," says Statesir. He likens the relationship between Double E and the cinema as a whole to Waitsfield's Big Picture Theater, which combines dining, flicks and occasional live music into a one-stop entertainment experience.
In addition to the weekly or biweekly acoustic sessions — the details of which are still being fine-tuned — expect the 400-person-capacity T-Rex Theater to be the site of some larger-scale music events, starting with a special benefit concert for keyboardist Ray Paczkowski (Soule Monde, Trey Anastasio Band) on Wednesday, May 16.
You may have heard that Paczkowski recently underwent a successful brain surgery and is currently in recovery. A slew of local music makers are banding together to raise money for his medical bills.
Twiddle's Mihali Savoulidis kicks things off with a solo acoustic set. Headlining duties fall to Kat Wright guitarist Bob Wagner and an all-star cast of characters, which features Josh Weinstein (Kat Wright), Zach Nugent (Dead Set), Miriam Bernardo (Steady Betty), Rob Morse (Sound of Mind), Dave Grippo (Grippo Funk Band), Seth Yacovone, Brett Hughes and many more.
If you've ever caught a flick in the T-Rex, then you know what kind of a sound system it has. And if you haven't, well, get ready to have your socks blown off.
Now, in case you're wondering whether Statesir is attempting to move in on HG's corner with the T-Rex shows, don't. For one thing, he's still involved at HG as an ambassador of sorts. If you've been by the club during its almost nightly 20th anniversary celebrations this month, you've probably seen him around shaking hands and greeting customers. As Statesir told Seven Days, he views the new venture as filling a void in the live music scene locally — specifically, seated shows that don't fit the HG vibe and are too small for the likes of the Flynn MainStage.
By the way, the benefit show serves as the Double E's grand opening. And soon, the Essex Cinemas' website will have the latest info about the lounge, its menu and music offerings, and any future T-Rex music happenings.
A Little Help From My Friends
Speaking of benefit shows, one thing I've learned since taking up this post is that local musicians are more than ready to support charitable causes and people in need. It's terrible that so many people, like Paczkowski, are in need of financial assistance with their medical bills. You can blame our current health care system for that. But it's pretty damn great that so many locals are there to step in and lend a hand when their comrades need it most.
Before we go any further: When it comes to promoting events that involve Seven Days staffers, it's important to disclose the connection. So, here's my disclosure: The following event involves Seven Days staffers.
On Saturday, April 28, a bunch of local rock stars are teaming up at the Monkey House in Winooski to raise a little cash for Seven Days' award-winning staff photographer, Matthew Thorsen. In late 2016, he was diagnosed with cancer, and he's been struggling with the disease ever since. It's taken a huge toll on our spritely shutterbug and his wife, Seven Days art director Rev. Diane Sullivan.
The bitchin' lineup includes DJs Melo Grant and Big Dog, Happy Spangler, Barbacoa, Astrocat and Dino Bravo, and concludes with Josh Panda & the Hot Damned.
Livin' la Vida LO/CO
Someone alert the authorities: Frequently incarcerated Aussie cock rockers Led LO/CO are back on the scene. The foursome known for their AC/DC and Led Zeppelin covers were mainstays of the local club scene back in the '00s. Whenever they're not behind bars, they tend to show up, well, at bars to deliver face-melting bangers and lewd sentiments to their ravenous crowds.
In 2012, our occasional freelancer Chester Bangs — redheaded second cousin of famed music critic Lester Bangs — interviewed the group to find out what makes them tick and what ticks them off. You can read all about it on our website, but here's a choice excerpt from guitarist Reginald Rock to whet your appetite.
When asked about how he stays his rockingest, he told Bangs, "Ya goddamn right I'm rocking hard. I'm hard, and it ain't a secret for no one. If you're so interested in if I'm rock-hard or not, you should come down to the show and stick around backstage afterward."
Sounds like someone's overcompensating a bit. Find out for yourself on Saturday, April 28, when the band takes over Nectar's in Burlington.
Wink-Wink
Courtesy Of Josh Wink
Josh Wink
The folks over at Nexus Artist Management are bringing yet another heavy-hitting house DJ to Burlington: Josh Wink. The founder of Ovum Recordings hits Club Metronome on Friday, April 27, along with local DJs Matt M., D-Lav, Ryan Kick, Justin R.E.M., Haitian and Clothcutter.
Earlier in the day, Wink posts up at Burlington Records for a meet and greet and vinyl signing. Furthermore, he plans to immortalize his club set with a recording for his podcast Profound Sounds.
Listening In
If I were a superhero, my superpower would be the ability to get songs stuck in other people's heads. Here are five songs that have been stuck in my head this week. May they also get stuck in yours. Follow sevendaysvt on Spotify for weekly playlists with tunes by artists featured in the music section.
Cuco, "CR-V"
Clever Girls, "Dumb Smile"
BØRNS, "Second Night of Summer"
Ed Schrader's Music Beat, "Seagull"
Electric Guest, "Bound to Lose"