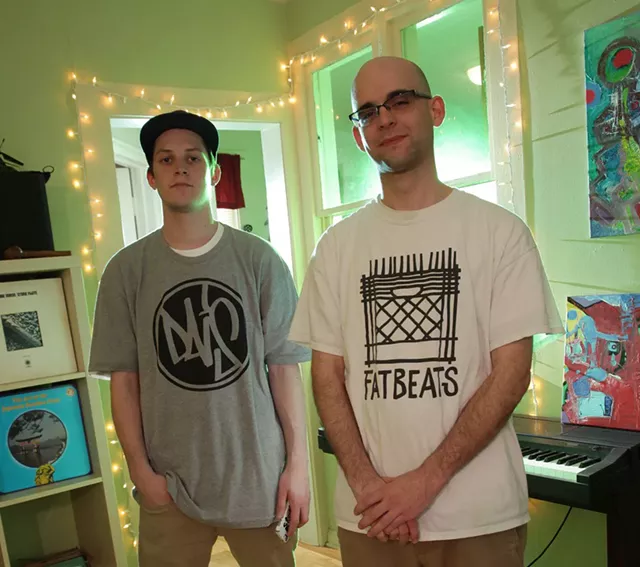 It's a good week to be a hip-hop fan in Burlington. Especially if you're a hip-hop fan in Burlington who frequents a certain iconic nightclub with gravy fries and a spinning sign. This week Nectar's and Club Metronome will jointly host a trio of intriguing hip-hop shows.
The first comes on Wednesday, April 20 — the day this issue hits the streets — called Fuel the Bern II: A Hip-Hop Event. You can probably figure out the gist simply from the title. But in case you're slow on the uptake — it is 4/20, after all — allow me to fill you in.
The show, which is at Club Metronome, is a benefit for Sen. Bernie Sanders (I-Vt.), who, as you may have heard, is trying to be president. Again, it's 4/20, so I have no idea how stoned you actually are right now. FTB2 features a wide cross-section of local hip-hop talent. Those slated to appear include Enemy Self, Forest Gray, Self Portrait, Learic, Bar None the Best, S.I.N.siZZle, Cworner StWore and many, many others. It's also hosted by comedian and rapper King Sha-Mecca Blaze of Totally Inappropriate Comedy renown. This is the second Fuel the Bern showcase, following a well-attended debut edition at Winooski's Monkey House about a month ago.
Now, I write this column on Monday morning, and it comes out on Wednesday. So there's no way of knowing before press time how Bernie fared in Tuesday's critical New York primary. If he did well, the mood at the show should be celebratory, which will be fun. But if he got trounced? Well, that would be a yuuuge bummer. Then again, it's also probably all the more reason to show up and offer support if Bernie's your guy.
The second show in this week's hip-hop trinity is the King's Court Tour: A 10-Year Dilla Tribute featuring Slum Village at Nectar's on Friday, April 22. For the uninitiated, Baatin, T3, and famed producer and rapper J Dilla — maybe you've heard of him? — founded Slum Village in Detroit in the early 1990s. But the trio was beset by strife and tragedy. Dilla died from lupus in 2006. Baatin died in 2009.
In the years since, T3 has continued to release material with a variety of different incarnations of Slum Village — one of which included Dilla's brother, Illa J. At present, Slum Village perform as a duo consisting of T3 and producer Young RJ.
Joining Slum Village for the Nectar's show are Detroit's Guilty Simpson, Dilla collaborator Phat Kat, Rosewood, and locals Crusty Cuts, Loupo and Disco Phantom.
Finally, closing out the week in hip-hop at Nectar's is Return of the Boom Bap on Wednesday, April 27. DJ Big Dog is organizing this one. He's generally better known for his reggae work, but dude's a serious hip-hop fan, too. So he's enlisted some of his best DJ buds for a night of, as he puts it, "hip-hop with no rapping ... for people who like mellow, non-mainstream hip-hop."
That basically means DJ sets, live beat sets and scratching. And it should be pretty dope. Along with Big Dog, expect sets from Crusty Cuts and C-Low, as well a showcase of original material by Loupo and Es-K, who are two of the most sought-after producers presently working in Vermont.
Hard Left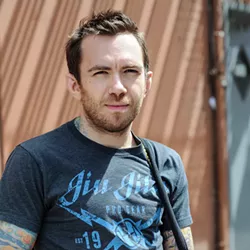 Political comedian and musician Jamie Kilstein is swinging through South Burlington this Sunday, April 24, for a show with his band at the Higher Ground Showcase Lounge. Kilstein is one of the most outspoken political comics on the planet and the cohost of the Citizen Radio podcast. He's a regular on MSNBC and has done numerous cable shows, including "Conan." However, his greatest claim to fame may be that right-wing gasbag Glenn Beck once called him a "doofus."
I interviewed Kilstein about a year ago when he was here for a solo show. He had some insightful things to say about a certain presidential hopeful from Vermont that I think might be worth revisiting.
"It was scary when everyone was blindly supporting Hillary Clinton," he said. "Her positions on the war, on Wall Street, on gay marriage two years ago, they're terrible. But what's great about Bernie Sanders ... is that he forces Hillary Clinton to go left. Hillary wouldn't be talking about class or call the South Carolina shooting terrorism. No way! But she knows now that there is a progressive in her way, and she has to go left."
It's safe to say Kilstein's read has proved correct. But there's more.
"If all she has to debate is fucking Ted Cruz and Mitt Romney and there's no one to the left of them, where does she go? She has to go to the right. But the right is just fucking insane, and the center is now the right. So if Bernie is gaining traction, which he is, even if Hillary wins ... now there are all of these promises she's made to the left, which is hugely important. That's how you move the bar."
Smart guy, that Jamie Kilstein. Oh, he also had one more thing to say. Jamie?
"I will kill anyone you want me to if you can get Bernie Sanders to my show."
I'm guessing that offer still stands.
BiteTorrent
In summer festival news, the full lineup for Grand Point North was announced last week. At the top of the marquee we've got Old Crow Medicine Show, Guster, the Wood Brothers, Kaleo, Blind Pilot, Kat Wright and the Indomitable Soul Band, the Record Company and Basia Bulat. Oh, and Grace Potter.
A few thoughts: 1. When was the last time a summer went by and Old Crow didn't play an outdoor show in Vermont? Y'all love you some "Wagon Wheel," huh? 2. Neat that Kat Wright and co. are listed among the headliners. Those guys are going places, I tell ya. 3. Guster!
Rounding out the undercard at GPN this year are locals Steady Betty, Smooth Antics, Blue Button and Iron Eyes Cody, as well as kinda locals And the Kids and Billy Dean & the Honor Roll and Philadelphia's Eliza Hardy Jones.
The festival is September 17 and 18 at Burlington's Waterfront Park. Tickets are on sale now at highergroundmusic.com.
A little more than a month ago, I raved about the debut of the new Burlington Does Burlington series at ArtsRiot. To refresh your memory, the series is based on the concept of the old Burlington Does Burlington comps put out by the late, great local zine Good Citizen in the late 1990s. On them, local bands covered songs by other local bands. For the ArtsRiot incarnation, local bands cover several songs by other local bands.
The second installment of the BTV Does BTV series is this Saturday, April 23, at ArtsRiot, and it looks to be a good one. Here's the lineup:
Invisible Homes will be playing songs by Caroline Rose; Eastern Mountain Time will be doing Shelly Shredder; Osage Orange, the Special Goodbye. Little Slugger are also on the bill, but who they're covering hasn't been announced.
Full disclosure: I'm friends with the members of Osage Orange, and their drummer, Jeremy Gantz, was the drummer in my old band, the Middle 8. Also in the Middle 8: David Stockhausen, who essentially was the Special Goodbye. Isn't Burlington fun?
Last but not least, last week we test-drove a new online feature of this humble little music section, a weekly Spotify playlist. People seemed to dig it, so we're launching it in earnest this week. Here's how it works:
Each week, I'll compile select cuts by artists featured in the music section — whether in this column, spotlights, features or album reviews. The playlist will also feature tunes by artists, both local and nonlocal, playing in town this week whom we might not have been able to write about, or maybe even just some stuff I'm digging, like in the Listening In section below.
Get it every Wednesday by following the Seven Days profile (sevendaysvt) on Spotify.

Listening In
A peek at what was on my iPod, turntable, eight-track player, etc., this week.
Sturgill Simpson, A Sailor's Guide to Earth
Edward Sharpe & the Magnetic Zeros, PersonA
Sam Beam & Jesca Hoop, Love Letter for Fire
Kevin Morby, Singing Saw
Merle Haggard, Mama Tried