Six years in, I think it's safe to say that Waking Windows has reached a certain level of notoriety. No, it's not quite on par with, say, the Burlington Discover Jazz Festival or Grand Point North ... yet. But I do think the profile of the "coolest music festival in Vermont" — patent, this guy — has been raised enough that it will continue being successful simply because it exists.
What I mean by that is this: WW has attained undeniable status as a must-go-to event, much like the BDJF or GPN, or the South End Art Hop. You go to those events because you know they're going to be good. Similarly, you'll go to WW6 because you know it's gonna rock, even if you might not be familiar with all of the bands. To wit, take a quick poll of your friends right now and ask them what they're doing this weekend. The answer for many, if not most, is probably Waking Windows. (And if not, you should make new friends. Perhaps in Winooski this weekend?)
That's a testament to the hard work and incomparable savvy of the WW crew. And they've put together a monster of a festival this weekend, with big-name talent such as YACHT, the Besnard Lakes, Lady Lamb, Waxahatchee, Speedy Ortiz and several others that should appeal beyond just the hard-core indie-music junkies. But there are several other intriguing story lines just below the marquee, which is where the real fun of WW6 begins.
Reunions will be a theme this year. On Sunday, May 8, at the Monkey House, Rough Francis bassist Steven Hazen Williams reconstitutes his extremely short-lived but excellent shoegaze band My First Days on Junk. The show will be the group's first since 2004. Also, it will be their second show ever. And, according to Williams, their last.
Williams will be backed by his RF pals, as well as the Smittens' Colin Clary and Swale's Eric Olsen. If you're familiar with those bands, you might be saying to yourself, "Damn. That's a lot of guitars." Indeed. Six, by Williams' count, which is believed to be a WW record.
Also getting back together are the Essex Green. Technically, they never broke up. But their show at the WW Outdoor Stage on Saturday, May 7, will be their first in eight years.
If you're unfamiliar, TEG were based in Brooklyn but evolved from the late, great BTV band Guppyboy in 1998. The core of the band consisted of songwriters and former Guppies Chris Ziter and Jeff Baron, as well as Sasha Bell. (Baron is a Seven Days employee.) Neutral Milk Hotel's Jeff Mangum caught them at a CMJ showcase in NYC and offered to release their 1999 self-titled debut record through his legendary Athens, Ga., collective Elephant 6. In 2002, TEG signed with the iconic indie Merge Records, which led to tours with the likes of Yo La Tengo, Superchunk and Camera Obscura.
Though they never quite caught on in the States, TEG were big in Scandinavia and pockets of Europe. Their WW show will help to knock some rust off before the band returns to Europe this summer to play Norway, Sweden, England and Wales.
WW6 will also see appearances by some old friends in new guises. Alexandria Hall — aka tooth ache. — will debut her new project, Beth Head, at Scout & Co. on Saturday as part of the Almost There Showcase. Also Saturday, Pours' Bryan Parmelee (another 7D employee) will debut his solo act at oak45.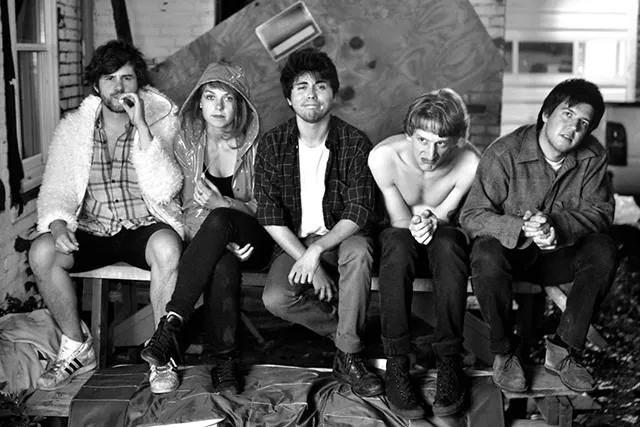 Rubblebucket's Kalmia Traver and Alex Toth will introduce local audiences to their new projects. Traver performs as Kalbells at oak45 on Saturday. Toth throws down with his new band, Alexander F, which features members of Rubblebucket, Delicate Steve and Bear in Heaven. They play Waterworks Food + Drink on Friday, May 6.
WW6 also boasts more comedy than in years past. The nonlocal highlight is "Late Night Basement with Chris Rose" at the Stoplight Gallery on Saturday. Rose is a comedian and writer on "The Daily Show with Trevor Noah." His show follows a late-night talk-show format and was voted Best Comedy Show by New York magazine in 2015. Recent guests have included comedian David Cross, actor Michael Shannon and Heems from Das Racist. For the WW6 show, Rose will interview festival headliners YACHT. Comedians Ben Kronberg, Kevin Iso and local Kendall Farrell open.
The local comedy scene will be well represented, too. On Friday, catch the No Chill Showcase at Asian Bistro. Hosted by Annie Russell, the show features local comedian Lori Goldman and expats Will Betts, James Huessy and Ryan Chani. And speaking of Russell, she'll host a special installment of her wildly unique and wince-inducing series "Cringe! A Night of Hilarious Humiliation" at Asian Bistro on Sunday. It features artists from the festival sharing their most intimate and embarrassing life experiences. Trust me, it's amazing.
In past years, a handful of non-WW entities such as NNA Tapes and Friends + Family have curated showcases at the festival. This year the volume of showcases has been cranked up, with several happening at oak45 on Saturday. Leading off, Vermont Public Radio's "Live From the Fort" takes over oak45, presenting sets by local twee-ty birds the Smittens and local hip-hop outfit Enemy Self.
Then über-hip local indie imprint Section Sign Records present their roster, including Violet Ultraviolet, Wren Kitz, Alpenglow, Bryan Parmelee and Vows. Next up is the Sound Affects Hip-Hop Showcase, featuring a live mixtape, a live production cypher and performances by Learic and Skysplitter and the Lynguistic Civilians' Mister Burns.
NNA Tapes close the night with a pop-rock blowout featuring the aforementioned Kalbells, Ryan Power and Guerilla Toss, as well as DJ sets from L'Enfant Sauvage and Vinyl Richie.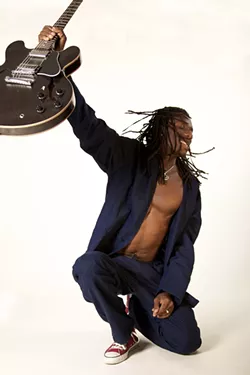 On Sunday, the Monkey House hosts a world-music showcase curated by local imprint Cumbancha. On the slate are local songwriter Francesca Blanchard, Haitian reggae and Afrobeat songwriter Wesli, local cumbia outfit Mal Maiz, and Mauritanian phenom Daby Touré.
But wait, there's more. WW6 will also see the debut of new outdoor stages orbiting the infamous rotary — in addition to the colossal main outdoor stage, of course. The Monkey House and Misery Loves Co. will both host open-air stages on Friday and Saturday. The MLC stage is of particular note to local rock fans. Friday, catch Blowtorch, Barbacoa and Company. Saturday, swing by for Shepard's Pie, Blue Button, Cave Bees, the Shandies and Jeff Beam.
Now, here's the crazy thing. I've just burned about 1,000 words on WW in this column. Plus another 1,000 on page 40. And this still just scratches the surface of WW6.
So, what are you doing this weekend?
BiteTorrent
Believe it or not, some other things are happening this weekend that aren't related to Waking Windows. Like, for example, the third annual GreggFest at Lyndon State College on Friday and Saturday, May 6 and 7.
The festival honors the memory of LSC student and musician Jake Gregg, who died last year after a lengthy battle with leukemia. And it's a heck of a lineup. Friday's slate includes Gang of Thieves, the Mangroves, Swimmer, Nemes, Copilot and Wise Old Moon. Saturday, catch Madaila, Harsh Armadillo, the Atlantic Effect, the Quins, Coquette and the Bonnets.
Tickets are available at catamountarts.org. All proceeds will benefit the endowment fund created in Gregg's memory.
Last but not least, the world was shocked and saddened by the death of pop icon Prince last week. But I suspect few locals were as deeply affected by his passing as DJ and vocalist Craig Mitchell. If you know Mitchell even a little bit, you know how influential Prince was to him. I mean, the dude fronts a badass Prince tribute project, Operation Prince. But Prince didn't merely influence Mitchell musically. He was a profound inspiration on Mitchell personally, as well. (I'll let him tell you more about that.)
On Thursday, May 5, Mitchell and Operation Prince are throwing a blowout celebration of the man called "Party Like It's 1999: A Tribute to Prince" at the Higher Ground Ballroom in South Burlington. In addition to Mitchell and his crack band, the show is loaded with special guests, including Kat Wright, Brett Hughes, Guster's Ryan Miller, Dwight & Nicole, Swale's Eric Olsen and Amanda Gustafson, Heloise Williams, Josh Panda, and Jer Coons, among many others.
Listening In
A peek at what was on my iPod, turntable, eight-track player, etc., this week. For weekly playlists, follow sevendaysvt on Spotify.
Kevin Morby, Singing Saw

Fruit Bats, Absolute Loser

Oreo Jones, Cash for Gold

Cave States, True Life

Little Scream, Cult Following