Courtesy Of Arielle Thomas
Kat Wright performing at Higher Ground for "Bardo: A Night in the Life"
A storied local nightclub is about to reach a mountaintop moment. Sunday, April 15, marks 20 years to the day that Higher Ground first opened its doors at its original Winooski location. Through the decades, the club's significance in Vermont's music scene has grown exponentially. From the early days as a funky, oddly shaped room in a strip mall to the dual-stage hub that now resides in South Burlington — not to mention the venue's amazing off-site arm, Higher Ground Presents — it's a wonder we ever lived without it.
Allow me to quote the always-relevant words of Fatboy Slim: You've come a long way, baby. OK, technically that was the title of his second record. The actual lyrics from the album's hit single "Praise You" go: "We've come a long, long way together / Through the hard times and the good / I have to celebrate you, baby / I have to praise you like I should."
I'm a total cornball for quoting such an on-the-nose lyric from a song many people revile, but I wouldn't have if it weren't so apt. HG brings high-caliber talent from around the world to its stages, and its commitment to elevating folks from our own backyard is just plain awesome.
To celebrate the milestone, the entire month of April is stacked with shows galore. Cofounder Alex Crothers tells Seven Days he and his colleagues' goal was "to build an entire month of highlights, underplays, special guest appearances and also to showcase a bunch of new, young up-and-coming talent."
Um, mission accomplished. From old standbys such as moe., Mike Gordon and Jeff Tweedy to cutting-edge artists Baths, Lady Moon & the Eclipse, Caroline Rose and more, there's something for just about everyone.
I hope you've scoped out the full lineup, because there's not nearly enough space in this column to properly dive in — probably not even in a month's worth of columns. And, damn, the Showcase Lounge and the Ballroom are simultaneously booked more evenings than not. My inner 16-year-old is having a panic attack trying to choose between They Might Be Giants and Cut Chemist on Friday, April 20. Or, he would be if 35-year-old me hadn't already secured tickets to TMBG.
Given that April 15 is the actual anniversary, it makes sense to put locals in the spotlight that evening as an homage to the venue's roots. Though it's not the first time they've reunited in recent years, acid-funk ensemble viperHouse get the band back together to celebrate the landmark month.
"They were a band that was around when we first launched 20 years ago that was integral to the success and the culture of the club," says Crothers.
Joining viperHouse are two other local heavy hitters: psych-pop squadron Madaila and ska-tastic collective Steady Betty. Make sure to wear your Fitbit, because you'll probably rack up a weekend's worth of steps in just a few hours of dancing your ass off.
Given the club's longevity, some aspects of its operations that used to be difficult now aren't.
"One of the things that used to be a pain in the ass is solicitations from bands," says Crothers. "[It] used to all come physically. Now, with everything living [online], it makes discovering bands and looking at solicitations a whole lot easier."
Of course, there's a flip side to that.
"Music has been democratized in a broad way, so almost anybody sitting in their basement, dorm room or apartment can record and put [their work] on SoundCloud," he says. "That part is fantastic — but it means that sorting through all of that to find the diamonds in the rough just takes more time.
"But that's fine," Crothers continues. "We don't mind doing it."
While we're on the subject of big news out of HG, it's now time to clarify any rumors you may have heard about a possible expansion to a new site. Here are a few potential locations that I've personally heard inklings of over the past couple of years: Burlington's Moran Plant, downtown Winooksi, the Essex outlets and New Hampshire. Here's what Crothers has to say about it.
"We are actively looking at new spaces [or] new construction [and have been] for two or three years," he says. "I'm kind of always looking. Nothing has been finalized."
So the next time someone tells you they "have it on good authority" that HG is setting up shop on the Winooski roundabout, tell them to read this column.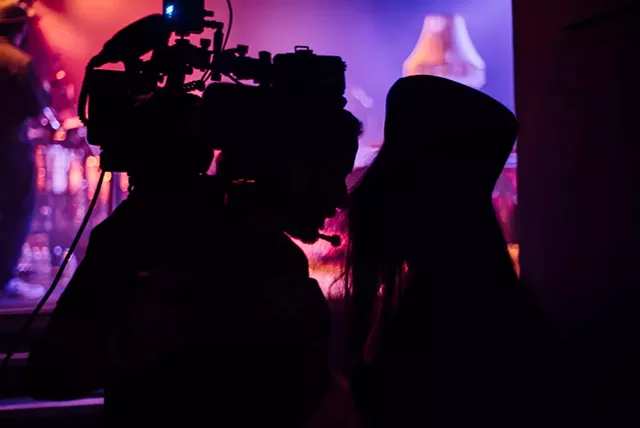 Courtesy Of Arielle Thomas
Backstage at Higher Ground for "Bardo: A Night in the Life"
Another thing to clarify: In last week's Soundbites, I mentioned HG's launch party for "Bardo: A Night in the Life," an upcoming TV program on Vermont PBS. I described the forthcoming live music series as featuring conversations "with some of Vermont's best and most beloved musicians" — and that's certainly true, given that soul dynamo Kat Wright was the inaugural artist.
But more accurately, the partnership between the club and Vermont PBS will feature discussions between host and creative director Ryan Miller (Guster) and a broader selection of artists performing at HG — many of whom will be nonlocal. But the question "Why come to Vermont to perform?" will likely be on the table. And, of course, a big part of the show will be high-quality performance footage. The filmmakers brought a huge-ass crane to Saturday's launch party.
Finally, I'd just like to share one of my favorite memories of HG. It was back in the Winooski days, probably January or February 2004. On the night of the biggest snowstorm of the season, some friends and I (foolishly) braved the elements to see Canadian rocker Sam Roberts. I want to say there was at least 18 inches of snow on the ground by the time the show started — which, miraculously, was not canceled for weather. If memory serves, there were seven people in the audience. But that didn't stop Roberts from delivering one of the most energetic and engaging performances I'd seen at that point in my life. He was adorably stoked that anyone came at all.
To sum up: Thank you, HG, for all of the hot jams you've sent our way all these years. And here's to at least 20 more.