Matthew Thorsen
Madaila
It's a Scream
Season's bleedings, boils and ghouls! It's Halloween week, which longtime readers know is this columnist's favorite holiday. Burlington does a lot of things well: craft beer, locavore food, music, insufferable pretentiousness about beer, etc. But you could make a strong argument that Burlington, and specifically the music scene, does Halloween as well as anywhere. With Halloween on a Saturday this year — and the added hour of tricks and/or treats we get because we fall back that night for daylight saving time — that should be especially true this year.
In fact, Halloween in Burlington has already started. It got under way with a special All Hallow's Eve edition of Metal Monday at Nectar's this past Monday night. True, Metal Monday always kind of has a Halloween vibe anyway. But still. That's dedication.
As always, Burlington and beyond are positively bursting with fiendish rock-and-roll shenanigans on or around October 31. In Soundbites tradition, we'll run through some of the options and include costume suggestions, should you decide to haunt a particular show. Because we can't all dress up as sexy Bernie Sanders. (Or can we?)
We begin with Madaila: The Scream at the ECHO Leahy Center for Lake Champlain in Burlington on Halloween proper. You'd be hard-pressed to find a local band that's had a better year than Mark Daly's dance-rock outfit. Since releasing their debut record The Dance in early 2015, Madaila have experienced a meteoric rise, locally and beyond. They've been touring like crazy and building some serious regional buzz, making them quite likely Burlington's hottest band at the moment. For proof, ask yourself how many Vermont bands could throw a party at a joint like ECHO and be pretty well assured they'll sell it out. Maybe three, not including Grace Potter or Phish? Madaila are also still churning out killer videos, as evidenced by their recently released vid for "I Don't Want to Rest." Check our arts blog, Live Culture, for a look at that.
In a recent email, Daly writes that Halloween is his band's favorite holiday, because it "sort of epitomizes what we're all about as a band: getting weird and wild and being whoever you want to be." Damn right.
Also getting weird at the Scream are beloved VT expats Alpenglow Northampton's LuxDeluxe and Burlington's Disco Phantom.
(Costume suggestion: This one's a softball, given Madaila's proclivity for Spandex. An extra from Flashdance. Or you could gamble on Daly dusting off his rendition of "Thriller" and dress as the zombies from the classic MJ vid. Your call.)
Meanwhile, a few hundred feet away at the Skinny Pancake the same night, soul man Josh Panda will channel his inner Jim Morrison leading the Doors tribute band the Back Doors.
Two things here: One, that's just an awesome name for a Doors tribute band. Two: Josh Panda has some incredible range. Most locals are aware of his high-flying upper-register histrionics, whether belting his own stuff or as the go-to front man for various BTV tribute projects. But Morrison is a different beast — a lizard, I suppose — who sang most of his stuff in the bass and baritone range. Panda being Panda, I'm sure he'll pull it off, which is a testament to just how remarkable a vocalist he is.
(Costume suggestion: Ed Sullivan.)
courtesy of Sound of Urchin
Sound of Urchin
Over the river at the Monkey House in Winooski, NYC's Sound of Urchin return to Vermont for a two-night Halloween cage match on Friday, October 30, and Saturday, October 31, with a band called Bill and Fred's Excellent Adventure. Recently resurrected local punks Lord Silky handle the opening duties Friday, with local rockers Dino Bravo tagging in on Halloween. Either night promises to be the loudest show of the weekend, so even if you can't Uber your way to the 'Noosk, just tilt an ear toward the roundabout and you'll hear screams galore. In a good way.
(Costume suggestions: Friday: Wyld Stallyns from Bill & Ted's Excellent Adventure. Saturday: members of hybrid tribute band Pink Talking Fish, just to see Dino Bravo front man Matt Perry's head explode — he's really not a fan of PTF, ya dig?)
Speaking of Halloween tributes, at Club Metronome on Wednesday, October 28, local jam band Tar Iguana will play a set of Ween tunes. Because, according to a little-known Vermont law, at least one local band has to play Ween on or around Halloween.
(Costume suggestion: Fluffy.)
Sticking with the jam scene, Binger have a creative show lined up at Radio Bean on Halloween night called Radio Scream: A Scooby-Doo Halloween Mystery. The show will feature Halloween-themed covers, treats — Scooby Snacks, presumably — and an actual mystery to be solved during the evening.
(Costume suggestion: a g-g-g-g-ghost!)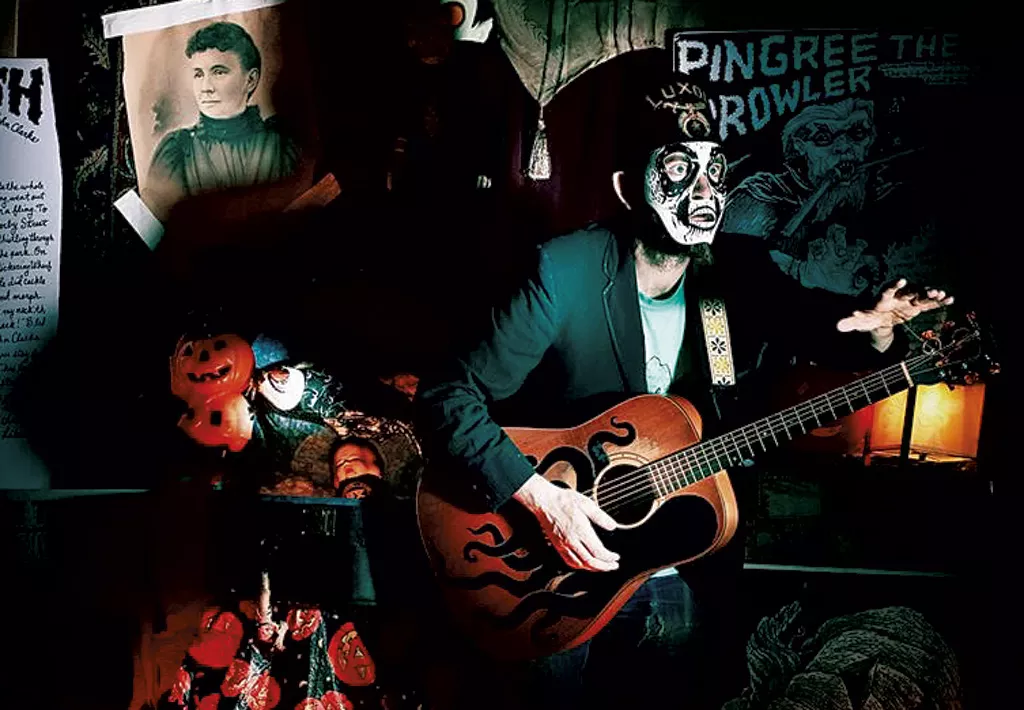 courtesy of Doctor Gasp
Doctor Gasp
Just two doors down at the Light Club Lamp Shop on Thursday, October 29, Somerville songwriter Dan Blakeslee will once again perform as his spooky alter ego, Doctor Gasp, in what has become a welcome annual tradition. Blakeslee has penned a suite of ghoulish tunes over the years and released them on a 2013 record, Vampire Fish for Two!, as Doctor Gasp and the Eeks. (The Eeks, by the way, include sometime-local trumpeter Ben Aleshire of the Vermont Joy Parade.) It's family-friendly fare, but also creepy good fun.
(Costume suggestion: a vampire fish.)
Over in Montpelier, local robotic surf overlords the Tsunamibots headline a Halloween show with garage rockers the Toes at Charlie-O's World Famous. Few local bands are as well suited for Halloween as the Tsunamibots because, well, they're human-crushing killer robots, that's why. All hail.
(Costume suggestion: a Cylon from the original Battlestar Galactica.)
Finally, a few doors down at La Puerta Negra, DJ Bay 6 is hosting a Thriller party. If I have to explain to you what that entails, we might need to see other people.
(Costume suggestion: anything Thriller related, naturally.)
BiteTorrent
In other news, this Friday, October 30, some of the dudes from Rough Francis — including Seven Days' Bobby Hackney Jr. — and locals Derek Virta and Adam Lion Rodriguez will play a set of Los Saicos covers at Manhattan Pizza & Pub. If you're not familiar, Los Saicos were a Peruvian garage band from the 1960s, and have lately been added to the growing list of rediscovered bands considered to be "punk before there was punk." And why is that notable? If you'll recall, Rough Francis were originally conceived as a tribute to another protopunk band, their father and uncles' band, Death. Nifty, no? The aforementioned Tsunamibots open the show.
Welcome back, Wave of the Future! After disappearing last year, the Back to the Future-themed dance-punk band have rejoined us here in the year 2015. They'll be at Finnigan's Pub in Burlington on Friday, October 30 — only about a week after Marty McFly landed in 2015 in Back to the Future 2, BTW — with the Mountain Says No.
Last but not least, happy anniversary to Family Night at the Halflounge Speakeasy. The weekly Monday jam session celebrates four years on Monday, November 2. If last year's celebration was any indication, expect copious numbers of special guests and some seriously fiery jams all night long.
Listening In
A peek at what was on my iPod, turntable, eight-track player, etc., this week.
Joanna Newsom, Divers
Beach House, Thank Your Lucky Stars
Martin Courtney, Many Moons
Doctor Gasp and the Eeks, Vampire Fish for Two!
Built to Spill, There's Nothing Wrong With Love