Courtesy Photo
Kalbells
Soundfrights: The Frightening Sound
Ah, the many joys and pitfalls of adult Halloween. I believe I've discussed this before, but it never hurts to rehash a perennial problem. When Halloween falls on a Friday, Saturday, Sunday or Monday, it's pretty much guaranteed that all haunted happenings will fall on one of those three days, confining festive fun to a single weekend.
But when Halloween lands on any other day of the week — as it has for the last three years — the world can't make up its mind about when grown-ups can and should cut loose. Parties pop up well before and after the actual date of October 31 (aka next Thursday). This is my long-winded way of saying that, though I'd love to knock out all Halloween-related music events in one column, I'm going to split them between this week and next.
First of all, the Witches Brew Bash, one of the bigger Halloween parties in the area, isn't happening this year. A brief note from Event Moguls, the presenter, on the Witches Brew Facebook page, explains that the event will return in 2020. In the past, the party has taken over the ECHO Leahy Center for Lake Champlain, a pretty dope place to cut loose. There are, like, frogs and eels and other critters to look at while you get drunk. Hopefully Witches Brew will make it back to the lakeside aquarium next year.
While Nectar's and Club Metronome don't have any events specifically branded as Halloween-related, the venues offer a particularly packed weekend.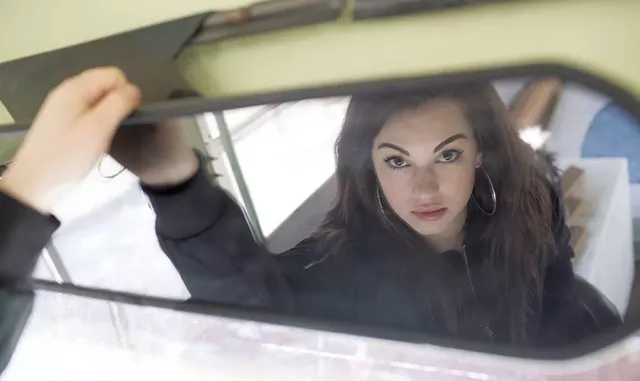 Courtesy Of J Mounira Shia
Joanna Teters
Events include several cutting-edge artists, namely alt-pop outfit
Mr Twin Sister
on Thursday, October 24, and soul singer-songwriter
Joanna Teters
on Friday, October 25, both at Club Metronome. Later,
Kenny Vasoli
's chilled-out electronic-pop project
Vacationer
hits Nectar's on Saturday, October 26. And if you want to dance, Metronome and Nectar's have got you covered with back-to-back tributes to
Drake
and
J Dilla
on Friday and Saturday, respectively.
Foam Brewers hosts one of the hottest parties of the week on Saturday. The show, dubbed Cartooniverse, features the return of Burlington expat Kalmia Traver's project Kalbells. The Rubblebucket front person debuted her solo project in 2017, and fans, myself included, have been dying for new music ever since. Traver confirms via email that, indeed, a new album is likely to appear in 2020 and that we may get to hear some of it at the show. (Traver did not respond to further questions by press time.) If you haven't had a chance to hear her ethereal, off-kilter pop, now's the time, my friends.
Also on the bill is the return of Hammydown, Abbie Morin's pop-rock outfit. The former expat reclaims their local status, once again taking up residence in the Queen City. Willoughby Morse (Caroline Rose) adds drums and Liz Stafford (the Pyros, Paper Castles) holds down the low end on bass. And La Rime spins eclectic, exotic deep cuts.
Cartooniverse is a mandated costume party, à la teenage trick-or-treating rules: No costume, no go. Ooh, and there's a cash prize for best ensemble. Nowhere in the event's branding does it say you need to dress up like a cartoon character. But I've found animated shows and video games to be a particularly rich area for inspiration. And I'm not the only one. I think it was the Halloween of 2014 when I saw innumerable Ricks and Mortys running around.
The Light Club Lamp Shop hosts its annual Terror Ball on Saturday, as well. (Are you noticing a pattern here? Saturday is the night.) Before the evening descends into disco decadence courtesy of vinyl king DJ Taka, a gaggle of drag queens commandeers the club for an event called A Very Scary Hairy HallowKween. (Nice pun!)
According to promo material, "Drag rules don't apply here. Tucks will be untucked, wigs will roll and hairy legs will snatch poor unsuspecting souls too close to the stage." That means forget everything you thought you knew about drag culture. Queens include Miss Czechoslovakia, Cherrié Insanitée, Lady Donna Rhea, Mecca, Madame Mystique, Luci Furr-Matrix and the group's "latest outbreak," as they say, H.P. Vera. (Again, nice puns!)
Be sure to check in next week for Soundfrights Two: Double Tap.
BiteTorrent
On Thursday, a group of Tom Petty super fans unite for Running Down a Dream: A Tribute to Tom Petty at the Higher Ground Ballroom. Led by Kat Wright guitarist and Mosaic bandleader Bob Wagner, the posse of local players aims to simultaneously honor the late Petty, who died in October 2017, and raise money for the WaterWheel Foundation, Phish's multipurpose charity. Other band members include Lowell Thompson, Josh Weinstein and Sean Preece, with special guests Ryan Miller of Guster, Ryan Montbleau and Hayley Jane of Yes Darling. Wagner and co. staged a similarly star-studded tribute to the "I Won't Back Down" singer-songwriter just a few weeks after his death. And speaking of Wright...
...She joins the Vermont Symphony Orchestra on Saturday at the Higher Ground Ballroom. The collaboration echoes Guster's partnership with the classical ensemble, which rocked the Shelburne Museum on July 21, 2018. Wright could not be reached for comment prior to press time. But if Saturday's show is anything like the Guster/VSO joint effort, we can expect to hear fully orchestrated, reworked selections from Wright's catalog. Unfortunately, the show is sold out. Time to carefully and prudently look to the secondary market!
Listening In
If I were a superhero, my superpower would be the ability to get songs stuck in other people's heads. Here are five songs that have been stuck in my head this week. May they also get stuck in yours. Follow sevendaysvt on Spotify for weekly playlists with tunes by artists featured in the music section.
Caroline Polachek, "Ocean of Tears"
Electric Guest, "More"
Gesaffelstein & the weeknd, "Lost in the Fire"
Tears for Fears, "Shout"
WhoMadeWho, "Dynasty"