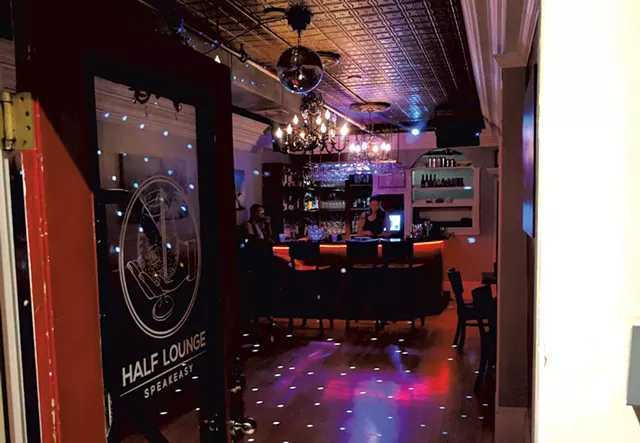 Courtesy Of Half Lounge
Half Lounge
I'm sure I'm not the only person who's been sitting around for the last few months, sighing deeply and casting my glance in a far-off direction, wondering what the hell is happening with Half Lounge. If you recall, the compact Church Street cocktail bar and live music venue shut down in March after serving Burlington's nightlife scene for more than a decade. Only two months later, SideBar talent buyer Adrian Sackheim, along with Mr. Mikes Pizza/SideBar proprietors Aaron Chiaravelotti and Boudee Luangrath, announced that they had purchased the club and planned to give it some much-needed TLC.
The new owners intended to open the bar in August. Unfortunately, the eighth month of the Gregorian calendar came and went with no sign of Half's sweet-AF signature cocktail, the Velvet Glove. And that was totally understandable, albeit disappointing. After all, renovations always take longer than expected.
But on Sunday evening, a Facebook post announced that the club was open. Though I had basically checked out for the evening and was about halfway through watching the Middle Ages raunch-comedy The Little Hours, I paused the flick, jumped out of bed, quickly got myself together — i.e., put on pants — and hightailed it downtown to bear witness to the grand splendor of the reinvigorated music nexus.
It couldn't have been a better night for a soft open. Between Homecoming and Family Weekend at the University of Vermont and the brief spike in temperature, Queen City denizens were out in droves. Upon arrival, the disco ball was spinning, house music was thumping (thanks, DJs OD3 and Cliff) and patrons were beginning to fill up the now-expanded dance floor and the outdoor patio area. Sackheim was on the scene, all smiles and holding court while his grateful customers kicked back and cut a rug.
The first thing I noticed was how much bigger the club felt, likely because of the light-colored paint and the removal of the bench seating and tables from the northern wall. If you scoffed at the notion of dancing at the old Half Lounge — which easily became congested — the rebooted floor plan may have fixed that problem. Boogie away, you dancing fools!
Another change that stood out: The new, reclaimed wood tables weren't hidden under oversize tablecloths like their predecessors were. (Seriously, who among us never tripped on or almost completely yanked off one of those excessively long tablecloths at the old Half Lounge?)
Speaking of the delayed opening, Sackheim chuckled at his original goal of getting the place up and running by August. Though everything seemed fine and dandy in the front of house, he mentioned a mini-crisis that unfolded behind the scenes just hours before opening. The house refrigerator, which was handed down from the previous owners, conked out earlier in the weekend. This wouldn't have been too much of a setback under normal circumstances. But removing the fridge from the kitchen proved more difficult than expected.
"We had to take out a wall," Sackheim explained. Apparently, in order to swap the old one with the new, Sackheim and company had to perform some light structural surgery.
But if that's the case, how the eff did they get the original fridge in there in the first place?
"We think they built the wall around the old fridge after they installed it," the co-owner said. He and his associates spent Sunday morning sawing, hauling and sweeping up sawdust.
Half Lounge will continue to serve as an art gallery. Local digital artist James Merrill is the first to have work hung on the freshly painted walls. Several of his large, abstract prints adorn the bar's interior.
Rather than celebrating its grand opening with only a single night, the entire coming weekend is one extended extravaganza. Thursday night kicks off with SideBar resident DJ SVPPLY spinning a mix of hip-hop and future-soul. Friday evening marks the return of DJ collective 2KDeep's Good Times, a formerly monthly night of house and techno featuring L Yeah, Sharkat and Haitian (aka Sackheim himself).
Saturday's festivities nod to the LGBTQ scene with DJs Chia and Rob Douglas and their recurring house music event, Fun House. Sunday winds down the weekend with the hip-hop stylings of DJ Dakota.
Welcome back, Half Lounge! We've felt the vacuum between Red Square and Gaku Ramen for far too long.
BiteTorrent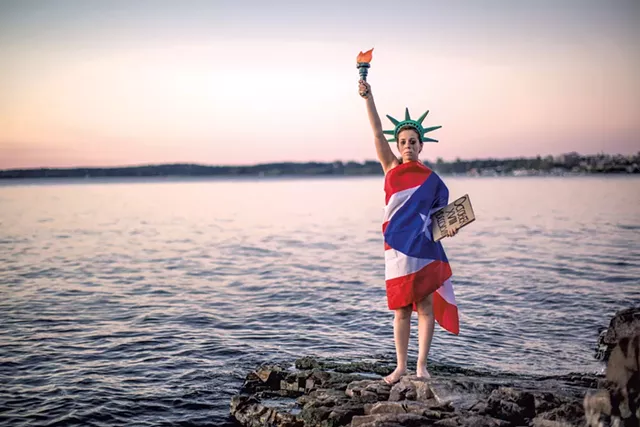 Courtesy Of Luke Awtry Photography
Marcie Hernandez
Kudos to David Zeidler, Higher Ground and the rest of the dunk!USA team. Over the weekend, dozens of post-rock bands descended on the South Burlington nightclub for the first-ever American edition of the long-running Belgian dunk!festival. Given that the event was in its first year, it was anyone's guess as to how it would be received. But audiences were enraptured, and things seemed to run exceptionally well.
Those who were present for the Eye of Time's performance got to see a one-of-a-kind set from the French composer, whose real name is Marc Euvrie. A series of mishaps forced the ambient artist to completely abandon his planned set and improvise everything from scratch. Alternating among looped guitar, cello, synthesizer and electronic samples, he created a hauntingly beautiful soundscape that could easily have been the score of a romantic horror film.
Though not currently on the books, the dunk! team hopes to bring the festival back in the years to come.
In the coming weeks, a number of local bands and musicians are teaming up for a few benefit shows to raise money for ongoing relief efforts in Puerto Rico after the devastating effects of Hurricane Maria. On Wednesday, October 18, bilingual singer-songwriter Marcie Hernandez and 8 Cuerdas guitarist Daniel Gaviria perform at Radio Bean. Hernandez enlisted music photographer extraordinaire Luke Awtry for a dramatic photo series, prints of which will be available at the show. All proceeds benefit the Hurricane Maria Community Relief Fund.
On Sunday, October 22, Ray Vega, Mal Maiz and DJ Jah Red join Hernandez and Gaviria, as well as others, for a night of Latin music and food at North End Studios' new event hall. In addition to the aforementioned fund, proceeds from this event also support Resilient Power Puerto Rico.
Finally, the Shrewsbury Community Church presents a benefit concert featuring the Shrewsbury Singers, the Shrewsbury Community Band, Eric Hangen and Heidie Vasquez-Garcia and additional special guests on Sunday, October 29. Donations will support nonprofits in Puerto Rico..
Speaking of supporting hurricane relief, you could also download a copy of the Gifts' latest EP, Dor. Proceeds from the freshest installment of former Pretty & Nice guitarist Jeremy Mendicino's new experimental electronic project support international nonprofit Direct Relief and its ongoing efforts in a number of regions. You can find the charitable EP at thegifts.bandcamp.com.
Listening In
If I were a superhero, my superpower would be the ability to get songs stuck in other people's heads. Here are five songs that have been stuck in my head this week. May they also get stuck in yours. Follow sevendaysvt on Spotify for weekly playlists with tunes by artists featured in the Music section.
Kelela, "Waitin"
Goldfrapp, "Believer"
Holy Oysters, "Take Me for a Ride"
Queens of the Stone Age, "Domesticated Animals"
Portishead, "Humming"
Update, Friday, October 13, 2017: This story has been updated with new information on beneficiaries for the Shrewsbury Community Church benefit concert.