Before we begin this week's column, I'd ask you to check out the interview I did with Rubblebucket's Alex Toth and New Zealand-born indie-pop songwriter Kimbra. I'll wait...
Pretty cool, right?
For those of you who didn't bother to follow my very simple request, in that piece Toth and Kimbra discuss the ins and outs of "Farewell, Starman: The Music of David Bowie Re-imagined." That's the wildly creative Bowie tribute show they're curating at the ECHO Leahy Center for Lake Champlain this Saturday, May 21, with a band that includes members of Rubblebucket, Delicate Steve and Bear in Heaven. And it's gonna be bonkers.
Also, the show is a feature attraction of everyone's favorite (or at least mine) debauched bash, the Full Moon Masquerade. That being the case, lots of other fun stuff is on tap for the night. The Q&A with Toth and Kimbra centered mostly on Bowie — and me trying really hard not to be smitten with Kimbra's delightful Kiwi accent. So let me fill you in on what else is in store once the moon is fully waxed. (See: bonkers, gonna be, above.)
As mentioned in the Q&A, the musical portion of the main stage show will open with Kimbra's "space moon jam," an improvisational freakout featuring her and the rest of the Starman band. The show will close with the Bowie tribute. In the middle is a band that's quickly becoming near and dear to local music fans, Arc Iris. Led by Jocie Adams, formerly of the Low Anthem, Arc Iris have made Burlington something of a second home. They appear fairly frequently at local juke joints such as the Skinny Pancake and the Light Club Lamp Shop — and they put on a terrific set at Waking Windows 6 two weeks ago. Given Adams and co.'s affinity for bizarre sparkly attire — and provocative art rock — they seem like a natural fit to be the meat in a Bowie tribute sandwich.
As you probably know, ECHO is a huge and unconventional venue for a show, with all sorts of nooks and crannies. Each of those nooks, and even a couple of crannies, will feature all manner of intriguing discoveries.
Take the Bloomoon Room, for example. Here you can expect to find a variety of intimate, low-key performances. Most of the lineup for this room has yet to be unveiled, but the names to know are experimental composer Greg Davis and Craig Winslow, who are presenting an immersive, drone-y multimedia experience. In layman's terms, it's gonna melt your brain. In a good way.
Then there is the Super Nova Disco Den. The official tagline here is: "Wonder what it's like to dance in zero gravity?" I presume that means the absence of gravity, not that revelers will be sloshing around to house music ankle deep in Green State Lager. But, hey, you never know, right?
Meanwhile, at the Moonbeam Theater — are you picking up on the space theme yet? — the cosmic crew from Radio Bean will present theatrical performances of "the dramatic, comedic and tragic varieties." I'm guessing that means Lee Anderson in Jareth the Goblin King's giant codpiece — FYI, that's Bowie's character from Labyrinth. Which might be the only kids' movie in history with a prominently featured codpiece. But, again, I'm just guessing.
At the Film House of the Cosmos, take a breather and watch one of several films specially selected for the evening. I'm kind of enjoying the guessing game here, but I'd put my money on Labyrinth, The Man Who Fell to Earth, The Hunger, The Prestige and Zoolander.
Finally, check out the Pisces' Patio & Voyagers' Veranda. Those are outdoor spaces featuring performance art and, best of all, views of the full moon.
Correction: Views of Bowie. Because, as he wrote in "Love You Till Tuesday": "Don't be afraid of the man in the moon, because it's only me."
BiteTorrent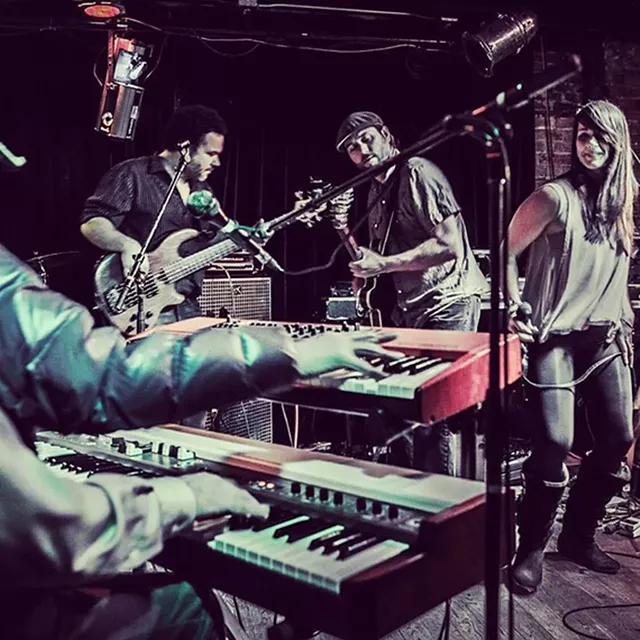 Staying on the tribute beat — and also the Signal Kitchen beat — everyone's favorite local all-star tribute series, Select Sessions, continues this week. The folks who brought you note-for-note renditions of Paul Simon's Graceland, the Allman Brothers Band's Eat a Peach, Led Zeppelin's IV and the Beatles' Sgt. Pepper's Lonely Hearts Club Band are back again. This time around, they're locked and loaded for the music of Guns N' Roses.
The show is this Thursday, May 19, at ArtsRiot in Burlington. The band features the usual cast of characters, including Rich Price, the Grift's Clint Bierman, Steve Hadeka, Dave DeCristo, Andrew Moroz and many others. But most importantly, chameleonic vocalist Josh Panda fronts the band. Panda is one of only two local singers I can think of with the range to do Axl Rose justice. (The other is Blue Button's Jason Cooley.) I do wonder if Panda can rough up his golden pipes enough to really welcome us to the jungle. But I long ago learned not to doubt the man when it comes to his astonishing vocal chops.
Also, this show is a benefit for the Edmunds Middle School. Wonder if they're gonna do "Get in the Ring"?
If you're looking to pregame Starman, I'd suggest heading down to Magic Hat Brewing in South Burlington on Saturday afternoon for Heavyfest. This is the sixth annual incarnation of the outdoor bash, which benefits local do-gooders Big Heavy World. As usual, it features a rock-solid local lineup. This year's slate includes Gang of Thieves, Dwight & Nicole, the Michelle Sarah Band, Jimkata and Casio Bastard. There will also be a live art expo with Jason Tooth, food trucks and representatives from the nonpartisan voter registration outfit HeadCount. Oh, and beer.
Welcome back,
Rachel Ries
! The formerly Montpelier-based songwriter is swinging through Vermont this week in support of her new EP,
Cardinal
. Ries is now based outside of Minneapolis, living in a tiny house she built on her brother's land. She recorded the EP with songwriter
Jeremy Messersmith
, who is high on my own personal list of the Top Five American Songwriters You're Probably Not Listening to Because You're a Dingus. Seriously, I love that guy. (And I don't really think you're a dingus. But check out Messersmith already.)
I'm also a pretty big fan of Ries, and not just because — full disclosure — she frequently collaborates and tours with my sister. However, my bass-playing kid sis has no involvement in the EP or this tour. So I feel little compunction in saying that Cardinal presents some of Ries' most beautifully affecting writing to date. (Though it could probably use more upright bass and backing vocals. I kid, I kid.) The physical version also comes with a limited-edition linoleum-block art print, handmade by Ries.
Say hi to Ries when she plays the Plainfield Opera House on Tuesday, May 24, with local support from Kris Gruen.
Last but not least, congrats to the Evansville Transit Authority! The longtime Northeast Kingdom rockers are the winners of this year's Grand Point North Local Band Contest. As such, they've won the honor of opening the 2016 Grand Point North rockenanny in September. Nice work, guys.
Listening In
A peek at what was on my iPod, turntable, eight-track player, etc., this week. For weekly playlists, follow sevendaysvt on Spotify.

Radiohead, A Moon Shaped Pool

Seratones, Get Gone

Modern Baseball, Holy Ghost

William Tyler, Modern Country

Ryan Adams, Heartbreaker (Deluxe Edition)