The Perfect Storm
Remember about six weeks ago when, through an unprecedented convergence, we were treated to possibly the busiest weekend of rock and roll in the history of Vermont? It was the first weekend of August, and festivals, one-off outdoor shows and visits from iconic rockers packed the calendar like never before. The bounty of rock riches was so overwhelming that I made a not entirely tongue-in-cheek plea to local concert organizers to, ahem, share a fucking Google calendar in hopes of spreading things out a bit. Judging by what's on tap for this coming weekend, it's clear my exhortations fell on deaf ears — perhaps unsurprising for a group of people who make their living hanging out at rock shows. Tinnitus is a bitch, lemme tell ya.
The upcoming weekend isn't quite as overloaded as that fabled early-August run. But with the South End Art Hop, Grand Point North, Pride Festival and numerous other happenings, it's damn close. So let's dig in, shall we?
On Point
Courtesy Of Nothing Quite Yet
Nothing Quite Yet
Not that Grace Potter doesn't get enough Vermont media coverage — see this week's cover story, for instance. But we begin this week with the big to-do on the waterfront. The big names you likely know. And if you don't know the Flaming Lips, Shakey Graves, Mike Gordon and Marco Benevento, we should probably start seeing other people. For our purposes here, I'm more concerned with the local lineup, which is as robust as ever this year.
For the uninitiated: Every year, Potter and company go to great lengths to include Vermont bands in their annual end-of-summer blowout. They don't necessarily handpick them anymore, since being rock stars is rather time-consuming. But they definitely do ask around to keep their pulse on the local scene.
On Saturday, September 12, the fest begins on an unusual note with the Harwood Union High School Assembly Band, aka Nothing Quite Yet, who, through a little industriousness and a lot of chicanery, earned the festival's opening slot by winning the Seven Days Grand Point North Band Contest. Is it a little wonky to open a rock festival with a high school band? It sure is! But NQY aren't your average high school band. They're a select small ensemble that's been playing together for three years. And they happen to hail from Potter's alma mater. I have absolutely no inside info here, but there's no way the festival founder doesn't drop in for at least one song, right? That possibility alone ought to be enough to get fans to Waterfront Park early.
Those who do show up on time will be treated to three of the most exciting local bands going. The first is cumbia outfit Mal Maiz, who have been holding down a Monday residency at Radio Bean that I'm told is the hottest night of the week at the cozy hipster haunt. Maryse Smith and Michael Chorney follow. That duo recently collaborated on Smith's latest and greatest album, the quietly stunning The Way It Is. And they are just as compelling live as on record. Rounding out the local slate Saturday are the ever-ascendant Madaila, who by this time next year could well be playing the GPN stage as a headliner.
The schedule on Sunday, September 13, kicks off with southern Vermont metal band Barishi, whom I've yet to see live but hear great things about. I'm excited to see them, if only because watching Potter fans react to fearsome metal shredding is guaranteed to be entertaining. One of my all-time favorite GPN moments was a couple of years ago seeing local sons of Death, Rough Francis, flat-out terrify unsuspecting Potterheads, who watched from a safe distance in their lawn chairs. If that's how they respond to punk, wait'll they get a load of prog metal.
Next up are Brattleboro high schoolers the Snaz, who, unlike the Harwood kids, are not a high school band but rather a band whose members happen to be in high school. And they're great. Alt-rockers Heavy Plains come next, with organ-funk outfit Soule Monde closing out the locavore portion of the day.
Hop, Skip, Jump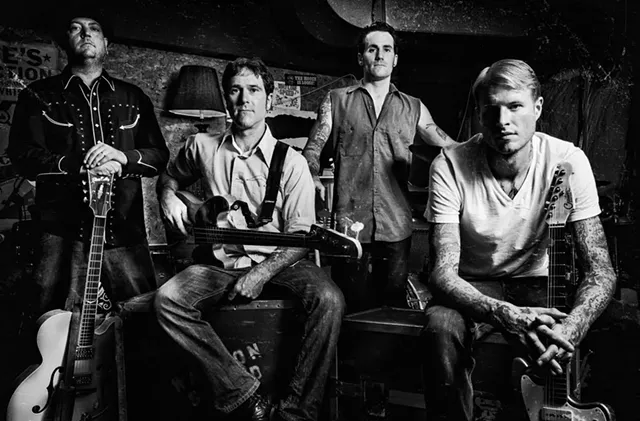 Courtesy Of Waylon Speed
Waylon Speed
In a weird twist of the calendar, GPN and the South End Art Hop fall on the same weekend. Fortunately, opening night of the Hop, which I count among the best individual nights of the year locally, falls on Friday, September 11, meaning there's precious little conflict between the two.
As always, Art Hop is a smorgasbord of live music. And also art. I don't have the space to give the full rundown. And, really, a lot of the best shows tend to be either announced late or not at all, meaning you have to seek them out yourself. But that's part of the fun, right? Instead, I'll direct you toward two specific shows and send you on your merry way.
The first is, well, the Seven Days party at the SEABA Tent behind the Maltex Building on Friday. I know, I know. It's shameless self-promotion to pimp our own party. But it's not every Art Hop that your venerable local altweekly turns 20. And it's gonna be a killer bash. We'll have improv comics from the Vermont Comedy Club getting their jokes on — based on 7D's I-Spys. Craig Mitchell will be there getting his "Purple Rain" on with his Prince tribute, Operation Prince. And Waylon Speed will be there getting their outlaw dirt rock on. Like I said, killer party.
The next show falls the following evening, Saturday, so if you're not heading to GPN, maybe drop by Speaking Volumes. If you do, you'll catch local metal act Sabrehound, hairy Enosburg rockers the Mountain Say No and a band called Ardilla. The last is an improvisation trio featuring Ethan Snyder, Jeremy Gartner and BTV expat Dan Munzing, who is presumably in town as part of the Grand Point North after-party at the Higher Ground Ballroom on Sunday with Matt Burr's Pink Floyd tribute, the Dark Side of the Mountain.
Happy hopping!
BiteTorrent
Courtesy Of Wren Kitz
Wren Kitz
Speaking of GPN after-parties, if you're looking for an alternative to the official bashes, I might suggest dropping by Radio Bean and/or the Light Club Lamp Shop post-festival on Saturday. The cool kids from Waking Windows Presents are taking over both spots for the night with a nifty lineup.
Radio Bean has Brennan Mangan, Wren Kitz, Violet Ultraviolet, Jeff Beam and Paper Castles. Meanwhile, at the Lamp Shop, Waylon Speed's Kelly Ravin celebrates the release of his excellent new solo record, County Tracks. He'll be followed by the Ryan Osswald Trio.
Last but not least, in other festival news, this weekend marks the annual Otis Mountain Getdown just across the lake in Elizabethtown, N.Y. The three-day fest, which runs Friday through Sunday, September 11 to 13, doesn't boast quite the same marquee value as GPN. But the lineup includes a number of excellent locals. For example...
Vermonters appearing this year at the OMG are Black Milk, Rough Francis, Madaila, And the Kids, Alpenglow, Smooth Antics, argonaut&wasp, Grundlefunk, the Tenderbellies, Abbie Morin, the North End Honeys, Snakefoot, DJ Steal Wool and Crusty Cuts. For more on the fest, visit otismountain.com. m
Listening In
A peek at what was on my iPod, turntable, eight-track player, etc., this week.
Roger Lion, Roger Lion
Shakey Graves, And the War Came
Telekinesis, Ad Infinitum
The Libertines, Anthems for Doomed Youth
The La's, The La's