courtesy of OOPEy MASON
Lowell Thompson
This column, Thanksgiving week, used to scare the bejesus out of me. The upcoming weekend is notoriously among the slowest of the year, music-wise. For example, Higher Ground has but one show on the books between now and December 3, which is one more show than it traditionally has. Add to that the fact that most of our local bands are at least partly made up of people from other places, and there's just not a whole lot going on. That makes writing a local music column quite a challenge, even given my finely honed powers of bullshitting.
So, a few years back, I came up with a different tack. Rather than try to tease 1,200 words out of the smattering of bar bands and karaoke nights that dot this weekend's schedule, I decided to take the opportunity to reflect on some things related to the local music scene that I am personally thankful for or that we, collectively, should take a moment to appreciate. 'Tis the season, after all.
Lo and behold, this has become my favorite column of the year to write and something of a tradition — and I even usually manage to sneak in some news to boot. Sometimes, 1,200 words simply isn't enough. So let's get to it.
I am thankful we have such a close-knit music community, even though that means I can't write about a number of deserving local bands because of conflicts of interest — friends, family, coworkers, exes, etc.
Among these is my old friend Lowell Thompson. We go way back — I've known him since high school. Thompson is one of the most talented and hardest-working musicians I know. He's also got a new record out, Stranger's Advice, which you ought to know about. In fact, you would have known more about it this week except that, due to a comedy of errors, the review we had slated fell through. Look for that soon.
Anyway, Thompson is playing a release party at Nectar's this Saturday, November 29. He's actually pulling double duty as the rhythm guitarist for Barbacoa, who are also on the bill and have been one of my favorite local bands since I was but a wee scenester in the late 1990s — long before Thompson joined the band, BTW. Rounding out the night are the always-excellent and criminally underrated Ryan Ober & the Loose Ends.
Back to Thompson: His new disc is, in my opinion, his strongest yet. It's got all of the bittersweet, alt-country charm you'd expect, but with a depth of songwriting and attention to melody I haven't heard from him previously. I don't want to step on the toes of the person who will eventually review the record in these pages, so I'll stop there. Needless to say, I'm a fan.
I am thankful we look out for each other. A few months ago, I reported on a What Doth Life benefit compilation for Derek and the Demons guitarist Kiel Alarcon. If you recall, Alarcon had endured a profound run of misfortune that included being diagnosed with a spinal tumor and a risky surgery to remove it. Then his parents' house caught fire. Oh, and then he was canned from his job.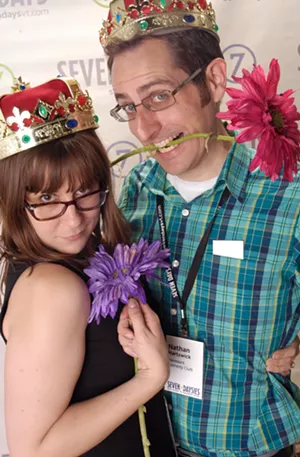 File: Matthew Thorsen
Natalie Miller and Nathan Hartswick
I'm pleased to report that compilation, We Sold Out for Kiel, was released last week via the What Doth Life Bandcamp page. And it's really cool. It features 27 tracks from WDL artists and some other regional friends. If you've ever been curious about the cool, weird sounds coming out of the Upper Valley, check it out.
I am thankful for the incredible team at the Vermont Cancer Center at the University of Vermont Medical Center. I love you, mom.
I am thankful the local comedy scene hasn't made me look like an ass — or more of one, anyway — for championing it in these pages for the past several years. I recently had a skeptical coworker tell me he was seriously surprised and impressed by the level of talent he witnessed at a recent local comedy showcase. He's a news reporter, so skepticism is his stock-in-trade. I think that same scenario is playing out in venues all over the state almost every night of the week, as local audiences discover just how deep the comedic talent pool in Vermont has become. It's real, people.
Speaking of which, if you're in downtown Burlington this Saturday, November 29, leave. It's gonna be a holiday-shopping shit show. Alternatively, you could swing by the BCA Center when the Vermont Comedy Club presents Joke 'Til You Drop. That's a 12-hour comedy marathon featuring pretty much every standup and improv comedian in the state. It's like one-stop shopping for local comedy. Actually, I'd like to rename it. Given that it falls the day after Black Friday, I hereby decree we refer to the joke-athon as Blue Saturday. So it is written.
One more thing: The show is essentially a promotional stunt to raise the profile of the Vermont Comedy Club, which, as first reported here a few weeks back, is slated to open in downtown Burlington this spring. Not reported in that piece was where it will be. VCC's Natalie Miller and Nathan Hartswick asked me not to reveal the location at the time, as it was still sensitive info. So I didn't, since that's what respectful journalists do, especially when they want to maintain relationships.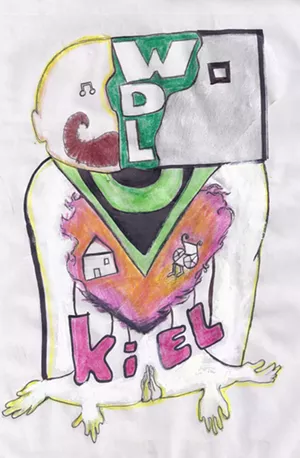 Courtesy Of What Doth Life
What Doth Life
But of course, that didn't stop a certain local media outlet from letting the cat out of the bag last week. If you missed it, the new comedy club will reside in the old Armory building on Main Street, which is prime real estate and the former home of the late, great Queen City music haunt Hunt's. In a related story, you may want to look to 7D for future VCC updates, as I suspect a certain local publication may not be as privy to that info as it used to be.
I am thankful this publication is less concerned with clicks than with quality.
I am thankful for Jim Lockridge and Big Heavy World. About a month ago, Lockridge went on the offensive with an online petition aimed at making the city of Burlington's approach to arts funding more inclusive. In truth, it was a thinly veiled shot across the bow of Burlington City Arts, often an easy target for rankled artists who feel overlooked. That's a land mine I'll not step on here.
Anyway, the petition drew a range of responses, from those who fervently agreed with Lockridge to those who felt his efforts were misguided. There were good arguments to be made on both sides. As it turns out, the petition did lead to some promising discussions between Lockridge and BCA about how the needs of the local arts community at large could be better served by the city. I'm not ready to report on the nuts and bolts of those discussions quite yet, but there could be some interesting developments on the horizon. Stay tuned.
Last but not least, I'm thankful for you, dear readers. We may not always agree. But we come to these pages every week for the same reason: We care deeply about music in Vermont. And for that, I can't thank you enough.
Listening In
A peek at what was on my iPod, turntable, eight-track player, etc., this week.
Sunbeam Sound Machine,Wonderer
Canopies,Maximize Your Faith
Ariel Pink,Pom Pom
Wilco,Alpha Mike Foxtrot: Rare Tracks 1994-2014
Bryan Ferry,Avonmore
The original print version of this article was headlined "Howdy, Pilgrims'?'"