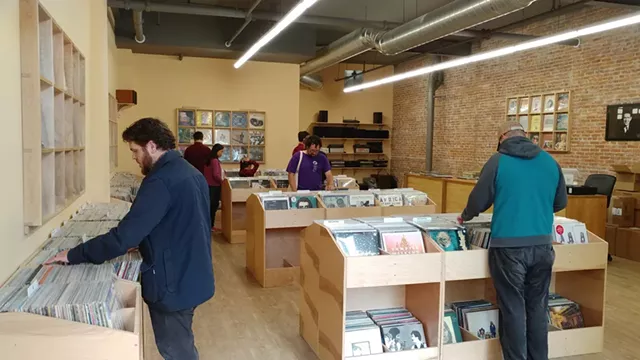 Jordan Adams
Autumn Records in Winooski
Last week, Seven Days revealed its annual gift guide, a curated selection of products from local retailers. It's a good resource for anyone who needs to pick up a few items for the upcoming holiday season and is stumped about what to get their nephew, boss, second cousin twice removed, etc.
It got me thinking that perhaps a brief, music-specific gift guide might be fun and enlightening for all of you generous souls out there. Here are a few ideas for how to spread musical cheer to your next office Secret Santa, white-elephant gift exchange or whoever you think might enjoy the gift of music.
First of all, you can't go wrong with a gift certificate from any of Vermont's fine record stores: Pure Pop Records, Burlington Records, Speaking Volumes and Autumn Records in Chittenden County; Buch Spieler Records in Montpelier; Flying Disc in Enosburg Falls; and Rick & Kat's Howlin' Mouse in Rutland, to name a few.
But those are just the obvious choices. Burlington's Battery Street Jeans, Junktiques Collective and Vintage Inspired Lifestyle Marketplace also have excellent selections of used vinyl. You'll have to dig — and you might want to bring gloves, because old records tend to be dusty. But you're likely to find some real treasures. (Be sure to cruise all around Vintage Inspired, since multiple vendors might offer records.)
If you think gift certificates are cold and impersonal but like the idea of adding to someone's collection, you'll want to give them a specific title. In that case, peruse Seven Days' weekly album reviews. Even if you only know a little bit about your recipient's taste, you should be able to find something they'll like. Many albums in our online review archives are available on CD, vinyl and cassette. (Cassette tapes make excellent stocking stuffers, by the way!)
High rollers might consider shelling out for music lessons or recording time. As noted in our gift guide, Ryan Cohen's Robot Dog Studio offers reasonable rates for recording sessions. It stands to reason that other local shops, such as Meadowlark Studios, Future Fields or the Tank Recording Studio would be similarly amenable. For creators struggling to bring their visions to life, a studio session voucher could be just the thing to help usher in the next wave of great Vermont albums.
Of course, sometimes the best present is the one you make yourself. If you have the right stereo setup, a vinyl-only mixtape of local artists could be the perfect thing to give your loved ones.
BiteTorrent
File Photo
Dolores O'Riordan
Samara Lark (the Wee Folkestra) revives Malarky, a tribute to the Cranberries, on Saturday, December 1, at the Light Club Lamp Shop in Burlington. Lark first unveiled the homage earlier this year after the Irish rock band's singer, Dolores O'Riordan, passed away in January. O'Riordan's struggles with mental health had been widely publicized in the years leading up to her untimely departure. Officials eventually ruled that she drowned in a hotel bathtub, noting high levels of alcohol in her system.
A full band joins Lark, including Jake Styles on bass, Matt Harpster on guitar, Casey Kiernan on drums, Julia Maisto and Julia Deziel on violin, Cleo Flemming on cello, and additional vocals from Jackie Buttolph.
The event is also a benefit for the Chittenden Emergency Food Shelf.
Trivia returns to Burlington's ArtsRiot on Tuesday, December 4. Think you know everything about Captain America, Ronan the Accuser, Doctor Strange, and all of the other heroes and villains that occupy the Marvel Cinematic Universe? Can you list every one of its 20 theatrical releases, in order? Can you name all six of the Infinity Stones? Now's your chance to prove it. Note: With a theme this popular, you're going to want to arrive early.
Courtesy Of Kayhl Cooper
The Onlys
Burlington dream-pop outfit the Onlys celebrate the release of their new EP, Decay, on Thursday, November 29, at ArtsRiot. Locals the Pyros, Father Figuer and Kingfisher also perform.
The Onlys recently dropped a fresh single, "Tell Me," in advance of the EP's release. The new song adds a bit of glamour to the band's fuzzed-out indie pop. Listen to it on SoundCloud.
Did you know that Sunday Night Mass, the Queen City's formerly weekly house and techno dance party, is in the midst of celebrating its 20th anniversary? The 10-date series kicked off in September and concludes on December 30. This week, DJs Osheen and Pat Fontes, as well as local beat-slinger Matt M, take over Club Metronome on Sunday, December 2.
Fans of the late blues harp virtuoso Paul Butterfield should check out a one-night-only screening of John Anderson's 2018 documentary Horn From the Heart: The Paul Butterfield Story on Monday, December 3, at Palace 9 Cinemas in South Burlington.
Though he passed away more than 30 years ago of an apparent drug overdose, Butterfield's legacy lives on through remembrances from colleagues and collaborators. Musicians Bonnie Rait, Elvin Bishop, Bob Dylan and others make appearances. Famed Vermont-based Americana producer Jim Rooney, who also appears in the film, hosts the event and will conduct a Q&A after the screening.
Writing for the Chicago Tribune, journalist Greg Kot noted in his recent review, "It's clear that the singer could summon a depth of feeling on stage that belied his pain."
Listening In
If I were a superhero, my superpower would be the ability to get songs stuck in other people's heads. Here are five songs that have been stuck in my head this week. May they also get stuck in yours. Follow sevendaysvt on Spotify for weekly playlists with tunes by artists featured in the music section.
Christine and the Queens, "Doesn't Matter"
Capital Cities, "Safe and Sound"
PREP, "I Can't Answer That"
BROCKHAMPTON, "THUG LIFE"
Paul Cherry, "This High"