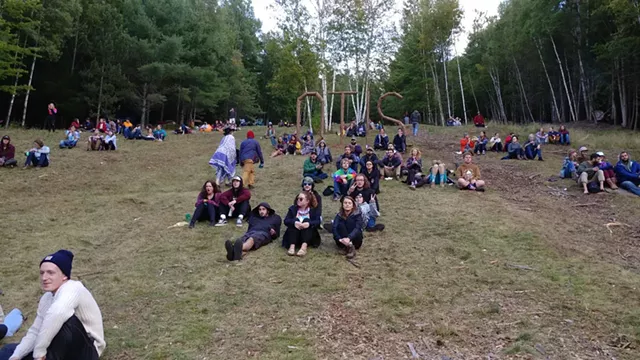 Jordan Adams
Crowd at the Otis Mountain Get Down
Last weekend, I had the pleasure of checking out the fifth annual Otis Mountain Get Down in Elizabethtown, N.Y. The backwoods indie-music hootenanny is as out-of-the-way as it gets. It's a bit of a trek from Burlington, but the remote location gives attendees license to be unabashedly uproarious without the risk of disturbing any neighbors. It's on a freakin' mountain, after all.
Now, I should mention that I didn't get to spend too much time at the fest. Between the South End Art Hop and all of its musical offerings (Kalbells for the win!), Dysfunkshun's 25th anniversary reunion show at the Higher Ground Showcase Lounge and general life stuff, I was spread pretty thin. But nothing was going to stop me from getting at least a taste of mountain goodness.
I arrived midafternoon on Saturday. One thing I wish I had known before going to Otis: If you don't drive a jeep, SUV or truck, rent or borrow one, because the parking area is a field. Divots and ruts are naturally occurring features in this type of terrain, and your garden-variety sedan will bottom out and possibly get stuck. Don't worry, everything's fine, and I lived to tell the tale. But be warned.
Next, I hopped aboard the shuttle, which takes revelers from the parking area up to the festival grounds. And revelers there were! The experience was essentially a hayride crossed with an average Tuesday night in a University of Vermont dorm room. To wit: If I had wanted to swig Black Velvet directly from the bottle or chug some Natty Ice, I probably could have just asked.
Once on the grounds, I found Otis to have a real "dog days of summer camp" vibe. Denizens walked a slackline and played badminton, cornhole and another game I've never seen before. (I'm calling it "bucket Frisbee.") [Editor's note: That would be Kan Jam. And it rules.] An arts-and-crafts table was available for anyone who wanted to contribute to a group mural, and I observed more bare feet than I would have expected in 60-degree weather.
As I wandered around, I saw a number of typical festival sights: a dude in an astronaut helmet, people blowing bubbles, a person rocking a Dr. Seuss hat, questionable parenting, boundary issues, etc. But I also saw a couple of things that I've never seen before: a group of dudes taking a break from partying to sing the "Kim Possible" theme song, and a woman on crutches with two duct-tape cup holders attached to each. And, yes, she filled them with tall boys.
Liz Cooper & the Stampede were just wrapping up on the Center Stage when I rolled up, which was a stone-cold bummer because I was totally digging their dream-folk indie rock. The crowd flocked to the adjacent Spruce Stage for a set from Iron Eyes Cody — er, I mean, Fever Dolls. That's right, the band formerly known as Iron Eyes Cody shall henceforth be known as Fever Dolls. They debuted a bangin' new song called "Napoleon Blown Apart." I'm sure they'll play it again at their Nectar's mini-residency on back-to-back Thursdays, September 21 and 28. We'll dig into the name change and what to expect from the project next week.
"The only guarantee is that you'll like this new [band] more," said Fever Dolls front man Evan Allis.
Other highlights during my brief alpine sojourn: Bluegrass aficionados Damn Tall Buildings, who've rocked the Get Down for the past four years, conjured up a legit hoedown. Singer-songwriter Henry Jamison was just as dainty and delicate as ever on the brand-new stage, the Range, which was set up in a small gully a good distance into the woods. And Overcoats cast their mystical electro-folk spell over a mesmerized crowd. (I suddenly remembered why I was so keen to interview them back in April.)
And then I had to bounce! Looking forward to another installment next year.
A Few Pointers
Courtesy photo
Trey Anastasio Band
Higher Ground Presents' Grand Point North festival takes over Burlington's Waterfront Park on Saturday and Sunday, September 16 and 17. This year's fest is all about second chances. If you take a look at the lineup, you'll see that nearly every act has played the area in the last 12 months — with the exception of Dawes, Tank and the Bangas, and Sunday's exalted headliner, Trey Anastasio Band. (Make sure to check out our interview with Tarriona "Tank" Ball.)
Did you miss the sensational siblings of Joseph when they played Higher Ground last October? Time to right that wrong. What about Low Cut Connie? Did you see them rage ArtsRiot in March? What about their opening set for Nathaniel Rateliff & the Night Sweats' performance at the Shelburne Museum in August? Feels good to get a do-over, no? And we'll never turn down a set from the festival's irrepressible founder, Grace Potter.
Don't forget about the after-parties, too! On Saturday, Session Americana deploy their rootsy twang just steps from the festival grounds at the Skinny Pancake. Down the street, New Orleans' Cajun indie-poppers Sweet Crude light up ArtsRiot. And on Sunday, Annie in the Water rock the Skinny Pancake post-festival. Meanwhile, Alex Budney (DJ Steal Wool, Seth Yacovone Band) presents a special, probably one-night-only band called Ground Hog at Club Metronome. It features Yacovone, Patrick "Pappy" Biondo (Cabinet), Vinnie Amico (moe.) and Richard James (Pink Talking Fish).
BiteTorrent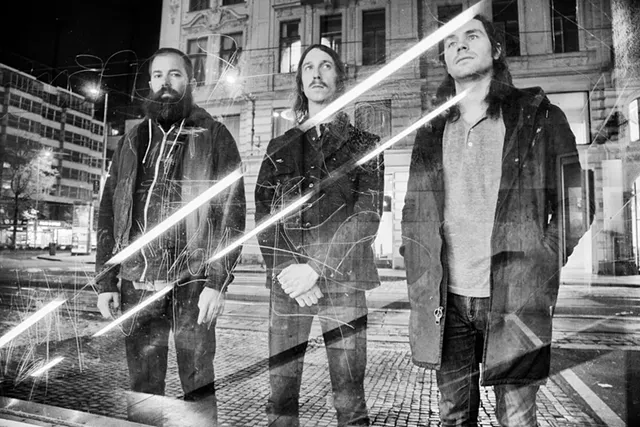 COurtesy of Andrea Petrovicova
Russian Circles
Congratulations are in order for Tim Bridge, Vermont's Funniest Comedian of 2017! You've probably seen the bespectacled jokester at one of the area's many comedy nights, or maybe with the Vermont Comedy Club's in-house, long-form improv team, the Unmentionables. On Saturday, Bridge took top prize in the annual Vermont's Funniest Comedian contest at the VCC in Burlington.
The competition unfolded over several nights of stiff competition last week, culminating in a final round on Saturday featuring 15 local comics. Of those, five were named the top finalists, including Bridge, second-place winner Joe Gingras, and Tracy Dolan, Tyler Denton and Tarzan Jenkins — who claimed third, fourth and fifth places respectively. Kudos to all who entered!
Ever wonder what the life of a small, independent national touring band is like? Check out Drive. Play. Sleep, a new DIY documentary about the transient lifestyle of rock and rollers. Married filmmakers Elizabeth Jancewicz and Eric Stevenson documented a year of touring with their band Pocket Vinyl and interviewed more than 30 other bands in the process. They present the film on Sunday, September 17, at Radio Bean in Burlington.
Did you know that Vermont is hosting its first-ever post-rock festival in October? Dunk!USA, a festival that originated in Belgium, brings dozens of local, national and international acts to Higher Ground's stages on Saturday and Sunday, October 7 and 8. Headliners include Pelican and Russian Circles. We'll get the skinny on this burgeoning celebration of heavy, artful rock in a few weeks.
Listening In
If I were a superhero, my superpower would be the ability to get songs stuck in other people's heads. Here are five songs that have been stuck in my head this week. May they also get stuck in yours. Follow sevendaysvt on Spotify for weekly playlists with tunes by artists featured in the music section.
Zilla, "Get Your Way"
Flyte, "Faithless"
Queens of the Stone Age, "Fortress"
Pet Shop Boys, "What Have I Done to Deserve This?"
L'Trimm, "Grab It!"