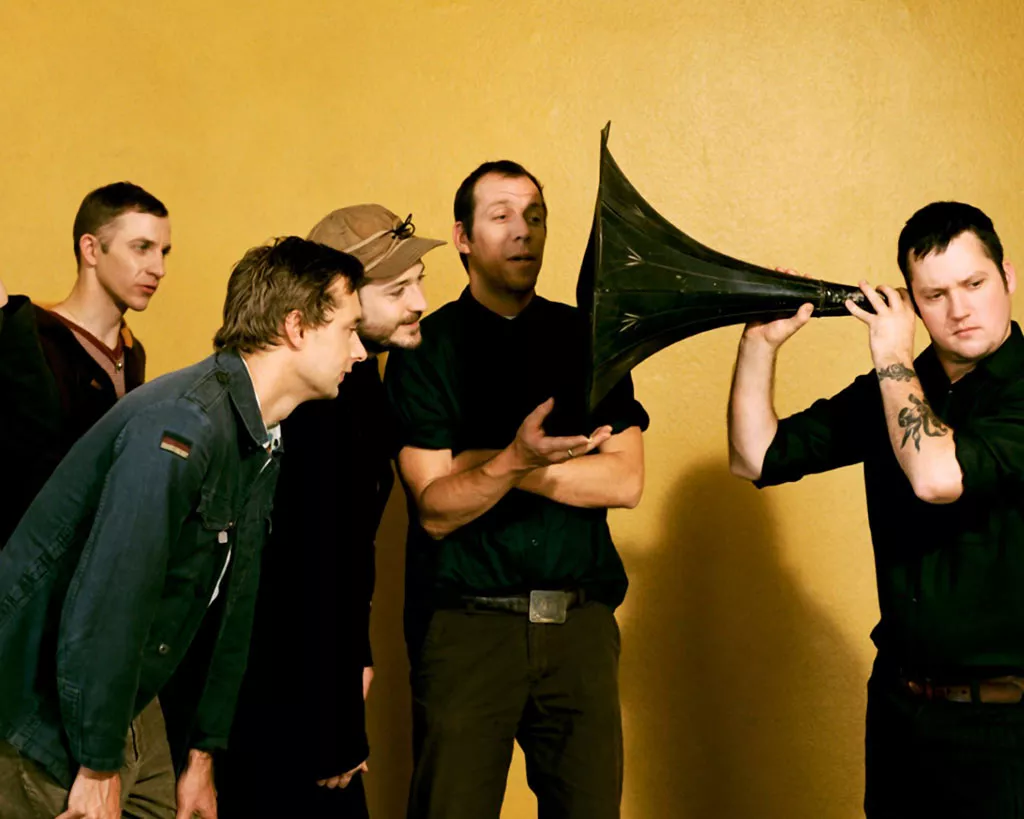 Courtesy Of Modest Mouse
Modest Mouse
Fall In
If you're like most people, you tear into this music section the minute Seven Days hits the newsstands every Wednesday, because you just can't stand to wait any longer to find out what I have to say.
OK, fine. Nobody does that. You probably first check the I-Spy section to see if you've been spied. (Nope.) Then you read your horoscope to see what the universe has in store for you. (Personal growth!) Then you might read the cartoons or a restaurant review. Maybe you catch up on some Bernie stuff or turn to the letters to the editor to see who we've pissed off recently. Then maybe you flip to this li'l corner of the paper to dig on some music news and reviews. S'cool. I don't read me first, either.
The point is, in your fervor to get to your favorite section, you might have missed that this week is our annual Performing Arts Preview Issue, with a sampling of events occurring on local stages from now until spring. It's a handy guide to help you plan your cultural consumption in the months to come. However, it's missing something: the rock.
The Performing Arts Preview mostly focuses on venues such as the Flynn Center for the Performing Arts. While it does include music, most of the offerings don't fit into this, the nightclub section.
However, the club scene has become more robust in recent years, with more marquee shows in the pipeline than ever before. So it might be helpful to highlight some of the notable upcoming club-ish shows. Here's a rundown of some of the more interesting music acts coming our way soon. Mark your Google calendars.
We start with the region's preeminent rock club, Higher Ground, and its off-site arm, Higher Ground Presents. Now that college is in session, HG's schedule is positively bursting, all the way through the three-night NYE run by local jam band Twiddle. Without question, the biggest of HG's big-deal shows is Modest Mouse at Memorial Auditorium on Monday, October 19. A close second is They Might Be Giants in the HG Ballroom on Saturday, November 21. But wait, there's more!
Courtesy Of David Rawlings
David Rawlings
Here are some HG shows that particularly intrigue me: Toro y Moi touring a new record in the Ballroom on September 30; Immortal Technique in the Ballroom on October 8; Gringo Star with underrated locals the Pilgrims in the HG Showcase Lounge on October 9; Futurebirds with local outlaw dirt rockers Waylon Speed in the Lounge on November 5; Mastodon in the Ballroom on November 8; Gillian Welch collaborator David Rawlings in the Ballroom on November 12; the von Trapps (yep, those von Trapps) in the Ballroom on November 16; and Nate Ruess with Surfer Blood in the Ballroom on November 19.
I confess I hesitated slightly on that last one, since I loved Ruess' old band the Format but can't stand the band he's more famous for, FUN. Maybe he'll have some good Lena Dunham stories?
Meanwhile, at Nectar's...
The House that Phish Built turns 40 this year, and the iconic Burlington live-music hot spot has been celebrating with special shows since January. The next one is the Frank Zappa tribute Project/Object on October 14, featuring members of Zappa's band. There will be plenty more before the year is out. Stay tuned.
Other upcoming highlights include a two-night run with Max Creek on October 9 and 10, Rustic Overtones on November 6, New Orleans' Earphunk on November 7, and another Zappa night with funk all-star outfit Z3 on November 18.
Courtesy Of Shannon And The Clams
Shannon and the Clams
The industrious cool kids at Waking Windows Presents are currently prepping for the inaugural Portland, Maine, Waking Windows festival in October. But they've got plenty for the locals, too. On October 13, up-and-coming songwriter Ryley Walker plays Burlington's Light Club Lamp Shop with Michael Chapman, touring his stunning new record, Primrose Green. Nick Drake fans, take note. (And cheer up!) The same week, WWP brings freak-folk songwriter Diane Cluck to the Lamp Shop. On October 20, catch Oakland garage-surf band Shannon and the Clams at Winooski's Monkey House — I'm ecstatic about this one. On November 10, Diarrhea Planet bring their 47-guitar attack to the Monkey for what will probably be the loudest show of the year. I caught DP the last time they were here, and my ears are still ringing.
Signal Kitchen has been a little quiet this summer, but it's back in action. On September 26, the Internet drop by the club with some of the most sonically provocative hip-hop and R&B you'll ever hear. October highlights include songwriter Steve Gunn (October 26), Canadian indie rockers Born Ruffians (October 27) and art-rap upstart Milo (October 29). That last one is actually at the Lamp Shop but is presented by SK. On November 14, Glasgow-based electronic music star Hudson Mohawke lights up ArtsRiot for another off-site SK show.
The Skinny Pancakes in both Burlington and Montpelier are hot spots for folk-oriented music. The crêperies' fall slates bear that out with the likes of Seattle indie-folk duo March to May (October 9, Burlington) and folk-soul songwriter Randy Niles (October 18, Montpelier). But, perhaps because indie-rock phenom Matt Pignatore — aka Blahvocado — is handling booking, the BTV venue is sneakily inserting some local indie-rock into its Americana mix. The highlight on that front is a weekend run in October featuring acts that have recently released great albums on local imprint Section Sign Records. On October 16, catch songwriter Wren Kitz. The following night, Vows take the stage.
More immediately, SP's annual Eat by Northeast festival is this weekend at Oakledge Park. In addition to the food, nosh on tasty (free) tunes from Caroline Rose, the Rebirth Brass Band, Josh Panda, Iron Eyes Cody, the Suitcase Junket, Dan Blakeslee and the Hug Your Farmer All-Star Band paying tribute to Bob Marley.
BiteTorrent
Moving on, spectacular conflicts of interest!
This Saturday, September 19, local art-rockers Swale turn 13 with a blowout bash at Radio Bean. Regular readers know that my brother, Tyler Bolles, is that band's bassist, so it's kind of suspect — OK, a lot suspect — for me to write about them. However, he's only been in the band officially for, like, a year. So it's really only a 1/13 conflict, right?
Anyway, the party should be a blast, as Swale birthdays usually are. The night will include a couple of Swale sets, local indie duo Pours, rockers Blue Button and the long-awaited return of Sweet Ass Pussy — whose members have asked that I not identify them in print, for some reason. No word yet on whether there will be another round of Swaleoke — that's live karaoke with Swale as the backing band, and it's as rad as it sounds. Fingers crossed.
Last but not least, congrats to Rough Francis guitarist Paul Comegno and Made By Robots' Tessa Anderson, who tied the knot — somewhat spontaneously, it seems — last week. According to RF front man and 7D designer Bobby Hackney Jr., the longtime couple married at a family/band barbecue during which "a ceremony broke out." Said ceremony was officiated by RF bassist Steven Hazen Williams.
Best of luck, you crazy kids.
Listening In
A peek at what was on my iPod, turntable, eight-track player, etc., this week.
Editors,In Dream
Low,Ones and Sixes
Slayer,Repentless
Fidlar,Too
Schooner Fare,Our Maine Songs