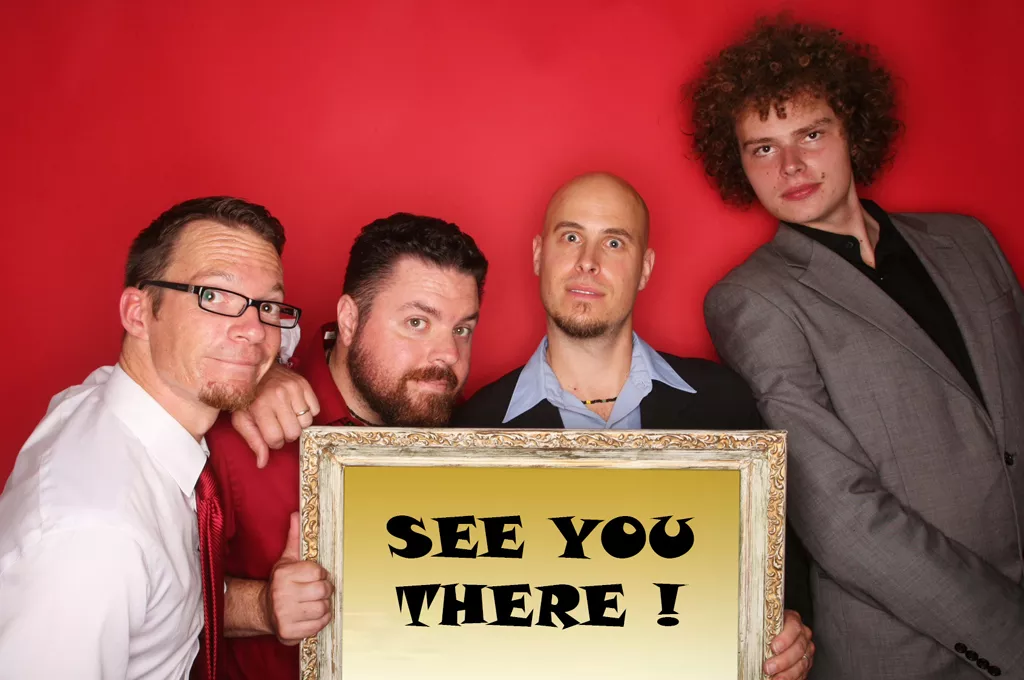 Courtesy Of The Grift
The Grift
The big news on the local music front this week is ... well, it's actually food news. Namely, the inaugural Eat by Northeast festival slated for Oakledge Park in Burlington this Friday through Sunday, September 19 through 21. While the many-splendored gustatory treats of our locavore food scene are the focus of the fest, which is co-curated by Skinny Pancake and Higher Ground, there's plenty of free-range, organic rocking to be had, as well. Better still, the music is free.
Opening the fest on Friday are Pennsylvania "slamgrass" sextet Cabinet, who have been tearing up the festival circuit of late. What is slamgrass? Glad you asked!
According to Cabinet guitarist Mickey Coviello in an interview with the Bluegrass Situation last year, slamgrass is "bluegrass played by a bunch of guys who don't know what bluegrass is." That might be the best description I've ever read of a band offered by one of its members.
Cabinet are often lumped under the jamgrass umbrella, which makes some sense but isn't entirely accurate. They're a bluegrass band in the same way Trampled by Turtles, who killed it at Grand Point North last weekend, are a bluegrass band. Which is to say they're not really a bluegrass band at all. Though boasting traditional string-band instrumentation, the band corrals an array of influences, from rock and Americana to reggae, into a sound that has appeal beyond just the wiggly jam crowd. They're worth checking out.
On the locavore tip, they'll be followed by the always-electrifying Josh Panda and the Hot Damned. Closing out the Friday fun are local tribute supergroup the Hug Your Farmer All-Star band, who'll be getting their Allman Brothers Band on.
Courtesy Of Felice Brothers
Felice Brothers
Speaking of bluegrass bands that aren't really bluegrass bands, Saturday opens with "kazoo-core" progenitors the Burlington Bread Boys. Really, that band's sound more closely resembles old-time than bluegrass, anyway. But even that's a relative comparison. Ragged and raucous, BBB put out one of the most deliriously fun records of 2014. That self-titled album was loaded with boot-stomping, shout-along party music — and kazoos — that suggests they're a hell of a live act. They'll be followed by Boston-based Americana trio the Ballroom Thieves, and then the festival's marquee act, the Felice Brothers, who are guaranteed to put some whiskey in your whiskey and some heartache into your heart. (If you don't get that reference, go listen to the FB's "Whiskey in My Whiskey" and come back when you're appropriately heartbroken and/or drunk. I'll wait...)
EXNE gets an early start on Sunday afternoon, which could be a problem for some revelers — see: whiskey in my whiskey, above. You can shake off the cobwebs and entertain the kids in one fell swoop with two sets from eclectic children's songwriter Dan Zanes. Later that evening, local acoustic trio Jamie Masefield, Doug Perkins and Tyler Bolles close out the fest. (Yes, we're related.)
For more info on EXNE, check out eatxne.com and/or turn to Food News on page 45.
Simply Grand
Before we move on, I'd like to share some scattered thoughts about last weekend's Grand Point North festival on the Burlington waterfront. In no particular order:
Holy snowballs, it was cold. I've been to a lot of outdoor shows over the years, even quite a few in the winter months. But I don't think I have ever been as cold as I was Saturday at a drizzly, 45-degree Waterfront Park. I mean, Jesus, even Grace wore jeans. Jeans! Given how cold my hands got just trying to hold onto a Switchback, I can't fathom how the musicians kept their fingers warm enough to play, let alone play so well. Speaking of which...
Nice to see Villanelles back in action. The new stuff from their forthcoming album sounds much more muscular and, well, ballsy than last we heard them — and I was a fan then, too. I'm really looking forward to that record.
I hate to say I told you so — that's not true, actually; I love doing that — but Caroline Rose is the real deal. Get in on the ground floor, people. Also, "Cult Leader Psychopath" might be my new favorite song.
Though the wind was bone chilling, it did do cool things to the War on Drugs' Adam Granduciel's hair, blowing it back at just the right moments to make his guitar solos even more epic than they already were. Thanks, nature.
I am a sucker for an inventive cover song. And Trampled by Turtles' twangified take on the Pixies' "Where Is My Mind" is about as clever as they come.
Overheard conversation between two bros on Sunday:
"Dude, did you catch Anders Parker earlier?"
"Naw, man. Who's that?"
"Local guy, I think. He was siiiick."
"Niiiice."
You are correct, bros. Anders is siiiick, indeed.
And that conversation right there, folks, is why I love me some Grand Point North. Yes, it's fun to see big-name acts like Dr. John, Lucius and Trampled by Turtles. But it's also a great showcase for those local bands lucky enough to perform, because it gets them in front of crowds who might not be as apt to seek them out as, say, you or I. And that's important.
So thanks again, Grace. Next year we'll try to do something about the weather.
BiteTorrent
A fond farewell to Dan Munzing (Errands, Ryan Power). The talented keyboardist is moving to Brooklyn at the end of September to take a new job. Before he goes, he'll give an encore performance of One More Robot Learns to Feel, his reimagining of the Flaming Lips' landmark album Yoshimi Battles the Pink Robots, at Nectar's this Friday, September 19. He'll be flanked by a crack band that includes Pat Ormiston (Japhy Ryder), Josh Pfeil (Pulse Prophets), Sean Witters (Invisible Homes) and todd gervy and Matt Hagen from the High Breaks. BTW, that last band will handle opening duties along with Grundlefunk. Best of luck, Dan.
Happy birthday to the Grift! The Middlebury-based rockers turn 15 this year, meaning they can get their learner's permits and have started growing hair in funny places. To celebrate, the band is throwing a bash at Mad River Glen this Saturday, September 20. The Grift, including many of the 18 members who have joined the core trio of Peter Day, Clint Bierman and Jeff Vallone over the years, will play selections from throughout their history, dating back to their 2001 record Sleeping Policeman. They also promise to unveil some new material. Tickets are available at thegrift.com.
Courtesy Of Billy Bragg
Billy Bragg
Last but not least, in case you missed it, famed British folk-punk songwriter Billy Bragg will play the Bellows Falls Opera House on Saturday, September 20. And if you can, you should go. I've seen him several times, and he puts on one of the most riveting and entertaining shows you could hope to see. In fact, my sister, Ariel, saw him last weekend at Riot Fest Chicago and reports that at one point Bragg addressed the crowd by saying, "I wanna be the Pete Seeger of punk rock. Live 'til 90, carryin' on doin' this ... without the banjo."
Amen, Billy.
Listening In
A peek at what was on my iPod, turntable, eight-track player, etc., this week.
The Last Bison,VA
Eva Luna,Electric Balloon
Bonfire Beach,Bonfire Beach
Ryan Adams,Ryan Adams
The Slackers,Better Late Than Never
The original print version of this article was headlined "Eat It"