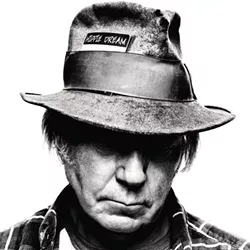 Courtesy Of Neil Young
Neil Young
Young at Heart
It's a particularly big week on the local music scene, highlighted by Neil Young and Promise of the Real at the Champlain Valley Exposition this Sunday, July 19. Of course, given the now-infamous furor over ticketing for that show, unless you stood in line for 14 hours at the Flynn Box Office back in April, you're not going. Because it obviously sold out almost immediately. So that means...
I'm sorry, what was that? The show didn't sell out? I see. And there are still tickets available as of this filing? No kidding?
Well, that kinda makes all of the accusations of price gouging and collusion with secondary-market ticket sellers when the FlynnTix site crashed in April seem pretty fucking stupid in hindsight, doesn't it? I'm being told that yes, yes it does.
Anyway, Neil Young — not to mention openers Puss n Boots, featuring the future Mrs. Dan Bolles, Norah Jones — certainly occupies the top of the marquee this week. And you probably don't need me to tell you why. But there's a bunch of other cool stuff happening this week, too. So let's get down to it, shall we?
In an Aeroplane Over Vermont
Courtesy Of Galen Peria
Galen Peria
Last week we wrote about the return of local klezmer band Inner Fire District, featuring prodigal accordionist David Symons, who now lives in New Orleans. As it turns out, Symons ain't the only Vermont expat currently based in the Big Easy who is gettin' the band back together this month. Duke Aeroplane and the Wrong Numbers, led by Galen Peria, who has lately been running an artist collective, gallery and performance venue in the Crescent City along with fellow VT expat Ben Aleshire, are also doing the reunion thing. The group played a few gigs in late June and early July. They begin another run of Vermont dates this week.
DA&TWN are essentially an offshoot of suspender fusionistas the Vermont Joy Parade. But they're even more loose and ragged — and liquored up — than that beloved outfit. In a recent email to jog the memory of yours truly, Peria describes the band as "R&B&D (rhythm and blues and drunk) ne'er-do-wells and rapscallions" who specialize in "Music for baptisms, sideshows, card games, funerals, bank robberies, structure fires and train rides."
Yep. That pretty much nails it.
Much like the VJP, the Wrong Numbers are best experienced live — and, ideally, inebriated. So do what you can to catch them either this Friday, July 17, at Nutty Steph's in Middlesex or this Saturday, July 18, at Two Brothers Tavern and Stage in Middlebury. If you miss those dates, the band will also be at the Skinny Pancake in Burlington on Saturday, July 26, and will likely have some August dates to boot.
Also, Peria informs us that, while he's here, Duke Aeroplane will be recording a studio album with Brett Hughes. He adds that those jonesing for a VJP fix should keep late August open for "a very special show."
Stay tuned.
Manifest Destiny
In other news, this weekend marks the 12th annual Manifestivus music festival at the Pransky Family Farm in Cabot, which runs from Friday, July 17, through Sunday, July 19. Long billed as a "local festival with a global vibe," the fest was founded by Toubab Krewe bassist David Pransky. That band, by the way, is celebrating its 10-year anniversary, with a run of dates as the Original Gangsters of Toubab Krewe. That includes a headlining spot at the Manifestivus, naturally.
The rest of lineup is pretty nifty as well, featuring a solid mix of local talent and national acts with global flair. Sharing marquee billing are jazz trumpeter Charles Lazarus, reggae stalwart Toussaint the Liberator and locals Kat Wright & the Indomitable Soul Band.
Speaking of locals, the homegrown slate this year is particularly robust and includes veteran house DJ Justin R.E.M., funky bunch the Michelle Sarah Band, border-jumping world-music act Afri-VT, teen sensations the Snaz, rocksteady faves Steady Betty and cumbia upstarts Mal Maiz, to name a few.
For more on the fest, including schedule and ticket info, check out manifestivus.com.
BiteTorrent
Courtesy Of Eastern Mountain Time
Eastern Mountain Time
Moving on, local indie-folk/sorta country band Eastern Mountain Time are finally releasing their long-awaited full-length debut, Really Comin' Down. The group, led by songwriter Sean Hood (Hello Shark), recorded the album last year with Future Fields cofounder Eric Maier (Madaila, the Precepts, general awesomeness) but has been sitting on it for a while now. I won't pry, but I'm sure they have their reasons.
Anyhoo, it's really good. Hood, who has done some freelance music criticizing for this very paper, has tastes that align pretty closely with my own — including an irrational love for all things Ryan Adams. No word on how he feels about Def Leppard (see this story for how I feel about them. Spoiler: Fuck yeah!), but his affinity for mellow, twangy indie music is on full display. If you dig early Adams and/or Whiskeytown, or offbeat, downcast indie folk like Tallest Man on Earth, I suspect you'll enjoy the new record.
Look for a full review in these pages in the coming weeks. In the meantime, catch the Eastern Mountain Time record-release show at alt-space Fort Sheen — if you don't know where that is, as always, ask a hipster — this Friday, July 17, with Maryse Smith and Phil Yates & the Affiliates.
Postrock fans, get thee to Buch Spieler Records in Montpelier this Saturday, July 18. The venerable music shop hosts a slew of cool bands, including July 26 Movement, which is an experimental side project of Lake Superior front man Jeff Thomson and Steven Lichti. According to the band, J26M "combine traditional composition with minimalist improvisation to create subtle yet intricate pieces that range from sculptural sonic landscapes to organically structured postrock." In other words, heady, man. Also on the bill are Burlington electro-psych duo Pours and two Brattleboro noise outfits, badweatherfriend and Rush Awesome.
Last but not least, one of the bigger mysteries of the summer has been the fate of the Precipice, the excellent and eclectic local music and arts festival spearheaded by the Radio Bean crew. For the last couple of years, the fest has found a special home in the field behind Burlington College. But given the uncertainty surrounding the school and that space, there is some question as to whether the Precipice would happen again this year and, if so, where. And also if I would be Rick-rolling the festival again.
No word yet on that last bit, but I'm happy to announce that the Precipice is indeed on this year, though it's going to have a decidedly different look and feel. That's because it's happening not at BC but at Radio Bean, ¡Duino! (Duende) and the Light Club Lamp Shop. It's also being rebranded as the Big Prom Ocean, which means you'll want to dust off that powder-blue tux or gaudy prom dress.
In the coming weeks, we'll have more info on how this whole thing is gonna work, as well as who is gonna play it. For now, mark the Precipice on your calendars for July 31 and August 1. And book a room at the Motel 6 for the after-party.
Listening In
A peek at what was on my iPod, turntable, eight-track player, etc., this week.
Def Leppard, Hysteria
Def Leppard, Pyromania
Def Leppard, Vault
Def Leppard, High 'n' Dry
Def Leppard, Adrenalize