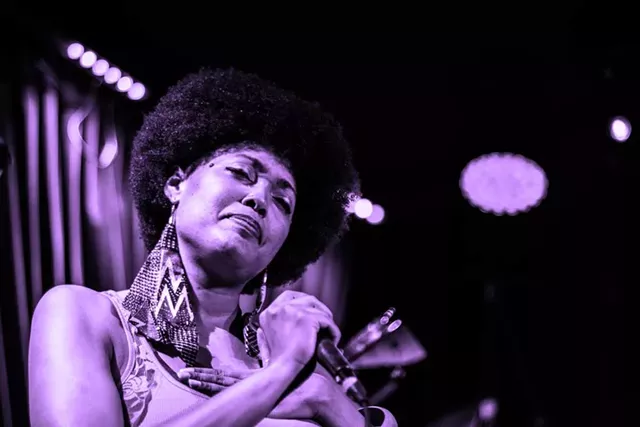 Courtesy photo
Mavis "Swan" Poole of Soul Understated
Ah, the Burlington Discover Jazz Festival. Much like the lilacs that precede its arrival, the fest's sweetness and ubiquity are matched only by its ephemeralness. It's here, it's everywhere and then it's gone — so you'd be wise to get out there and appreciate it while you can.
Before we dive in, I'd like to share one of my favorite memories of BDJF. It's also kind of embarrassing. Good thing I'm into the whole self-deprecating thing.
Allow me to set the scene: The year was 1997. My middle school's jazz band was set to perform on the top block of Church Street as part of the festival's school band performances. When I discovered that its repertoire included an instrumental version of the theme from the James Bond film Goldfinger — the one Shirley Bassey famously sang — I begged our band teacher to let me sing it. He agreed, and I was stoked.
So there I was, a 14-year-old boy mired in the depths of puberty, clad in my finest color-block silk shirt, crooning a torch song written for a Welsh diva. In my head, I was straight-up fabulous. However, I think it's safe to say the whole thing just didn't land. To wit: It's hard for a voice-cracking, pimple-faced goon to sound coquettish, try as he might. It was my first and last performance at BDJF.
But enough about the past. Let's take a look at the present.
This year's top headliners are nothing short of ridonkulous: Arrested Development, Diana Krall, Terence Blanchard & the E-Collective, Pink Martini, Trombone Shorty & Orleans Avenue. And let's not forget about Kamasi Washington. The tenor saxophonist, composer and bandleader is the subject of this week's cover story.
You could spend up to $300 to catch all of the aforementioned artists. But if dropping three bills is not in the cards for you right now, you're in luck — free shows greatly outnumber ticketed ones during the 10-day fest. Here's a day-by-day summation of a few totally fresh and free shows during the first week of BDJF. Visit discoverjazz.com for a full list of events, venues and stages.
On Friday, June 2, Burlington's Mal Maiz provide thumpin' cumbia grooves during the weekly Truck Stop at ArtsRiot, along with ska-reggae-punk outfit Skeleton Dancer. Meanwhile, you have two chances to catch the northern swamp-rock stylings of Matt Lorenz's one-man band the Suitcase Junket: a late afternoon show at the Downtown Transit Center and an early evening show at the City Hall Stage on the Church Street Marketplace. Stick around for the eclectic Afrobeat brass collective the Brighton Beat. Finish off your night with the majestic and ethereal Lady Moon & the Eclipse at the Top Block Stage, also on Church Street.
This coming weekend, Saturday and Sunday, June 3 and 4, is a genuine fustercluck. Try your best to keep your FOMO in check as you pick and choose where to be and when.
Our friends at BDJF describe Soul Understated, featuring vocalist/songwriter Mavis "SWAN" Poole, as "one of the rarest discoveries in music since Motown." Catch them at the City Hall Park stage on Saturday. In the evening, you'll want to head over to Juniper to hear a gaggle of hometown heroes pay tribute to saxophonist Wayne Shorter. The lineup includes James Harvey, Ray Vega, Rob Morse, Brian McCarthy and Geza Carr.
On Sunday, the top level of the Lakeview Parking Garage is the place to be — and not just for youths looking for a chill spot to get high. Take in the stunning views as psychedelic West African ensemble Barika blow your damn mind. Afterward, you can keep the Afro-funk vibes flowing with Sabouyouma back at the Top Block Stage.
Monday's biggest face-off happens at 7 p.m., when seven acts go head-to-head across town: singer-songwriters Andriana Chobot and Andrew of the North simultaneously take over the Light Club Lamp Shop and Radio Bean, respectively; Foam Brewers hosts the Paul Asbell Jazz Quartet; the Tiffany Pfeiffer Quartet lights up Red Square, while the Whitesell Brothers take over the City Hall Stage directly across the street. Queen City Hot Club fill Leunig's Bistro & Café with sizzling gypsy jazz, and groovy R&B quartet Top Brahmen swing by the Skinny Pancake.
Courtesy of Bren Dendy Photography
Jonathan Scales
By the time Tuesday, June 6, rolls around, you might feel the urge to mix it up a bit. After all, you've been going at it nonstop for more than four days. ArtsRiot hosts a special jazz edition of its regular trivia night. Or maybe you're craving something truly "out there." If so, the le duo has you covered with their off-center brand of improvisational free jazz.
Finally, indulge yourself with a Hump Day treat on Wednesday, June 7: Jonathan Scales Fourchestra. Steel drums add tropical flair to the band's innovative rock-jazz fusion at the Top Block Stage. Downhill at the Skinny Pancake, artist-in-residence Hannah Fair reinvents her weekly set for a special one-off tribute to various ladies of jazz, with support from the Chris Von Staats Band.
And that's only a fraction of BDJF offerings. We'll be checking in on the festival's remaining days next week.
Signing Off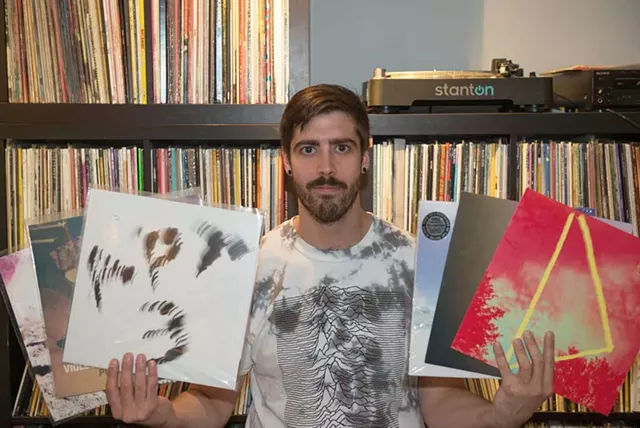 Courtesy of Britt SHorter
Britt Shorter
Unfortunately, this week's music news ends with a frowny face. Winooski-based record label Section Sign Records is closing up shop. SSR founder, indie-music enthusiast and shutterbug Britt Shorter recently announced the imprint's demise on Facebook.
Why is he hanging up his hat? Short answer: Nature calls — literally. Though anyone who's worked with Shorter can attest to his dedication to Vermont's music scene, his true passion lies with our furry and feathered friends. A student of veterinary medicine, his pursuit of higher education dictates a move to the Boston area. Shorter has been accepted into the prestigious Cummings School of Veterinary Medicine at Tufts University and hopes to eventually work directly with wildlife populations and conservation efforts.
Since its formation in late 2013, SSR dropped a series of eclectic vinyl releases, such as Apartment 3's self-titled debut and Wren Kitz's For Evelyn. If you haven't added any of the label's titles to your collection, the time to act is now — Shorter plans to liquidate SSR's entire stock.
In his FB statement, Shorter thanked "everyone who bought a record, downloaded music, hosted an event, attended a show, booked a band, wrote an article, reviewed an album, designed a poster, liked a post, shared music with a friend, and on and on."
Best of luck, Mr. Shorter! Now, who's going to step up and start their own boutique label to fill SSR's void? We'll be waiting over here, listening to SSR's entire discography.
Listening In
If I were a superhero, my superpower would be the ability to get songs stuck in other people's heads. Here are five songs that have been stuck in my head this week. May they also get stuck in yours. Follow sevendaysvt on Spotify for weekly playlists with tunes by artists featured in the music section.
Wild Cub, "Somewhere"
Kacy Hill, "Experience"
Nick Hakim, "Bet She Looks Like You"
Three Dog Night, "Never Been to Spain"
Electric Guest, "Oh Devil"