Courtesy Of Luke Awtry Photography
The Waking Windows team, from left: Paddy Reagan, Brian Nagle, Matt Rogers, Ali Nagle and Nick Mavadones
A Cause for a Clause
It's a little bit nuts to think that planning is well under way for next year's Waking Windows music and arts festival, which spans Friday, May 1, through Sunday, May 3. Most civilians probably don't start thinking about Winooski's three-day indie-rock marathon until the initial lineup announcement, which usually comes midwinter. But musicians hoping to hop on the bill have likely already jumped at the chance to apply for consideration. The fest accepts band submissions until Wednesday, January 1. You can find the form at wakingwindows.com.
Those who've already submitted may have noticed a new section of the application: a radius clause. What is a radius clause, you ask? It's a pretty standard stipulation that bars performers from performing within a certain radius of a given festival, often coupled with other provisos. The Coachella Valley Music and Arts Festival received quite a bit of attention for its clause in 2018, which some thought was actually illegal. (It wasn't. A federal judge ruled in 2019 that the festival's clause was perfectly legal, according to multiple sources, including Spin and Billboard.)
Waking Windows' clause reads, "All artists confirmed for Waking Windows Winooski 2020 will be asked to not play any other Vermont area (100 mile radius) shows in April 2020 and to not announce any other Vermont area shows in May 2020 and beyond until after their set at the festival. We are open to exceptions to this request, but ask that they are discussed with us before confirming your appearance."
A mild social media kerfuffle ensued after the new clause was brought to light. As written, it does seem a bit harsh. Does the Waking Windows team really expect all potential festival performers to abstain from performing locally for the entire month of April? As it turns out, the answer is no — and yes.
"We're just trying to encourage communication," said Waking Windows cofounder Paddy Reagan in a recent phone call. "It's something that has not happened in the past."
Basically, the clause doesn't necessarily apply to everyone. Working musicians who make a substantial percentage of their income from playing live music, like Erin Cassels-Brown, for instance, would be exempt from the clause. The indie-folk singer-songwriter performs at the Monkey House, aka the epicenter of Waking Windows, practically every Monday. Reagan and co. aren't going to take that away from him. (This is not to say Cassels-Brown is or is not hoping to perform at Waking Windows next year. Like I said, he's just an example.)
The clause is meant to prevent bands of a certain level, either regional or local, who are truly independent and submitting on their own without management support, from booking area shows too close to the first weekend in May. Think about it. If a buzzworthy band were slated for a prime Waking Windows slot — like a Saturday evening set on the Rotary Stage, let's say — playing a show only a few weeks prior in April could affect attendance at their Waking Windows set.
"Bands relying on a local draw don't want to oversaturate," Reagan continued. He noted that the team has, in the past, asked Rough Francis to not play in April, given that the garage-punks usually nab a primo festival spot on either the Main Stage or the Rotary Stage.
But let's say you've been accepted to Waking Windows and there's an April show that comes up that you just have to play. Does that mean you can't? Again, no — and yes. Reagan said that playing the show wouldn't necessarily get you removed from the festival, but it could affect when and where you were slated.
I don't see this new clause affecting the local scene all that much. Sure, a few bands might miss out on a couple of shows. But Vermont clubs aren't all of a sudden going to be a ghost town for the month of April. Reagan pointed out that, of 300 local submissions, only 75 to 80 bands were actually chosen to perform at Waking Windows 2019. Plus, a high percentage of non-local artists perform locally on a weekly basis. (I should really sit down and do the math sometime.)
To summarize, it's all about communication. Reagan said he and the Waking Windows team are happy to discuss all matters related to the radius clause. So get in touch with them if you have comments, questions or concerns. These are some of the nicest, friendliest folks around. They're not a bunch of scary suits!
"I don't even own a suit," Reagan said.
Moving On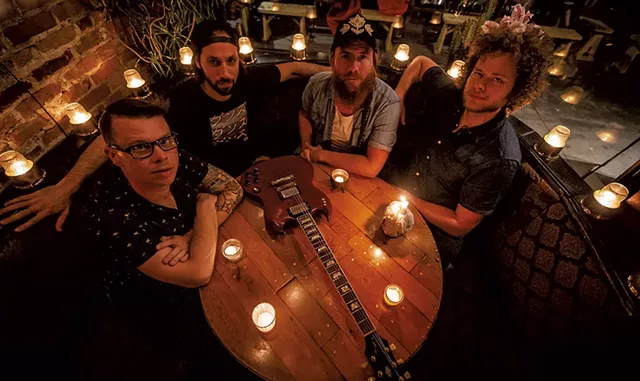 Courtesy Of Luke Awtry Photography
From left: Sean Preece, Josh Weinstein, Bob Wagner and Leon Campos
You may have noticed that Mosaic, the Bob Wagner-led group, have mysteriously vanished from Radio Bean's show calendar. For the past year or so, the improv-heavy outfit held down Wednesday nights at the Burlington café. Fear not! The residency is simply changing locations.
Starting on Wednesday, December 4, expect to see Wagner and co. doing their funky thing at Nectar's, which will continue indefinitely throughout the winter.
"We all have eternal, deep love and gratitude for [Radio Bean] and everyone there, but after 11 fun, exploratory and formative months, it just wasn't feeling like the right fit," Wagner wrote in an email. The Kat Wright guitarist also mentions that Rob Compa of jam band Dopapod is likely going to be in the mix more often than not, along with Josh Weinstein, Sean Preece and Leon Campos.
Though Radio Bean has the coziness thing going for it, Nectar's is probably a better location for Mosaic. People will have room to cut loose and noodle all over the damn place.
Wagner also pointed out that the new residency includes a charitable angle. One dollar from every Lost Nation beer purchased will go to Planned Parenthood's Burlington Health Center.
Starting on December 4, Nico Suave's Improv Surprise takes over the slot. While normally Nico (Nicole D'Elisa) and co. are known for their Led Zeppelin tributes, this monthlong residency is a "free-for-all of silliness."
"Think Ween plus Frank Zappa plus 'Whose Line Is it Anyway,'" D'Elisa explained via email. "We perform 100 percent improvised material using audience suggestions. And, interestingly enough, the personal ads and I-Spys from Seven Days."
Just think: Your earnest proclamations of love and hopeful outlook on chance encounters could become fodder for this burgeoning musical improv group.
Listening In
If I were a superhero, my superpower would be the ability to get songs stuck in other people's heads. Here are five songs that have been stuck in my head this week. May they also get stuck in yours. Follow sevendaysvt on Spotify for weekly playlists with tunes by artists featured in the music section.
Ultraísta, "Party Line"
Robyn, "Missing U"
Caroline Polachek, "Caroline Shut Up"
POLYDRIVE, "Curly"
Haley Heynderickx, "The Bug Collector"