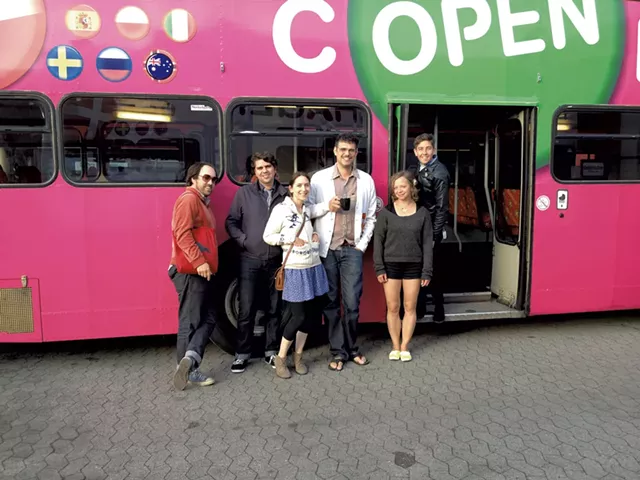 Courtesy Photo
The Smittens
Christmas in July
Christmas has come early for all you hard-core Burlington music scene lovers out there. Recently, a trove of classic Queen City albums unassumingly arrived on Bandcamp. With no fanfare or pomp, the majority of dormant label Dangerfive Records' catalog is now available for your streaming pleasure.
Helmed by David Zacharis of twee-pop champs the Smittens, Dangerfive Records was founded in 2000. The DIY label cranked out releases until roughly 2005, including work from Dialogue for Three, James Kochalka Superstar and various folks associated with the Smittens. As music trends moved from CDs to iPods to streaming services, the bulk of the discography was understandably lost in the shuffle — at least temporarily.
Zacharis tells Seven Days that he dusted off the work "mostly for nostalgia." After revisiting some of the catalog, he decided to post everything for which he had high-quality digitized recordings. Several more records may be added from the archive soon.
The first Dangerfive offering was Rock N' Roll Haikus — Live at Squrrrl's, a freewheeling recording session between Zacharis and fellow Smitten (and Seven Days circulation technician) Colin Clary. Its album art indicates that the tracks aren't actual haikus. But the quick and breezy spirit of the Japanese form comes through in the silly, sketch-like songs. Zacharis notes that Clary wrote most of them on the night they made the record.
Other fun entries in the massive upload include the two-track single A Very Smitten Hanukkah, Kochalka's Hot Chocolate Superstar and a quasi-new release, Stay Gold — Cover Songs by the Smittens. Most of the tunes included appear on other compilations and Smittens albums, except for three never-before-heard tracks: indie forefathers Beat Happening's "Cast a Shadow," British game-changers Oasis' "Live Forever" and a snappy rendition of the theme from "The Golden Girls."
More than anything, the compendium stands as a time capsule for a particularly prolific subset of Burlington musicians. Enjoy digging through the unearthed treasure.
As You Were
This week, cities all over the U.S. are celebrating Independent Venue Week. From Monday, July 8, through Sunday July 14, live music fans are encouraged to show their love and support by patronizing independently owned and operated music hubs.
Founded in 2014, the movement originated in the UK, where small music venues have been folding left and right over the past decade. Last year, the music marathon spread to the U.S. Locally, Higher Ground is its only participating club.
A representative from Independent Venue Week reached out to Seven Days for coverage regarding the weeklong event. As much as I believe in its mission, I had to explain to them that, because we don't have any venues owned by large conglomerates such as Live Nation or the like, literally every week in Vermont is Independent Venue Week. In a major city, where competition is fierce between true indies and corporatized music hot spots, I can see the importance of celebrating independent venues. I guess we're pretty lucky that we don't even have to think about it.
This week, keep doing what you do. Go see live music at independently owned clubs. After all, it's your only option.
Hip(pie) Hills
Courtesy Photo
Mo Lowda & the Humble
Killington Resort kicks off its Cooler in the Mountains music series this week with Mo Lowda & the Humble on Saturday, July 6. The string of outdoor concerts runs every Saturday until August 31. Most bands included are of the jam or jam-adjacent variety, such as Wild Adriatic and Annie in the Water, who perform back-to-back on July 13.
Of note: While many outdoor concerts have a rain-or-shine policy, Cooler in the Mountains will let potential attendees know by 11 a.m. on the morning of the show whether it will go on as planned. If inclement weather persists, the show will relocate from the Snowshed Base Area to the nearby Snowshed Lodge.
And speaking of living it up in the outdoors...
Brook Smart
A new music fest erupts this weekend in Waterbury called the Alder Brook Campout. Nestled on private property along the aforementioned brook, the fest enters a growing arena of small, DIY indie-music fests. Williston's Nightshade Festival, which hits in August, is a similar event, and both are like fledgling versions of September's thriving Otis Mountain Get Down across Lake Champlain in Elizabethtown, N.Y.
The what, where, when and who of Alder Brook were fairly obvious — more on that below. But when asked about the why, the festival's mysterious production team offered only a cryptic response: "to indulge in the restless pursuit of excitement." Perhaps some mindfulness exercises might help with that restlessness.
Attendees will feast on a sizable chunk of local talent (and vegetarian fare from the Broccoli Bar food cart): acoustic soul singer-songwriter Ivamae, indie-pop outfit Full Walrus, Tallgrass Get Down's Long Gone John, post-rockers Plastique Mammals, Brattleboro post-punks I Love You! and new-wave group Roost, the festival's organizers. DJs include Disco Phantom, Vetica and Disco Mitch. That's a lot of music for the supremely low price of $15.
Heading up the nonlocal contingent are Boston psych-rockers Color Channel and always energetic New York City art-punks Guerrilla Toss, who headline the event.
Listening In
If I were a superhero, my superpower would be the ability to get songs stuck in other people's heads. Here are five songs that have been stuck in my head this week. May they also get stuck in yours. Follow sevendaysvt on Spotify for weekly playlists with tunes by artists featured in the music section.
Mark Ronson, "Truth (featuring Alicia Keys and the Last Artful, Dodgr"
Mark Ronson, "True Blue (featuring Angel Olsen)"
Mark Ronson, "Don't Leave Me Lonely (featuring YEBBA)"
Mark Ronson, "Pieces of Us (featuring King Princess)"
Mark Ronson, "Nothing Breaks Like a Heart (featuring Miley Cyrus)"