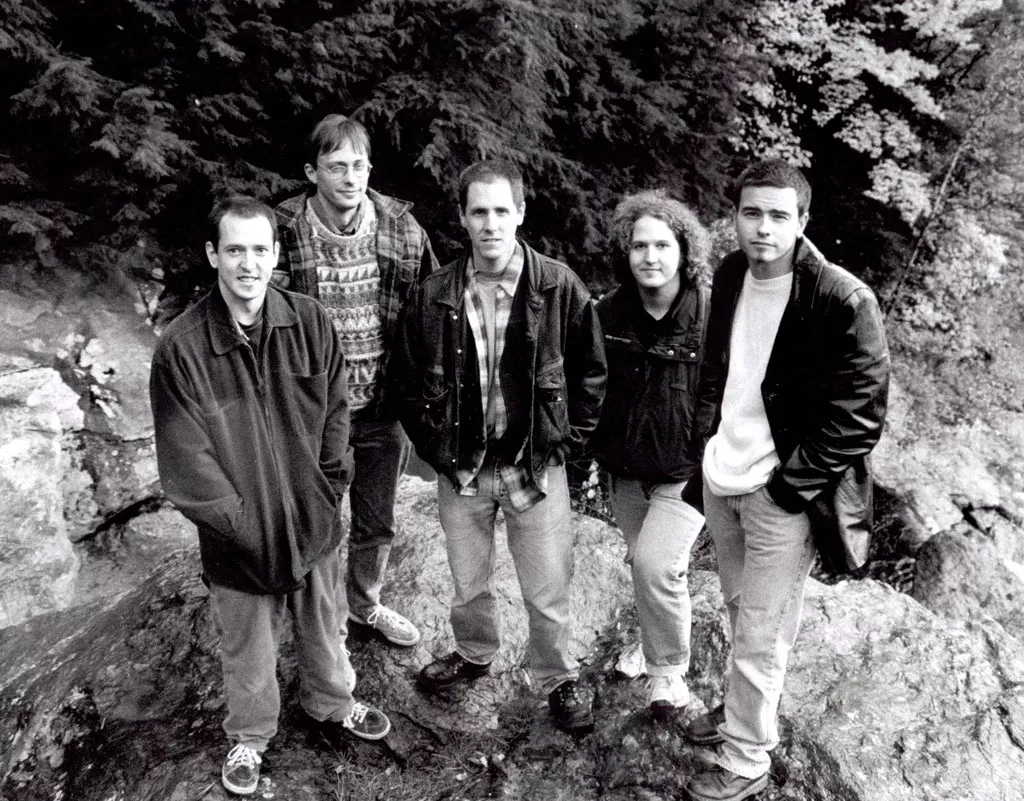 Courtesy Of Currently Nameless
Currently Nameless
Name That Tune
Naming your band is a pain in the ass. For one thing, getting four or five or eight people to agree on anything, let alone the moniker that will represent them for all of eternity, is impossible. For another thing, coming up with a good name is just plain hard. You want something catchy and clever, but maybe not too much of either. That's a delicate balance. For yet another thing, there are, at any given time, three bazillion bands on planet Earth. So coming up with an original name that's not in use is doubly challenging. Because the odds are good that someone, somewhere, is using the name you thought was unique.
A quick aside to illustrate that last point: As some of you know, many years ago I was in a ska band that, after months of deliberation and dozens of ideas, settled on "the Skamaphrodites." (I think we thought the ridiculously overboard pun was a tweak at ska bands in the 1990s that included the word "ska" in their names. Also, is that name offensive in 2015? I think it might be. But I digress.)
Anyway, we were pretty sure no one else would be dumb enough to call their band the Skamaphrodites. But guess what? A couple of years into our run we discovered that, yes, indeed, a band in Connecticut was using the same name. So we sued the shit out of 'em. (Kidding!)
The point is, I have real respect and fondness for great band names. And in the annals of Burlington music, I'd say 1990s groove-rockers Currently Nameless are in the upper percentile of great band names. Not only that, they were a pretty damn good band to boot, as local audiences might discover this week. The band is reuniting for its first show in seven years — just a hair shy of its 20th anniversary — this Saturday, September 5, at the Higher Ground Showcase Lounge in South Burlington.
I'm sure I saw them at some point during their 1996 to 2002 run, but I confess my memory of Currently Nameless is a bit hazy. (If you think my taste for jam music is narrow now, you shoulda seen me when I was a ska-punk-listening 20-year-old. Not quite my scene.) However, I do recall CN making the rounds, touring their groove-centric sound and playing stages with the likes of the Disco Biscuits, Jon Fishman's side project Pork Tornado, Deep Banana Blackout and Galactic, to name a few. And they garnered some critical praise, too, both locally and nationally.
Said Relix magazine, "These guys are funky, spunky, versatile and yet refined." Quoth this very paper, "Vocalist Sean Daley's bluesy rasp can belt like the best of 'em ... the band's white-guy funk is fueled by adrenaline and considerable creative license." (BTW, if I described something as "white-guy funk" in 2015, the letters to the editor would roll in for months. It was a different time, I suppose.)
Speaking of Daley, savvy local fans may know him as "suit-folk" songwriter Milton Busker. He's a regular on the Radio Bean stage and puts on a delightfully quirky show that I highly recommend. Rounding out the band are lead guitarist Josh Keller, rhythm guitarist Dave Simpson, bassist John Treybal and drummer Daemmon Hughes. And they all sing.
Opening the show is another band whose name I dig, Coquette. These central Vermont prog-punk upstarts are quickly getting a rep for incendiary live shows, so show up early.
Back to the Future
I always regret that Seven Days doesn't cover Brattleboro all that often. The arts and music scenes there rival that of Burlington — and crush the Queen City in terms of sheer weirdness. You could make a strong case that B'boro has helped produce more nationally known bands. Alas, the city with magical crystals in its bedrock (supposedly) is not in our circulation area and is just far enough away to make going there from Burlington a challenge. Still, some cool stuff is happening two and a half hours south of BTV. Like, for example, Future Fest Four this Thursday through Sunday, September 3 through 6.
The four-day music-and-arts festival is curated by Brattleboro's the Future Collective, a group dedicated to providing "fun, accessible, inclusive, anti-oppressive, community-minded spaces and events that foster creative, political and personal expression." Or, in other words, good times.
The fest includes a variety of artsy stuff and activities, but it's the music that most intrigues me. Featuring more than 50 bands and performance artists, the lineup offers a cross section of some of the most interesting and boundary-pushing music in Brattleboro and New England at large. The regional acts include some folks who should be familiar to local audiences, such as Crank Sturgeon, Mal Devisa, Zebu and Guerilla Toss, all of whom have made recent BTV visits — often thanks to the Waking Windows Presents crew. On the locavore angle, Brattleboro-based highlights include If Not I Than Who Then, MV & EE, Barishi, badweatherfriend, Aura Shards and Ruth Garbus. By the way, I've yet to see Barishi live, but a few little birdies have told me that it's currently the most badass metal band in Vermont. So there's that.
For more info, find the Future Fest Four event page on Facebook.
BiteTorrent
If you like your daylong outdoor mini-festivals with a side of righteousness, head over to Battery Park in Burlington on Monday, September 7. (That's Labor Day, so you don't have to go to work.) The free fest is called Together We Win, and it doubles as a launch party for the new advocacy group Rights & Democracy. It's dedicated to "bringing Vermont working families together to push for a progressive economic agenda that protects the environment."
The lineup includes some local favorites, such as prodigal songwriter Myra Flynn, the Bow Thayer Band (see profile on page 64), Toubab Krewe's David Pransky, and the Sweet Remains' Rich Price and Brian Chartrand. The headliner is Chadwick Stokes of Dispatch and State Radio renown.
---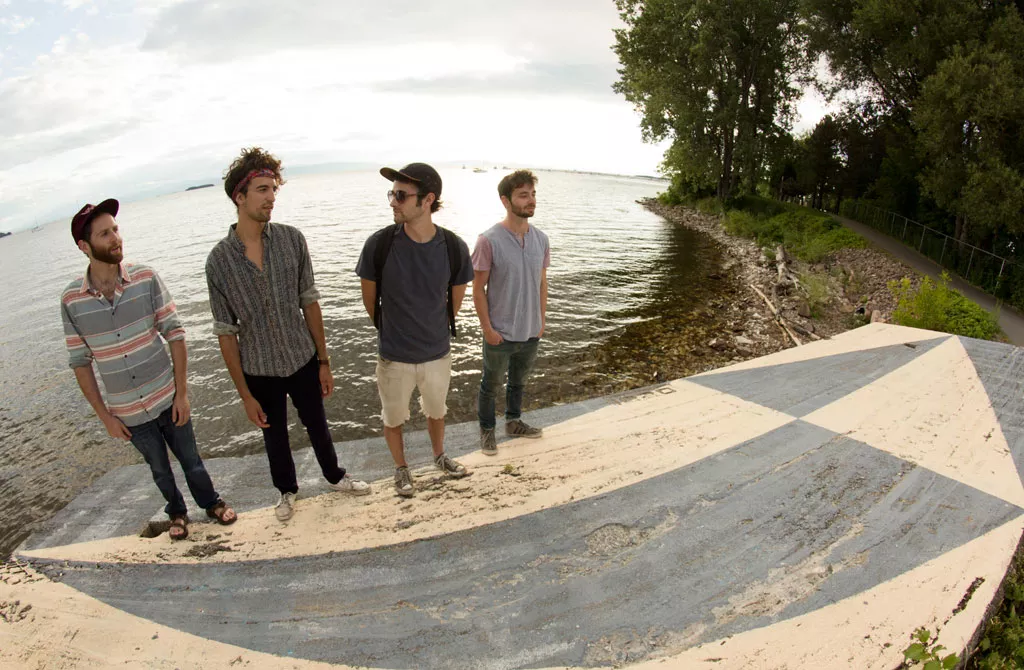 Courtesy Of Def Ears
Def Ears
Moving on, local psycho disco newbies Def Ears embark on a weekly residency at Nectar's on Wednesday, September 2. The hyper-danceable quartet will play every Wednesday in September with special guest bands for each week, both local and regional.
Now, residencies themselves aren't especially noteworthy. But Nectar's has had a great run of late, pegging local acts on the cusp of breaking out to hang at the club for a month honing their live act. The best example is Madaila, whose Nectar's run last fall catapulted that band from buzzy name to full-on local phenomenon. Plenty of other bands have gotten a boost from their Nectar's residencies recently, too. I'm not saying the same thing will happen with Def Ears. But I'm not not saying it, either...
---
Courtesy Of Lazerdisk
Lazerdisk
Last but not least, welcome home to Lazerdisk. Since leaving the friendly confines of Burlington some years back for Miami and then LA, producers and DJs Zack Johnson and Chad Bechard have been making serious waves with their bouncy brand of future bass. In particular, the duo's remixes for the likes of Big Freedia and Diplo have put them firmly on the international map. Also, back when he was known as DJ ZJ, Johnson taught me how to DJ. Or tried to. It's not his fault I sucked at it.
Anyway, Lazerdisk play a homecoming gig at Club Metronome this Thursday, September 3. And Zack, I know you've got local DJ and Sen.Bernie Sanders staffer Luis Calderin opening. But if you need another act, I'll start brushing up my crab scratches.
Listening In
A peek at what was on my iPod, turntable, eight-track player, etc., this week.
Menace Beach, Super Transporterreum
Jaye Bartell, Loyalty
Dirty Ghosts, Let It Pretend
Yo La Tengo, Stuff Like That There
Beach House, Depression Cherry