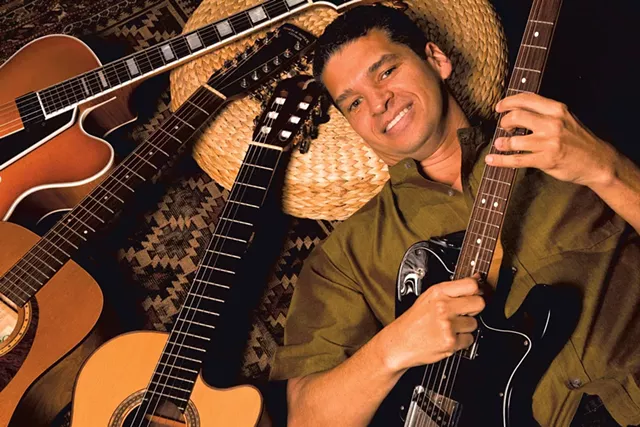 The final curtain fell on the 2016 Burlington Discover Jazz Festival this past Sunday, June 12, closing yet another spectacular 10 days of jazz hands in Burlington. And the highlights were plentiful: Randy Newman tickling ivories and funny bones at the Flynn, Barika's searing set at Nectar's, Nico Suave's supremely bodacious treatment of Led Zepplin at Radio Bean, Madaila being, well, Madaila on Church Street. I could go on. But, as is so often the case with Vermont's biggest music festival, my favorite part was simply wandering the town, popping in and out of clubs and bars and sampling the always-electric scene. The city never feels quite so vibrant as it does during jazz fest — even when it rains. And so, as we tie a bow on this year's BDJF, I feel a gnawing emptiness. Like Boyz II Men so sagely put it, "It's so haaaaaard to say goodbyyyyyyye to yesterday." And also to jazz festivals.
I imagine a number of you are in a similar emotional state right now. Without a massive, citywide festival at hand, how do we fill the void? With more festivals, that's how.
I'm not 100 percent sure if we are at peak festival in Vermont quite yet. But we're close. Every weekend from now until Labor Day, the calendar is packed with interesting local festivals large and small. They're not on par with the BDJF — what is? But there are a lot of 'em. And all have their distinctive charms. Just to put a few of the bigger ones on your collective Google Calendar:
There's the Frendly Gathering in Windham (June 23-25). There's SolarFest in Manchester (July 15 and 16). There's the Lake Champlain Maritime Festival in Burlington (July 28-31). There's Grand Point North (September 17 and 18).
We'll be digging into all of those and more as the summer progresses — look for Frendly coverage next week, in fact. But that doesn't do you much good right now. So here's a look at some of events in the near future that should help steady your jazz-fest DTs.
I'm an ardent proponent of hair of the dog. So, what better way to cure a jazz hangover than with more jazz? I give you the fifth annual Hartland JazzFest in the Upper Valley hamlet of Hartland on Saturday, June 18. The one-day fest is rather quaint compared to its bigger cousin in Burlington. But it's a quality fest with a rep for drawing great talent.
This year's headliner is up-and-coming guitarist Freddie Bryant, whom jazz guitar giant Kenny Burrell calls a "brilliant young guitarist and composer." Bryant has shared the stage or recorded with some big names, including Wynton Marsalis, Brad Mehldau, Dee Dee Bridgewater, Max Roach and Lonnie Smith, to name-drop a few.
Also on the marquee is pianist Armen Donelian, a National Endowment for the Arts jazz fellow whose credits include Lionel Hampton, Chet Baker and Sonny Rollins. Rounding out the festival lineup are the 2016 New England Conservatory Jazz Honors Ensemble and the Keene Jazz Orchestra, as well as locals Maple Jam and Interplay Jazz. Check out hartlandcommunityarts.org for more.
If, on the other hand, you're jazzed out, maybe try to mellow your vibes with the Ziontific Summer Solstice Music Festival in Woodford. The three-day festival runs Friday to Monday, June 17 to 20, and features a massive lineup of reggae, funk and hip-hop. Some names to know include Spiritual Rez, the Alchemystics, Roots of Creation, Fear Nuttin' Band, Ill Doots, the Problemaddicts and locals Bless the Child, among many others. I'm also told there is a silent disco. So if you crave the festival experience without any of the social interaction, that's your jam right there, weirdo. Check out ziontificproductions.com for more.
Moving on, the Rattling Brook Bluegrass Festival in Belvidere is believed to be the longest-running bluegrass hoedown in Vermont. At 33, it's quite possibly the state's longest-running music festival, period. The one-day down-home picking party is this Saturday, June 18, and features locals Bluegrass Revisited, Mad Mountain Scramblers, Bob Amos and Catamount Crossing, the Stockwell Brothers Band, Beg, Steal or Borrow, and — here comes my favorite band name of the week! — the Four Hoarse Men. You can find RBBF on Facebook for more details.
Meanwhile, Bristol hosts the seventh annual Pocock Rocks Music Festival & Street Fair. Why Pocock, you ask? Because in 1762 the town was founded as Pocock, named after a British admiral — who presumably had a really tough time in grade school. It was (thankfully) changed to Bristol 25 years later.
Anyway, the daylong festival features a great local lineup, including the Michele Fay Band, Aaron Flinn, Richard Ruane and Beth Duquette, Rick Redington with Heather Lynne and Becca Kodis, the Starline Rhythm Boys, the Big Basin Band and Daddy Long Legs — see the review of that last band's new CD here. In the evening, local country crooners Lowell Thompson and Kelly Ravin play the fest after-party at Bristol watering hole Hatch 31.
Last but not least: Plattsburgh! I know, I know. Since my exposé on Plattsburgh nightlife a few years back ["Things to Do in Plattsburgh When You're Drunk," July 27, 2011], I'm still persona non grata on that side of the lake. But I'd really like to go back sometime. Because, don't look now, but a nifty little indie scene is bubbling up in the Lake City.
This Saturday, June 18, five P-burgh acts take center stage at North Country Rocks II Music Festival. The evening affair at Plattsburgh's Trinity Park is curated by DIY Plattsburgh, a local organization aiming to promote independent arts in the city. Slated to appear are Call Shotgun, Bren, Plattsburgh Home Team, Nothing Good and Comrade Nixon. We've reviewed three of those bands in these pages recently, and I've been impressed with what I'm hearing, particularly from punk bands Bren and Comrade Nixon.
So whaddya say, Plattsburgh? Can we let bygones be bygones and allow me back within city limits, maybe on a provisional basis? First round is on me.
Expose Yourself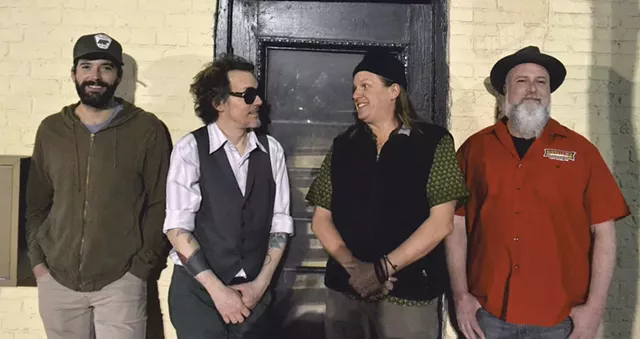 Last but not least, back by popular demand, the Northern Exposure series returns to the Higher Ground Showcase Lounge this Thursday, June 16.
If you're unfamiliar, Northern Exposure is a monthly-ish summerlong series showcasing young, up-and-coming local bands. It's been on a bit of a hiatus since, oh, 2012. But I'm excited it's back, and you should be, too.
First and foremost, the series is a great way to scope out the next generation of local talent. For many bands, it's also a way to get their feet wet playing on bigger local stages. It can be a significant step for acts looking to get to the next level locally. Or, in other words, to go from playing gigs promising "exposure" as payment to, y'know, actual paying gigs.
Just FYI, Madaila's Jer Coons played a NE gig early in his solo career. So did his high school jam band, Pale Moon, which included fellow Madailians Eric Maier and Mark Daly. So you never know who you might see.
The lineup Thursday includes REDadmiral — see the review of their new record on page 69 — Pissant, Chasing Days and the John Daly Trio. Keep an eye out for future NE installments throughout the summer.
Listening In
A peek at what was on my iPod, turntable, eight-track player, etc. this week. Follow sevendaysvt on Spotify for weekly playlists with tunes by artists featured in the music section.
Kate Bush, Hounds of Love
Peter Bjorn and John, Breakin' Point
Tegan and Sara, Love You to Death
Margaret Glaspy, Emotions and Math
Mourn, Ha, Ha, He.