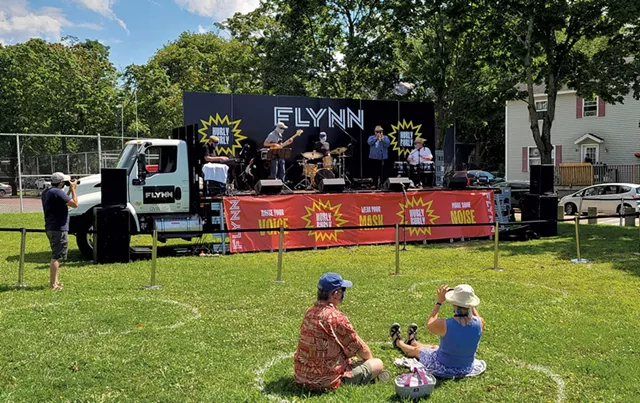 Jordan Adams ©️ Seven Days
Ray Vega at Hurly Burly
"Game of Thrones" may have ended well over a year ago, but the TV show's signature catchphrase, "Winter is coming," has never felt more relevant. I haven't yet taken my air conditioners out of my windows, just in case we get one more scorcher. But the warm season is pretty much over, and we're looking at a long, dark winter. And we're still very much in a pandemic. I shudder to think what this means for live entertainment once it's too cold to party outdoors.
In the spring, we thought we'd have to go a whole summer without live music. But the past three months have actually been pretty music-filled, locally speaking. Consider Higher Ground's drive-in shows at the Champlain Valley Exposition, carefully managed outdoor crowds at smaller venues like Orlando's Bar & Lounge and Nectar's in Burlington, the Flynn's Hurly Burly series, last weekend's floating Connor Young Quintet show literally on the waters of Lake Champlain, and other socially distant attempts that have kept the music going.
But what happens when that all goes away? I have a few ideas.
For instance, someone needs to turn Skateland Vermont in Essex Junction, which closed in 2017, into an indoor drive-in. Sure, retrofitting the skating rink and go-kart racetrack into some kind of indoor venue would probably cost millions, but I imagine the massive building could house a good number of vehicles. The space will need to be heated, obviously, since people will have to turn off their engines during the show or screening — because carbon monoxide poisoning.
Here's another thought: What if musicians and standup comedians made house calls? Yes, spending time indoors with people outside your quarantine bubble, especially in close quarters like homes and offices, is considered moderate to high risk for transmission of the virus. But as long as people mask up and have enough space in their homes to properly social distance, a quick 15-minute set probably doesn't pose that much of a threat, especially if Vermont's case numbers remain low. And it could be a real hoot.
Final idea: Vermont's biggest cities (Burlington, Montpelier, Rutland, etc.) should invest in scores and scores of those outdoor-heat-lamp things to create micro-climate pockets just warm enough to for a musician's fingers not to snap off like little icicles. Again, the cost would be exorbitant. I'm just spitballing here.
Have you thought of an idea for live entertainment that's both winter- and pandemic-proof? I want to hear about it.
Whatever's Clever
Courtesy Of Kayhl Cooper
Diane Jean of Clever Girls
One of my personal disappointments of the year was Clever Girls' decision to push back their upcoming album to 2021. The currently untitled follow-up to 2018's excellent LP Luck was meant to hit shelves and streamers in June. And even in the early days of the pandemic, the band thought a fall release could be possible. Understandably, Clever Girls opted to put a pin in it until next year.
But fans of the rock group are in for a treat. Clever Girls play their first show in roughly six months on Saturday, September 26, as part of a semiprivate benefit drive-in show in East Hardwick. The concert, hosted by a new group called Lunatic Productions, supports the Conscious Homestead's ambitious GoFundMe campaign to raise capital for an urban farm and wholeness center for Black, Indigenous and people of color communities.
To attend the show in person, you'll have to ask around in your friend group to see if you can pile into a ticket holders' car, because drive-in tickets are sold out. But you can still access the livestream, the URL for which will be sent out prior to the show. Singer-songwriter Ula Blue, part of Lunatic Productions, also performs, and VT expat Chazzy Lake headlines. (More on Chazzy Lake's new record below.)
In March, Clever Girls were in the midst of a huge national tour, with a planned stop at South by Southwest, when the pandemic forced them to reverse course and head back to the Green Mountains. According to front person Diane Jean, it was the best thing that could have happened, initial cognitive dissonance aside.
"We all really needed a break," Jean said by phone. "We were literally booked to tour until June, with another tour booked in the fall. We didn't know what the world would look like [now]. We didn't want to put effort into rolling out a record and not be able to tour. We're an all-or-nothing band."
Though "everything with us has always been go, go, go, go, go," Jean said, the time away has been valuable.
"I don't do well sitting idle," she said. "This has been a really big learning experience for me. It's given me perspective on where the value is in my life and where I'm drawing my happiness, self-worth and self-esteem from. I would not have taken [time] off if this hadn't happened."
Though the record won't be out for quite a while, the band had been performing new material on its curtailed tour and will play plenty of fresh jams at the show. Revisit Clever Girls' latest singles, "Remember Pluto" and "Spark," on Bandcamp.
Circumstantial Evidence
Courtesy Photo
Chazzy Lake, 'Sup, Circumstance'
For New York City-based Chazzy Lake (J Bengoy's Charlie Hill) the show is part of the rollout of his new album, Sup, Circumstance, recorded and mastered at Burlington's Leilani Sound by Kevin Bloom and Sam Schneider. (During a recent visit to Leilani, I learned that, despite having grown up in different Northeast states, Hill and Bloom have been friends since middle school after meeting at a summer camp. Lifelong friendships are the best.)
For Sup, Circumstance, Hill chose to drop it track-by-track over the course of the summer.
"The slow drip release [was] to give each song an opportunity to be heard and focused on in a music world that really rewards singles and small releases," he wrote in an email to Seven Days. He also noted a sharp increase in production value compared to his 2018 record Goodbye V.D. Baby, which he said was "intentionally demo quality."
Indeed, Sup, Circumstance has a markedly higher sound quality, and it's evident that Hill's writing process over the last couple of years has strengthened and streamlined.
"The themes on the record really focus around perception and the pursuit of understanding," he explained. "I sing a lot about real-world things, but really the experience of the mind processing information and finding a grasp on reality amidst mental reckoning."
A mental reckoning, you say? Kind of like what we're doing with every aspect of life in 2020?
Sup, Circumstance is a timely record, indeed.
Listening In
If I were a superhero, my superpower would be the ability to get songs stuck in other people's heads. Here are five songs that have been stuck in my head this week. May they also get stuck in yours.
Orange Juice, "Rip It Up"
Shudder to Think, "The Ballad of Maxwell Demon"
No Joy, "Nothing Will Hurt"
Scissor Sisters, "Monkey Baby"
the bird and the bee, "Fucking Boyfriend"
Correction, September 21, 2020: An earlier version of this story incorrectly named the studio, Leilani Sound, at which Chazzy Lake's album Sup, Circumstance was recorded, and mischaracterized Kevin Bloom's role. Bloom coproduced it, and Sam Schneider mastered.