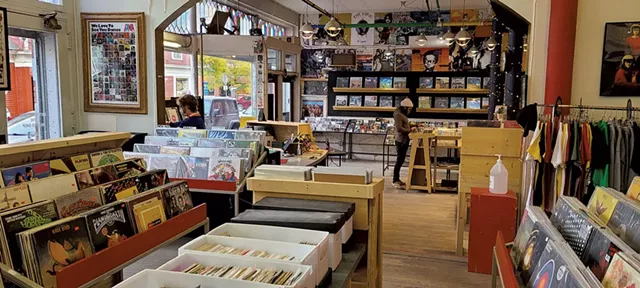 Jordan Adams ©️ Seven Days
Buch Spieler Records in Montpelier
At a certain point, I stopped going to record stores intending to walk away with a certain title. I'd love to enter a shop and be handed whatever disc I wanted, no matter how mainstream or obscure. But that's not the way it works. To be fair, I used to go to a store called Rooky Ricardo's Records in San Francisco that's like, as we used to say, the iTunes store of 45s. Walk in, name any single from the '60s to the '80s, and they'll hand it to you. Now, when I want something specific, I order it online. Shame me if you must.
For me, the whole point of going to a record store is to find something you didn't know you wanted. Xavier Jimenez, co-owner of Montpelier's Buch Spieler Records, said that's related to a concept he calls "record store amnesia." In other words, maybe you walk into a shop with a particular album in mind, but after you start digging for a few minutes, you forget all about it and get lost in the treasures at your fingertips. Did I know my recent visit to Buch Spieler would end with snagging The Golden Hits of Lesley Gore and the B-52's' Wild Planet? No, but I'm glad it did.
27 Langdon St.
Barre/Montpelier
Montpelier, VT
802-229-0449
Vinyl/Records
I've wanted to show some love to Vermont's record stores in this column for a while now. In May, when we were in the grip of uncertainty and pushing the limits of sanity at home, I started checking in with some local record stores to find out how they were doing, how they planned to operate without actually opening their doors, and generally what things were looking like at the time. A couple of days later, Vermont rolled back its restrictions on retail. Shops could open up, albeit with new precautions and restrictions. So my story kind of fizzled.
But the other day, I began to think about record shops again, as well as the album sales charts that disappeared from these pages more than a decade ago. Yes, once upon a time, Seven Days' music section published weekly album sales at a number of local record stores. But, as iTunes and the streaming era ushered in a dramatic industry shift, publishing that information became irrelevant.
Nonetheless, I thought it might be fun to visit our local record vendors and ask about any consumer trends, new releases that have done well and other fun nuggets of record store wisdom.
"We curate a lot around here," Jimenez said. "Some shops might just have a world section, but we break it up: Africa, Brazil, Asia and so on."
Indeed, the shop is full of niches. I noticed it considerably divides up records that might otherwise be lumped together as "rock." For instance, Buch Spieler has a designated post-punk/new-wave section, which I greatly appreciate.
Jimenez also said that he and his business partner, Knayte Lander, like to experiment with what they display on their walls. Recently, they featured records with faces on the sleeves. When I stopped by, albums with landscapes dominated the display. I felt the cohesion added a bit of calm to the sometimes chaotic and stressful task of digging through stacks of vinyl.
Lovers of '80s music should be pleased to know that the store has doubled its cache just in the past couple of weeks. The flush stacks of bargain records have flourished lately, too. And though it's not a super-recent addition, Jimenez pointed out the shop's Americana section, which didn't even exist until a few years ago.
"There are a lot of new listeners to the culture of vinyl," he said, noting that the store has been selling a lot of stereo equipment and had sold out of its top-selling turntable, Audio Technica's AT-LP60, a few minutes before I walked in.
Speaking of Americana and selling turntables, Jimenez also mentioned that the soundtrack to the 2000 film O Brother, Where Art Thou? is often a new vinyl listener's first purchase.
"People are finding that they still have the budget for getting into this, [and] that's a genuinely nice thing to see," he said.
These recent titles are reportedly selling pretty well: Washed Out, Purple Noon; Nathaniel Rateliff, And It's Still Alright; and Bright Eyes, Down in the Weeds, Where the World Once Was. Some perennial movers include Miles Davis, Kind of Blue; Prince, Purple Rain; and Joy Division, Unknown Pleasures, not to mention any and all works by Kendrick Lamar, Gorillaz and Daft Punk.
Additionally, Buch Spieler's vinyl subscription service has done well during the pandemic. Customers can sign up to have a curated selection of wax sent right to their door, with variable pricing. After telling Jimenez and Lander a little bit about your taste, they'll mail you one new and one used record per month. Eventually, they understand customers' sensibilities.
"We can see the arc of what works for them over time," Jimenez said.
I'll be checking in with other record shops in weeks to come. I hope my wallet can handle it.
Will Do
Courtesy Photo
Willverine
Be sure to listen to "Hope It All," the new single from Willverine, aka Japhy Ryder's Will Andrews. The spacey electro-R&B tune features vocals from frequent collaborator Francesca Blanchard, as well as Andrews' signature forlorn trumpet. The track is the first single from his forthcoming mini-album, Goodnow. The new EP also features vocals from Madaila's Mark Daly and Blackmer's Sam DuPont.
"[The track] is a kind of somber love song about relationships being tough," Andrews wrote in an email. "Most of my songs boil down to being about growing up, moving on, looking back, feeling nostalgic, etc."
Watch for coverage of the new record soon.
Listening In
If I were a superhero, my superpower would be the ability to get songs stuck in other people's heads. Here are five songs that have been stuck in my head this week. May they also get stuck in yours.
Sault, "Free"
Daniel Wilson, "Wedding Daze"
Dent May, "Eastover Wives"
Diana Ross, "Upside Down"
Shamir, "If It Wasn't True"