Courtesy Of Pours
Pours
Oh ... Canada!
It's Fourth of July week. So in the midst of all that flag-waving patriotism, it only makes sense that we begin this week's column by talking about Canada. Just work with me, OK?
Historically, for an American band to play in Canada, it meant navigating a byzantine gauntlet of wonky permits, confusing regulations, sticky international laws and charmingly funny accents. Especially for independent artists hailing from regions close to the U.S.-Canada border, the payoff for gigging in the Great White North was rarely enough to justify the hassle. Regardless of the exchange rate, shit pay is shit pay in any country. Over the years, I've heard numerous stories of local bands — who shall remain nameless so as not to alert homeland security — employing all manner of shenanigans to cross the border for gigs. One: telling border agents the seven guitars, nine amps, four groupies, drum set and boxes of merch in the van were just for playing at "a friend's birthday party." Another: stowing band members with questionable international legal status in the car's trunk. (Yes, really.)
The challenges of gigging in Canada were made even more difficult last year, when that country's government altered the regulations placed on non-Canadian bands touring there. The legislation created something called Labor Market Opinion fees, which essentially made playing in Canada financially impossible for American artists not named Lady Gaga or Jay-Z. In addition to the previous temporary work permit fee of $150 per individual band member or $450 per band, the new regs added a whopping $275 per individual. That meant a singer-songwriter would have to lay out $425 to play legit gigs north of the border.
Doesn't sound too crazy, right? Until you realize that your average quartet would pay more than $1,500. You can do the math on an eight-member group such as Kat Wright & the Indomitable Soul Band. Suffice it to say, that's a lot of loonies. Given that we've allowed Canada to molest our ears with Nickelback and Justin Bieber with impunity, that seemed like a raw deal.
As it turns out, the Canadian government agrees. At least on the excessive fees part. We're still waiting for an official apology for Nickelback and the Biebs. (Ed. note: I'll take your Nickelback and Biebs and raise you one Leonard Cohen and two McGarrigles. Or Neil Young and Joni Mitchell. Oscar Peterson and Diana Krall. K.d. lang and Gordon Lightfoot. Or, hell, Drake and Barenaked Ladies.)
Last week, Canada created an exemption to the LMO fee for small clubs and bars. This comes after the original legislation had drawn strong vocal opposition on both sides of the border, including from organizations such as the American Association of Independent Music and the Canadian Independent Music Association. A petition to reverse the legislation on the website Change.org scored more than 140,000 signatures.
But wait, there's more.
In addition to the LMO exemption, Canada also ditched the work permit fee for touring musicians. That means gigging in Canada is now easier than it's ever been, at least financially. And that's kind of a big deal.
Local bands have numerous opportunities to reach local ears at local clubs, but breaking out of the cozy confines of the Green Mountains has always been a challenge. The simple fact is that Burlington is something of an outpost, not particularly close to any major American cities, let alone touring circuits. Unlike bands from, say, Brooklyn, who have dozens of cities in which to play within a four-hour drive, it takes a Burlington band that long just to get to Boston. That makes touring problematic.
But you know what major city with a dynamic music scene is really close? (Hint: It's Montréal.) Not only that, but you could be in Ottawa in the time it takes to drive to Boston. From there it's just a hop, skip and a jump to Toronto, which is spitting distance from Detroit. You see where I'm going with this?
By easing the restrictions on touring independent American bands, Canada has just opened a whole new corridor to Vermont-based artists that's just as accessible as the traditional Boston-NYC-Philly circuit. And it's made a staggering number of venues available to local bands a mere 90 minutes away in one of the world's great cities. Previously, those clubs might as well have been on the moon.
However, you'll still have to smuggle your DUI-saddled drummer in the trunk.
BiteTorrent
I've been publicly harassing, er, urging local psych-rock duo Pours to release their debut record pretty much since front man Bryan Parmelee dissolved his old band Parmaga and teamed up with ex-Man Man and Santigold drummer Chris Shar about two years ago. Mostly that's because I was a big fan of Parmaga and, from what I've seen live, Pours pick up where that band left off and take Parmelee's ethereal, pop-centric compositions into even spacier new territory. I like spacey.
I'm delighted to announce that Pours are finally releasing that long-awaited self-titled debut with a release show at the Monkey House in Winooski this Sunday, July 6, with Albuquerque's You — with whom Pours will immediately head out on tour. And I gotta say, the record is worth the wait.
Not to spoil the review, which we'll have in these pages in a couple of weeks, but the new album suggests an increasing musical maturity in Parmelee. His songwriting has never been better or more adventurous. He retains the pop sensibility that made Parmaga so good while expanding his sonic palette to create bold, albeit hazy, new soundscapes.
On that score, Shar deserves credit, too. His percussion work adds a sophisticated aesthetic and rhythmic backbone to Parmelee's spidery psychedelics. Nice work, guys.
In freedom news, the annual July 3rd party at Burlington secondhand store Speaking Volumes has been moved to Saturday, July 5. Why? Because true freedom means you can celebrate freedom whenever the hell you want to, that's why.
This year, the party is curated by the cool kids from local booking collective Friends + Family. The psych-pop-heavy lineup includes Secret Lover from Worcester, Mass., Northampton's Sam Gas Can, locals Super bonheur and mysterious NYC pop-punk outfit Nancy — not to be confused with the Louisiana-based queer-punk band of the same name.
Moving on to the festival beat, last week the Skinny Pancake announced a huge, three-day food-and-music festival at Oakledge Park beginning Friday, September 19, called Eat by Northeast. Check out last week's food news item by Alice Levitt for the gustatory angle.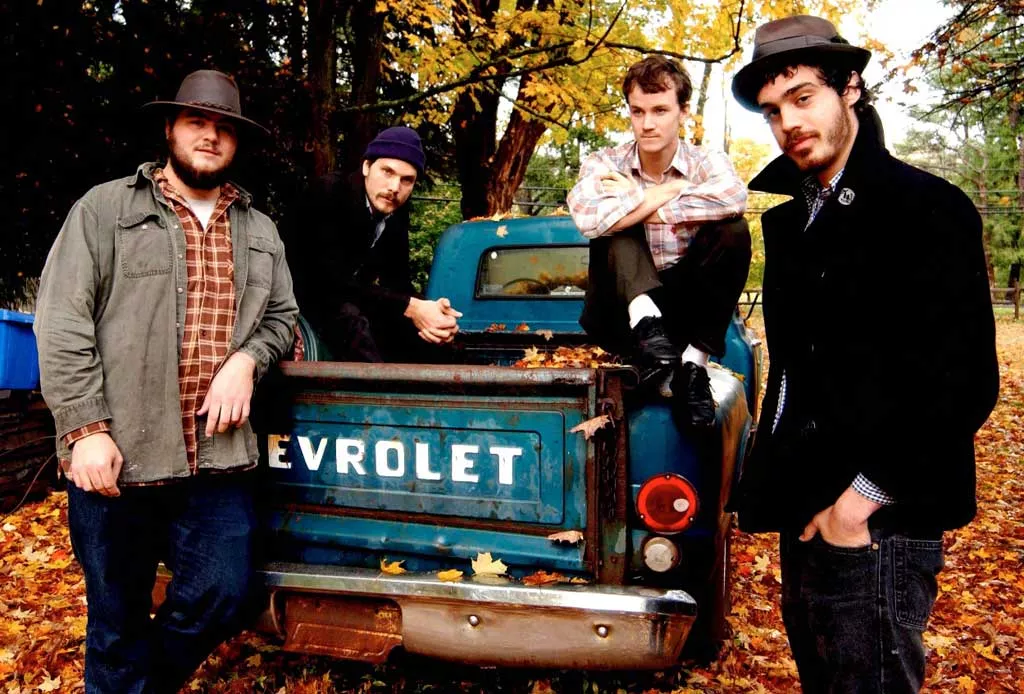 On the music tip, the fest features a pretty remarkable lineup of local and national bands, especially considering the whole thing is free. Bands include the Hug Your Farmer All-Star Band, the Felice Brothers, Dane Zanes, Cabinet, the Burlington Bread Boys, the Josh Panda & the Hot Damned.
Last but not least, a special thanks to Neko Case for playing a show at the Flynn MainStage on Wednesday, July 2. I'm flattered you remembered my birthday. (Call me!)
Listening In
A peek at what was on my iPod, turntable, eight-track player, etc., this week.
Amerigo Gazeway, The Big Payback Vol. 3 — J.B. & the Soul Mates
Pours, Pours
Casey Jack, Casey Jack
Emmy Wildwood, Mean Love
Mastodon, Once More Round the Sun
The original print version of this article was headlined "Oh … Canada!"