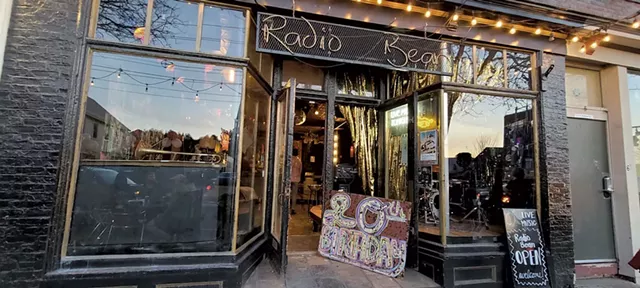 Jordan Adams ©️ Seven Days
Radio Bean
Last week's column started with a short section called "Clearing My Throat." I briefly expressed the weirdness of writing a column on a Monday that would hit newsstands on a Wednesday, with the biggest presidential election of my life sandwiched between them. Today, a week later, I feel as though I've expectorated the loogie that's been rattling around my lungs for the past four years.
The outpouring of joy I witnessed in downtown Burlington on Saturday after national news outlets called the race for president-elect Joe Biden was the most thrilling thing I've experienced in years. With my trusty JVC PC-30 boom box on my shoulder, I let my "Ultimate Get-Pumped" playlist speak for me as the city erupted into celebration. The feeling that something so electrifying was just happening, and that no one organized it or told anyone to do it, was indescribable. You really had to be there.
Of course, that was not how I thought I would spend my Saturday. I planned to stop by Radio Bean's annual birthday bash, an event that I think most folks had either forgotten about or assumed wasn't happening in 2020.
That wasn't an unreasonable assumption. Radio Bean, now in its 20th year, has been closed since March. Its sister spaces found new life this year: Restaurant ¡Duino (Duende)! was reinvented as the fresh-a-licious C'est Ça, and luminescent nightclub the Light Club Lamp Shop became furniture café Cherry. Yet Radio Bean, the hole-in-the-wall that started it all, has been more or less boarded up since the pandemic's onset.
Last Friday, owner Lee Anderson posted a message to social media alerting followers that he would acknowledge the annual milestone by reopening Radio Bean for one day only. (Anderson could not be reached for additional comment by press time.)
"First and foremost, I'm beyond grateful to have been (and still be) a part of this beautiful community," Anderson wrote. "I started this business on credit cards when I was 22 years old and have been doing it now for half my life. Wild. Thank you!"
Normally, the trio of businesses hosts an all-day lineup of Vermont's finest musicians. (I marathoned the whole thing back in 2016.) Obviously, that couldn't happen this year. But Anderson did open Radio Bean, with an extremely limited capacity — and made the shop's stage available for anyone who wanted to sit in and play a few tunes.
"This is NOT a party, but I still believe we can have fun, celebrate life, make eye contact and connect with each other in a responsible and meaningful way as we head into winter," Anderson wrote in his post, also stressing strict social-distancing measures and safety protocols.
After cheering my ass off as cars cruised up and down Main Street for a couple of hours, I strutted up to Radio Bean to make good on my promise to myself. Luckily, I showed up at the same time as the troubadour prince of the Old North End, Eric George, and I finally tasted C'est Ça's okonomiyaki, the Japanese pancake I'd heard such good things about. (So. Good.)
It was hardly the exuberant whirlwind the birthday bash usually is. But, fueled by the positive vibes circulating all over the Queen City and the unseasonably warm weather, it was somehow even better. Watching George strum out a few tunes on the iconic venue's stage with the election announcement at the forefront of my mind, I felt a sense of hope.
It's coming back. We'll have it all again.
Can We Really Preview Winter Music?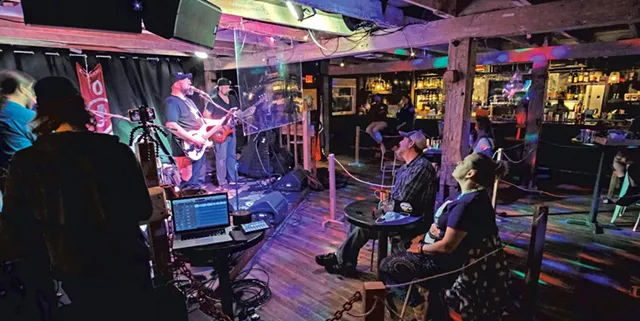 Courtesy Of Shawn Rice
Grateful Dead tribute band Shred is Dead performing to Zenbarn's "party pods"
You may have noticed that this is our Winter Preview issue. The coronavirus certainly makes previewing anything a bit of a challenge, but live events are the most unpredictable.
Vermont has contained the virus' spread to acceptable levels through much of the pandemic. We felt comfortable reopening most of our economy, and things have been pretty normal, precautions aside. We've even had a good amount of live music through the summer and fall, albeit mostly outdoors.
But if you take a look at our daily counts of new COVID-19 cases, you'll see an alarming upward trend of late. Ditto for the rest of the country. And the world.
So, with winter approaching, I asked around at a few local clubs to find out what, if anything, might be happening now that live music is likely to have to move indoors — or stop altogether.
As I assumed, there's not a ton of new information, and most venue owners are just as in the dark as the rest of us.
"We'll react to whatever the state deems safe," Nectar's vice president of business development, Brian Mital, said by phone. After closing in March, the club has consistently offered DJs, comedy and live music since June, indoors and out. "Everything is day by day," Mital said. "Unfortunately, because we're in a pandemic, things can change at any moment."
Waterbury's Zenbarn has held outdoor concerts all summer and fall, but it recently shifted to an indoor model that includes "party pods," or socially distanced, roped-off areas that groups of people can reserve. Co-owner Noah Fishman said the staff has hung acrylic glass in front of the stage to protect audience members from singers' droplets and updated the HVAC system with UV treatments. This is, of course, on top of the standard safety protocols with which we're all painfully familiar.
Zenbarn also set up an artist endowment via GoFundMe that, for now, guarantees artists get paid. Despite selling out many recent events, the venue cut its capacity from 199 to about 50 people per show, a drop that affects the revenue it passes on to performers.
"If worst comes to worst and we go back to takeout only, I still plan to have music," Fishman said, noting that he'll pay artists from the new fund even if Zenbarn has to switch from live to livestream.
We'll keep an eye out for new developments. Speaking of which...
You Light Up My Life
...Burlington's New Year's Eve celebration, Highlight, is moving forward this year, albeit in a new way. The collaboration of production company Signal Kitchen and Burlington City Arts will shift to an entirely streaming model.
Using a high-quality streaming platform, as opposed to Facebook Live or other less reliable options, the December 31 event will feature between 120 and 200 video streams, or "stages." What's on the agenda for Highlight House Party, as it's being called? That's up to you!
Beginning next week — probably Monday, November 16 — performers can apply to be part of Highlight at highlight.community. What kind of entertainment are organizers looking for this year? Essentially, if performers make a compelling enough case, they could present anything from rock shows to cooking lessons to acrobatics. What can you dream up?
Each performance will run for 60 minutes. Signal Kitchen and BCA will offer technical and creative guidance to folks who lack experience setting up a livestream, though performers have to provide their own tech.
Viewers must purchase an all-access $10 ticket, as they have in years past. But this year, performers will be issued a unique promo code, which they can disseminate to their followers. Viewers who apply said code when buying tickets will put 60 percent of the ticket price (about $4.56 after state tax and fees)into their fave performer's hand in addition to the $125 stipend that all performers will receive. It's like when you go to a DIY show and the door person asks you which of the five bands you're there to see.
Performers can opt out of the stipend, putting $125 back in the pot to create space for an additional performer (hence the flexible number of stages).
Expect more info about Highlight in December.
Listening In
If I were a superhero, my superpower would be the ability to get songs stuck in other people's heads. Here are five songs that have been stuck in my head this week. May they also get stuck in yours.
*NSYNC, "*Bye Bye Bye"
Steam, "Na Na Hey Hey Kiss Him Goodbye"
Violent Femmes, "Kiss Off"
En Vogue, "My Lovin' (You're Never Gonna Get It)"
Lesley Gore, "You Don't Own Me"