Ourtesy Of Ryan Chani
Brett Johnson
Bell of the Ball?
Since I moved back to Vermont in 2014, I've made a concerted effort to visit Montréal whenever I can. Before heading out west in the mid-2000s, I'd mostly traveled across the border for school field trips and a yearly pilgrimage to amusement park La Ronde with my church youth group. Sure, I had a few wild nights in the City of Saints after I turned 18, but not too many. And they seldom involved seeing live music.
I've worked my way through many of the popular music venues: Métropolis (now known as MTELUS), the Corona Theatre, Place des Arts, Club Soda, Théâtre Fairmount, La Sala Rossa and Casa del Popolo. And, over the weekend, I checked off a whale of a concert hub: Centre Bell, home to the Montréal Canadiens. I still need to hit L'Astral and Le Belmont.
The downtown arena has a lot going for it. It's centrally located and close to Autoroute 10, so it's convenient for a quick escape at the end of the night. The venue can handle Taylor Swift-level artists but can also be configured to accommodate bands with a slightly more niche draw, such as trip-hop legends Massive Attack, whom I saw play on Saturday. (They were mind-blowing, by the way, especially considering Cocteau Twins' Elizabeth Fraser was there to sing "Teardrop.")
The one thing I wish I'd known was how damn uncomfortable its seats are, so I'm putting this out there as a public service announcement to any readers who may head that way. I'm telling you, it's worse than having a middle seat on a typical commercial airline. I can forgive the lack of lumbar support and thin cushioning. But the lack of space allotted for the run of the stadium-style seating — that is, the distance between the back of your seat and the back of the seat in front of you — is unacceptable. My knees were locked just shy of 90 degrees, with no room to shift to take some of the pressure off my lower back.
My advice: Hang out in the concessions area until you hear the show start. You'll be standing, but that's likely more comfortable than the alternative.
Poly Math
Some of you may know that I was raised as a born-again Christian. My parents were cofounders of the church I attended. I performed in Christmas pageants, sang in choirs and went to Sunday school for about a decade. I grew out of it during my teen years and have remained secular ever since, but I'm always curious about people who've had similar experiences. What drove them away from religion? When was that first moment of doubt that led to a truer understanding of life as we know it?
With this in mind, an upcoming comedy show at the Skinny Pancake on Monday, September 23, caught my eye. Comedian Brett Johnson brings his "Poly-Theist" show to the crêpe chain's Burlington location for this week's installment of its comedy series. The Boston-based comic details his life growing up in a highly religious environment in upstate New York.
The show's tagline reads, "Brett Johnson used to be a married and monogamous evangelical — then he became the opposite." I assume it's a fascinating tale. You can read more about the show in a piece from Boston culture and lifestyle website Vanyaland.
BiteTorrent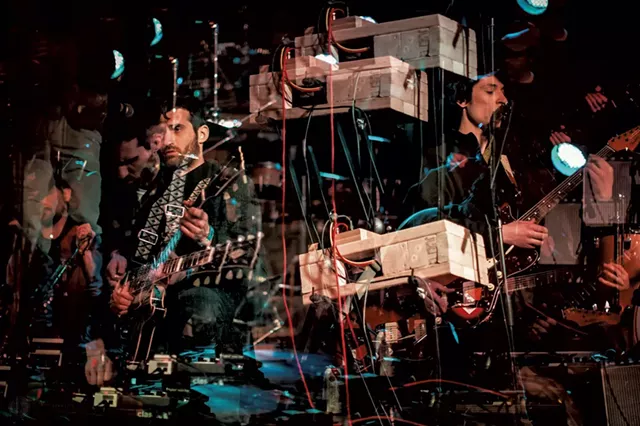 Courtesy Of Luke Awtry Photography
The Dead Shakers
Remember last week when I said Grand Point North marked the end of summer? Anecdotally, that might be true. But summer officially ends on Sunday, September 22. That means Borderline Entertainment's final show on Friday, September 20, at the Barrage in Holland might be the actual last word on summer. The passion project of Andy Bouchard, the Barrage is a DIY venue in the Northeast Kingdom, located in the concert promoter's repurposed garage. With local headliners the Dead Shakers; Rochester, N.Y., lo-fi psych-pop outfit Overhand Sam; and a secret special guest to boot, the show promises to be a wild one.
This week in tributes: A group of Vermont's finest musicians pays tribute to legendary guitarist J.J. Cale on Saturday, September 21, at the Higher Ground Showcase Lounge in South Burlington. The lineup includes Justin Mazer, Craig Myers, Al Smith, Dylan Skursky, Brett Lanier and host Pappy Biondo of Cabinet.
Meanwhile, at the Monkey House on the same night, another group of locals gathers to honor the Silver Jews' David Berman, who died in August. The show, titled Honk If You're Lonely, a reference to a track from Silver Jews' album American Water, features performances from Dino Bravo, Eastern Mountain Time, ouzkxqlzn, Paper Castles, Swale and Wren Kitz. Berman's death might be particularly poignant, given that in early 2019 he ended a 10-year hiatus from music with a new album under the moniker Purple Mountains.
Readers! Be on the lookout. Some changes are coming to Seven Days' music section. I can't say exactly when, but I believe the forthcoming modifications will help you better find what you're looking for in terms of entertainment and nightlife. More on this soon!
Listening In
If I were a superhero, my superpower would be the ability to get songs stuck in other people's heads. Here are five songs that have been stuck in my head this week. May they also get stuck in yours. Follow sevendaysvt on Spotify for weekly playlists with tunes by artists featured in the music section.
TV on the Radio, "A Method"
EVA, "Honeycomb"
Clams Casino, "Into the Fire (featuring Mikky Ekko)"
Jack Ladder & the dreamlanders, "Susan"
Santigold, "Run the Road"