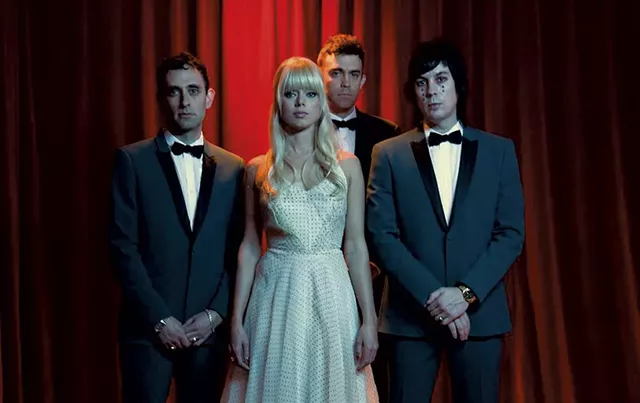 Courtesy Photo
Chromatics
Two of a Kind
Did you ever have one of those weekends full of shows that you know you'll remember for a long time to come? I can say confidently that I'll remember the pair of concerts I saw on Friday and Saturday until my brain stops working. In terms of style and vibe, they couldn't have been more different. But as you'll see, they left a major impression.
...And a Free T-Shirt
On Friday, I went to Higher Ground to see Portland, Ore., electronic band Chromatics. The flagship group of record label Italians Do It Better headlined alongside label-mates Desire, In Mirrors and Tess Roby. If you're unfamiliar with the label and the culture surrounding it, I recommend checking out its website. The brainchild of composer and bandleader Johnny Jewel, the company is highly conceptual in the way it packages content, often releasing music as soundtracks to films that don't exist. And sonically, the artists of Italians Do It Better heavily employ analog synth to create their moody tunes. They sound as if they came from a shared fever dream.
The first thing that struck me about the show was that everybody in the modest-size crowd seemed to be a diehard fan. I overheard many folks busily chatting about the label's approach to both art and business. It's not unusual to hear people talking about the band they're about to see while waiting for the show to start, but the amount of chatter relating to the bands and associated projects — such as the 2017 "Twin Peaks" reboot, in which Chromatics make an appearance — felt beyond the norm. I knew I was in good company.
Another oddity was the background music between sets. Every song played was by an artist from the Italians Do It Better roster. That is unusual. At shows and festivals, it's almost a cardinal sin to play recorded music from an artist that's about to perform live. But given how unconventional Jewel and his cohort are, it made a certain kind of sense. They wanted their crowd to be fully immersed in the Italians Do It Better experience.
The show itself was fantastic — but I'll skip to the end. After a three-song encore, which included covers of Kate Bush's "Running Up That Hill" and Bruce Springsteen's "I'm on Fire," Jewel stayed onstage and addressed the audience. He explained that the tour's next stop was Montréal and that they needed to liquidate some assets before crossing the border. He then informed those of us who'd stuck around until the very end that we'd all be treated to a free T-shirt.
Talk about generous! Never have I ever witnessed an offer like that from such a high-level group. Sure, the band was saving itself from having to pay duty on that merch, but still. The crowd of more than 100 people calmly and gently perused the band's two racks of tees and sweatshirts, and everyone walked away with a cool memento.
Blame It on the Rain
Courtesy Of Alysse Gafkjen
Brandi Carlile
Night two of my doubleheader was a Higher Ground Presents gig: Brandi Carlile at the Shelburne Museum. The Seattle-based singer-songwriter was on the second night of a sold-out, two-day run. Plus, she appeared at Sen. Bernie Sanders' (I-Vt.) campaign rally in Montpelier earlier in the day.
Anyone who's been to a concert at the Shelburne Museum knows that they have a rain-or-shine policy. When the weather is fair, it's one of the nicest places to sit and soak up some tunes — especially when it's clear and you can see the sun sink behind the Adirondacks in the distance.
But Saturday's weather was the definition of abysmal. Not only did it rain continuously for most the afternoon and evening, it poured. Under normal circumstances, I probably would've stayed home. I can be kind of a fussy Gus when my personal comfort is compromised. But I had plans to join one of my oldest friends and her wife, two of the most diehard Carlile fans I know. I haven't listened much to the Grammy Award-winning artist, but I've read enough about her to know that she's someone I needed to see. Not knowing when I'd get another chance, I equipped myself with a shower curtain before heading off to the venue.
I don't think I've ever showed up to a concert knowing full well it was going to be raining the entire time. As I clutched the clear sheet of plastic around my body, I realized that I'm severely lacking in the rain gear department. There's nothing like a near constant trickle of water dribbling off your umbrella and down your back to make you think, I should own a rain hat.
About 20 minutes after opening act Brandy Clark finished up, my friends and I and those around us began speculating that the show might not go on. We were too far back in the crowd to see exactly what was happening onstage as techs and roadies seemed to construct — and then break down — Carlile's setup.
Eventually, Carlile did make an appearance, alongside bandmates Phil and Tim Hanseroth.
"You're going to get a very different set tonight," she announced with a tinge of excitement in her voice. She marveled at the crowd's resilience despite the downpour and seemed truly appreciative.
Rather than her full electric setup, which my electrician neighbor confirmed would've been extremely dangerous given how much water was likely pooling on the stage, she and her crew played an acoustic set — that lasted only three songs.
Immediately afterward, an announcement came over the PA system informing the crowd that an intense electrical storm was heading our way and that we all needed to "evacuate" the area and find shelter in the next 10 minutes. The news incited more disappointment than panic, and the drenched revelers moved in an orderly fashion to their cars, or to the Round Barn if they didn't have immediate transportation.
On the ride home, my friends and I wondered about what might happen with regard to a refund or a rescheduling. We were disappointed, but what else could we have done?
Well, people had plenty of suggestions in the comments section of Higher Ground's Facebook post regarding the show's early termination. Some thought they should have pulled the opening act. Others said the show should have been preemptively canceled and rescheduled. One said the event should have been moved to an indoor venue.
I'll tell you right now, none of those suggestions was likely possible. Move to an indoor venue? To which 3,000-capacity indoor concert venue were you referring? Frankly, the level of outrage and entitlement seen in the comments was embarrassing and childish. Maybe let the organizers have time to work out a solution before you demand satisfaction? Sheesh.
It's true: No one can say that Carlile didn't perform. But clearly, it wasn't what ticket holders paid for. Thankfully, according to an email Higher Ground sent out on Tuesday, refunds will be issued to ticket holders.