Courtesy Of Davina And The Vagabonds
Davina and the Vagabonds
Every couple of months or so, I like to drop by Buch Spieler Records in Montpelier. For one thing, it's a nifty little record shop and, as we know, nifty little record shops are in increasingly short supply these days. Two, a number of the folks from the capital city label State & Main Records and the associated co-op Golden Dome Musicians' Collective work there. This makes the store a great source for tips and tidbits on both the label and the Montpelier rock scene.
The last few times I've stopped in and inquired about the latest goings-on, store clerk, musician and S&M honcho Knayte Lander has been quick to point to one upcoming record in particular: the self-titled debut full-length album from Montpelier hip-hop duo Boomslang. Of course, since the album is an S&M release, Lander's a little biased. But there's no mistaking his enthusiasm. And in the time I've known him, I can't think of a time he's been pumped on something that wasn't pretty freakin' cool. Dude has good and reliable taste. And he's right to be jazzed on the new Boomslang record.
I first caught the duo a little over a year ago at a Montpelier band showcase at the Monkey House. Unfortunately, that show was up against some stiff competition: Grand Point North. So the turnout in Winooski was, well, pretty much just me and the Montpelier bands. Still, I came away impressed with Boomslang. MC Sed One spits fire and has got to be one of the most acrobatic rappers in Vermont. Even given the sparse crowd, he performed with irrepressible energy and enthusiasm, delivering tongue-twisting bars that would leave lesser MCs drooling on themselves.
So the question, at least for me, was how that energy would translate to record, which is sort of the inverse problem with a lot of hip-hop — what works well on record often falls flat live. I'd say Boomslang deliver, and then some.
We'll have a more proper review in an upcoming issue — why do I feel like I keep writing that? — but what's immediately striking about Boomslang's debut is how relentless yet effortless is Sed One's attack. He presents the same whirling dervish on record as he does onstage. But his rapid-fire flow has a measured agility. Even when it seems he's about careen out of control, leaving a pile of broken syllables in his wake, he never falters, always skipping gracefully back from the brink. From a technical standpoint, it's wildly impressive. Actually, keeping up with his relentless cadence is almost exhausting.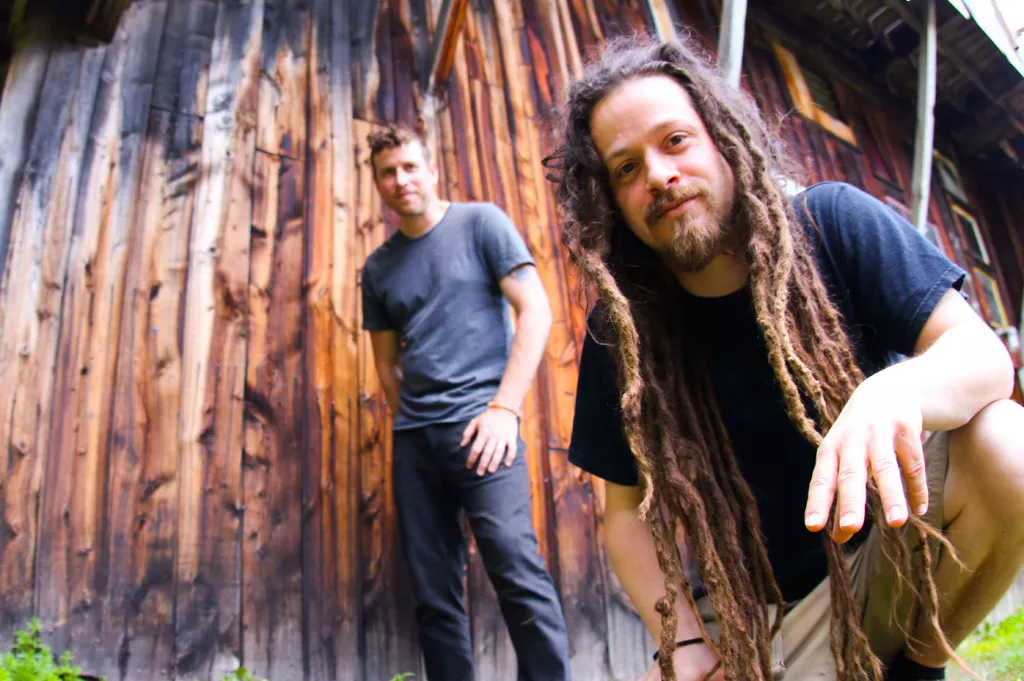 Courtesy Of Boomslang
Boomslang
Producer and DJ JL matches his partner's energy and skill with crafty beats of his own. Boomslang tend toward upbeat, positive-minded anthems — it ain't exactly "party music," but you can certainly party to it — and JL's danceable beats and breaks provide an explosive template for Sed One's bombastic rhymes. Hell, there's even a vocal cameo by a certain famous local singer who, I'm pretty sure, is making her first appearance on a rap record. She's actually uncredited, and I'm not supposed to reveal her identity. But after one or two listens, it should be obvious to most Vermont fans who the mystery voice is. (No, it's not Grace Potter.)
Anyway, local hip-hop fans would do well to check out the new Boomslang record. Better yet, pick it up at the band's album release show at Positive Pie in Montpelier this Friday, November 14. Also on the bill are Wombaticus Rex and our old pal and recent expat Learic.
BiteTorrent
Congrats to local radio DJ and musician Charlie Frazier. As reported on our arts blog, Live Culture, last week, it was recently announced that Frazier will be the recipient of a 2015 Keeping the Blues Alive award in the Commercial Radio category from the Blues Foundation. That's a Memphis-based organization dedicated to, um, keeping the blues alive. That's no small task here in the "blues wasteland" that is Vermont, as Frazier jokingly put it in a recent phone call with Seven Days. He'll receive the award at a ceremony in Memphis in January.
For more than two decades, Frazier has been the host of "Blues for Breakfast," a weekly Sunday morning blues radio show on WIZN 106.7 FM. He's also the leader of a band of the same name, which primarily trades in keeping the Grateful Dead alive — a decidedly easier task in Vermont — but also is known to bust out plenty of blues classics.
When I spoke to him, Frazier seemed almost at a loss for words. Given that the man talks about the blues for a living, that should tell you something about the enormity of the award. He did, however, offer a hot tip: Go see Davina and the Vagabonds at Nectar's on Wednesday, November 12.
Courtesy O Grant Robinf
Grant Robin
Frazier said he's seen the Minnesota-based blues and roots act at several festivals recently, and they blew him away.
"They've stolen the fest every time I've seen them," he said. "They're the real deal."
That's high praise from an unimpeachable — and award-winning! — source.
Congratulations, Charlie.
Sticking with the feel-good theme, congrats to Grant Robin, who won this year's Vermont's Funniest Comedian contest last Saturday, November 8, at Club Metronome. Robin earned himself a slew of prizes, including cash, professional headshots, a podcast mic, a featured slot at the 2015 Green Mountain Comedy Festival and his name in a local music column. OK, that last one isn't really a prize, but we bet Robin is thrilled, nonetheless. Rounding out the top five, in order, were Kyle Gagnon, Kendall Farrell, Mike Thomas and Bitsy Byron.
But the real story from the VFCC might be the unveiling of the Vermont Comedy Club's new logo, the Moonicorn, which is, very obviously, a cow with a unicorn horn. "Moo-nicorn," get it? Well, not everyone did.
VCC cofounder Nathan Hartswick received a hastily handwritten note after a prelim round of the contest from a group of apparently disturbed — and confused — patrons who took offense at the logo for depicting, "a drill that has gone through this cow's head." Really.
(That sound you hear is me placing a drill to my forehead.)
Last but not least, the band formerly known as DALY shall henceforth be known as Madaila. So it is written. So it shall be.
Right about now you might be saying something like, "Wait a second, dude. Didn't DALY already change their name, like, three months ago? Isn't that three names in less than a year? What the fuck? Is that even legal?"
Right you are, foulmouthed but mathematically sound reader. As recently as this summer, the band, led by Mark Daly (ex-Chamberlin), was known as Plato Ears. Following a killer set at the Precipice, the band changed its name to DALY. Problem is, there's another, fairly famous singer — like, recently played "The Tonight Show with Jimmy Fallon" famous — that goes by DALEY. That's not exactly the same, but it's close enough, especially considering that Daley also plays, as Daly put it in a recent email, "R&B falsetto pop." Good point. And given that Daly's band is nearing completion of its hotly anticipated debut record, it's better to change the name to avoid any potential confusion and/or legal tangles now.
"Fuck, I'm just trying to give Puff Daddy or P. Diddy or whatever his name is now a run for his money," Daly jokes.
DALY/Madaila are taking the whole thing in stride. For the final night of their recent well-received Nectar's residency, the band members debuted a video poking fun at themselves and unveiling the new name. If you missed that, you can catch the newly re-renamed band at Signal Kitchen in Burlington on Wednesday, November 19, with Kat Wright & the Indomitable Soul Band and Disco Phantom.
Listening In
A peek at what was on my iPod, turntable, eight-track player, etc., this week.
Cool Ghosts, A Swirling Fire Burning Through the Rye
Dreamers, Dreamers
Holy Sons, The Fact Facer
http://www.bsmusic.com/bsmusic/Home.html
Liturgy, Renihilation
The Modern Lovers, The Modern Lovers
The original print version of this article was headlined "Tick Tick … Boom"