Photo courtesy of Shem Roose
Swale
In these dark times — and no, I'm not referring to midwinter — isn't it great when we can be entertained while also supporting a good cause? Here are a few events this week that, aside from being sources of fun, aim to sustain the good works of several local organizations.
First up is Comic Relief: A Benefit for COTS. Now in its fourth year, the benefit standup comedy show takes inspiration from the British charity of the same name and its widely popular televised comedy specials that began airing in the 1980s. Burlington's Comic Relief supports the Committee on Temporary Shelter, a nonprofit organization that has been helping people overcome homelessness since 1982. This year's lineup includes comedians Eric Dreiblatt, Cori Marnellos, Andy Perchlik, Annie Russell, Tarzan Jenkins, Tim Bridge, Tracy Dolan and host Kathleen Kanz.
If you're so inclined, laugh yourself stupid on Thursday, February 16, at ArtsRiot in Burlington. For more information about COTS, visit cotsonline.org.
Next stop on the benefit express is a rock show. Local art-rockers Swale, electro-poppers Heloise & the Savoir Faire and indie rockers Villanelles are doing their thing in support of the Iskra Print Collective, a nonprofit group focused on educating the community on all things printmaking. The benefit is Saturday, February 18, at the Karma Bird House Gallery — aka Maglianero.
Iskra recently had to retire an important piece of screen-printing equipment, so the collective is seeking assistance in order to bankroll its replacement. If you aren't familiar with Iskra, you may be familiar with some of its work. You know those lovely keepsake posters that you sometimes get to take home from Higher Ground? Iskra produces many of those, and its artists are providing a selection for sale at the event. For more information about Iskra, visit iskraprint.com.
Oh, hey! This is pretty exciting: Swale guitarist Eric Olsen told me via email that the band plans to unveil a bunch of new material at this show. That's pretty cool, but he also said that tunes are from the band's forthcoming album. Did you know Swale were releasing a new album this year? I didn't.
Olsen said the album is completed, mixed and mastered and is awaiting ye olde press. While its title is still a secret, he revealed it is "made of ghosts and sawdust." I'm simultaneously creeped out and stimulated by that. Guess you'll have to go to the benefit to find out what Olsen is talking about.
Last but not least, a question: When was the last time you played bingo? For me, it was probably French class during my freshman year in high school. If you enjoy the high-stakes number-covering that the age-old game offers, you might want to check out Miss Jubilee's Curious Bingo Night on Monday, February 20, at Charlie-O's World Famous in Montpelier.
Miss Jubilee — real name Beckie Sheloske — puts on quite the show with crazy costumes and fantabulous prizes. While this is hardly the beginning of her bingo-hosting career, she recently decided to honor local charities with a percentage of the evening's proceeds. This month, Miss Jubilee's players are contributing to the American Civil Liberties Union of Vermont. Last month, proceeds went to the Vermont Foodbank, and next month's recipient is Planned Parenthood.
Drone On
It's time for the next installment of Signals! If you aren't familiar, that's a bimonthly (every other month) music series that features intimate performances from avant-garde artists. Local experimental music maker Greg Davis curates the series, which began a couple of years ago during his stint as Champlain College's sonic artist in residence. This month's featured performer is Canadian drone artist Sarah Davachi. Her music is sedate and amorphous, stretching and bending simple tones into deep, textured soundscapes. Davachi drops her latest album, All My Circles Run, in March.
Creative audio software company Soundtoys hosts the event in its performance space at the Hood Plant in downtown Burlington. As always, a question-and-answer period follows each Signals performance as a way to deconstruct the series' often-challenging music, and to let fans engage with the artists.
Catch Davachi on Saturday, February 18. Next on the Signals roster, in April, is Koen Holtkamp. Also, check out the Signals showcase at the Waking Windows Music and Arts Festival in Winooski this May.
Dead Man's Party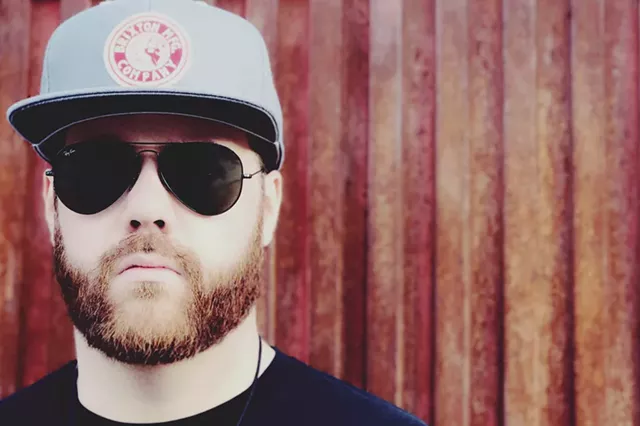 Jeez Louise, there sure is a lot of competition for what to do on Saturday night.
Dead Set, the weekly Grateful Dead tribute at Nectar's in Burlington, celebrates its fourth anniversary this week with a special performance on Saturday, February 18. But it's not at Nectar's. Instead, the band will take the not-so-long-or-strange trip to the Rusty Nail in Stowe. (Also, the actual anniversary was February 14. But the big-time, fancy-pants celebration happens up yonder this weekend.)
Local Dead enthusiast Zach Nugent started Dead Set with Seth Yacovone Band bassist Alex Budney at Club Metronome. The first installment was intended to be a casual, almost open-mic-style affair, with couches and lamps to give it a laid-back, homey vibe. The musicians reached capacity that night and have yet to see a decline in popularity. The event was eventually moved downstairs to Nectar's.
Though many musicians cycle in and out, Nugent has been the linchpin throughout the four-year run. He's been a Deadhead since forever.
"[The Grateful Dead] was the first stuff I remember hearing, when I was 3 years old, or whenever memories start," Nugent said over the phone. Jerry Garcia has been his go-to guitar inspiration ever since he took up the axe at age 12.
The special performance features an all-star band of the jammiest jammers who ever jammed. In addition to Nugent, the band consists of guitarist Craig Broadhead (Turkuaz), drummers Aaron Katz (Percy Hill) and Luke Smith (Strangefolk), keyboardist Richard James (Pink Talking Fish), and bassist Oteil Burbridge (the Allman Brothers Band, Dead & Company).
Listening In
If I were a superhero, my superpower would be the ability to get songs stuck in other people's heads. Here are five songs that have been stuck in my head this week. May they also get stuck in yours. Follow sevendaysvt on Spotify for weekly playlists with tunes by artists featured in the music section.
Coquette, "Man Provides"
Rachel Bloom, "Period Sex"
New Move, "When Did We Stop"
Disclosure featuring Nao, "Superego"
The Ark, "One of Us Is Gonna Die Young"