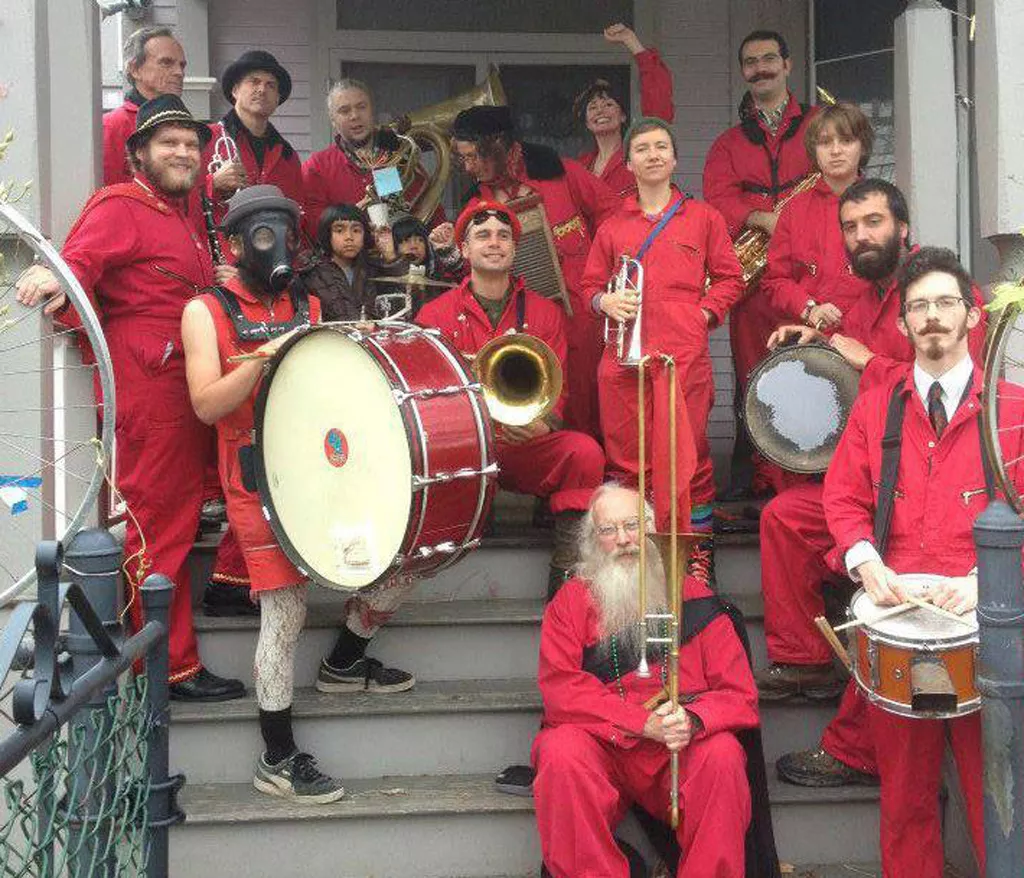 Courtesy Of Brass Balagan
Brass Balagan
Back to the Future
In case you couldn't tell from the story leading off this week's music section, I'm pretty excited about Madaila and that band's new record, The Dance. But there's an important aspect of Madaila's story that I was only able to touch on — word counts are a bitch, my friends. So let's rectify that.
As mentioned, The Dance is being released under the banner of Future Fields. That's a new record label/recording studio helmed by Eric Maier and Jer Coons, both of Madaila. That in itself isn't especially newsworthy, though Maier and Coons have already made some splashes in recording Caroline Rose's 2014 breakout, I Will Not Be Afraid, as well as their own phenomenal, if somewhat overshadowed, collaboration with rapper and Burlington expat Learic as the Precepts, This Is How it Must Be. Both of those projects happened before the outfit was officially christened as Future Fields. But the point is that both men have some serious bona fides, even before we start discussing just how rad Madaila's new joint is. (Spoiler: It's really, really rad.)
What is newsworthy, and maybe groundbreaking, is what the Madaila record represents as an extension of FF. This is because the release introduces a new — though actually very old — model of sustaining the arts: patronage. (Fist bump, Medicis.)
The Dance is not only the first official Future Fields release. It's the first record unveiled as part of FF's "Patron Platform," which is a sort of evolutionary cousin to crowdfunding. But unlike vehicles such as Kickstarter, in which you pledge a certain amount of money with the expectation of rewards at some point in the future, the patron platform works more like a subscription service.
For recurring monthly fees of varying levels, you can access Madaila music and other goodies. Five dollars gains fans access to an exclusive blog where they can stream all officially released Madaila music as well as studio demos, behind-the-scenes videos and the like, updated weekly. The next step up is $15, which gets you the basic package, plus VIP access to Madaila shows, direct email access to the band and entry into a monthly house-concert raffle. The gold club membership is the $30 Future Fields All-Access Pass, which scores you everything in the $15 package, but for every artist on the FF roster, as well as one night with Mark Daly, Indecent Proposal-style.
OK, I made up that last part. But the access to the entire FF roster thing is true. Granted, that's currently just Madaila and Maryse Smith — who's releasing her next album through the label in a month or so. But if the list of "affiliated artists" is any indication — Lowell Thompson, Kelly Ravin, Zac Clark, Caroline Rose, to name a few — that roster is likely to grow, especially if the patron platform proves successful.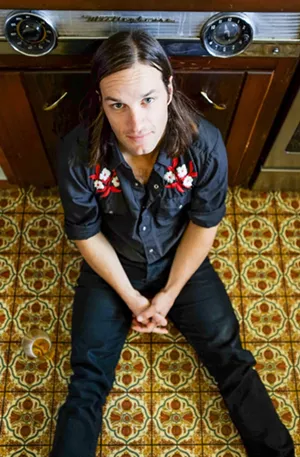 Courtesy Of Lowell Thompson
Lowell Thompson
"What the patron platform does is connect artists with supporters who value music in a deeper way than they have to," says Maier recently by phone. "This isn't telling people they're getting the best possible deal. It's asking people to place a value on the music. And we believe pretty strongly in the possibilities of that."
Maier continues by pointing out the one-time nature of crowdfunding, suggesting it's not a sustainable model.
"We want it to be less transactional than Kickstarter," he says of the patron platform. "Because by the time you've mailed off all of the hand-knit scarves you promised, you're pretty much barely breaking even and that money is gone until your next record."
True that. Also, my scarf was kind of itchy.
But will it work?
I honestly have no idea. It's certainly an intriguing concept. But it places a lot of faith in the idea that real fans will act like real fans instead of thieves, and financially support the art they love. In the age of file sharing and illegal downloads, that's a dicey proposition. So, will sweetening the pot with a consistent stream of new content — not to mention allowing patrons to rest easy in the knowledge they're supporting artists they believe in — tilt the scales in FF's favor?
Stay tuned.
BiteTorrent
Before we get into this next segment, I'm just going to come out and say that I have either personal or professional conflicts of interest with virtually everyone involved. So for the next couple of paragraphs, just assume I'm related to, friends with, coworkers of or am dating, have dated or am planning to date everyone I mention, OK? OK.
This Saturday afternoon, March 21, the Higher Ground Ballroom is hosting a rock show called "The Kids Are Alright." It's a benefit for the Integrated Arts Academy at H.O. Wheeler, which is the only arts-magnet elementary school in Vermont. Also, it's great. My nephew Arlo is a student there, and he's a pretty awesome, wildly creative little dude. (See what I mean?) Part of that is due to parenting, sure — and uncle-ing, thank you. But part of it is the creative, nurturing environment he's exposed to every day, thanks to the progressive nature of the IAA. It makes my elementary school look like a gulag in comparison.
Now, I wouldn't send you to the show if there weren't some great music involved. And there is. Scheduled to appear are Rough Francis, Swale, Colin & the Clarys, Steady Betty, Paper Castles, James Kochalka Superstar, the Cleary Bros. band and Brass Balagan.
Look at that lineup one more time. If this show was happening on a Friday night at Nectar's or the Monkey House, instead of a Saturday afternoon, it probably would have led this column. That's a veritable who's who of Burlington bands, many of whom have members with children in the IAA. Do you know what that means?
Courtesy Of Zero Circle
Zero Circle
It means that the very future of Burlington music is your hands. No pressure, but if you don't go to this show to support IAA and Arlo grows up to be an asshole or something, I'm gonna hunt you down.
Last but not least, bon voyage to the Vermont contingent heading down to South by Southwest in Austin, Texas, this week for the Big Heavy World Vermont Music Showcase. If you happen to be in the neighborhood, the show is at the Trophy Club on Saturday, March 21. Have a Lone Star for me.
Anyway, if you'll recall, last fall BHW founder Jim Lockridge lined up a showcase at the largest live music event on the planet. He tasked a panel of local music know-it-alls — including yours truly — with deciding who, among the Vermont bands who applied to SXSW, would best represent the state under the BHW banner. So we decided to send Waylon Speed, Lowell Thompson, the DuPont Brothers, Zero Circle, Get a Grip and the Snaz.
Regrettably, I'll not be attending SXSW this year — I think I'm still recovering from going a couple years back. But having been and survived the madness, here are a few pro tips.
1. Lone Star sucks and leaves brutish hangovers. But it's almost always the cheapest beer option, and is often free.
2. You won't see everything you want to. Make a list of the shows you definitely don't want to miss, but leave ample time to stumble around. You never know what you'll find.
3. Screw Fader Fort. The coolest stuff at SXSW happens in East Austin. You're welcome.
4. Breakfast tacos are your friend. (See: Lone Star, above.)
Listening In
A peek at what was on my iPod, turntable, eight-track player, etc., this week.
Madaila,The Dance
Great Lake Swimmers,A Forest of Arms
Tobias jesso Jr.,Goon
Jeff the Brotherhood,Wasted on the Dream
Lee Moses,Time and Place