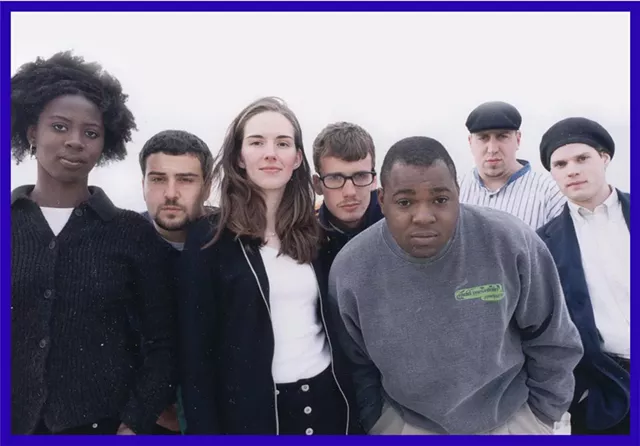 There might not be six more exciting words for a music fan to hear than, "We're gettin' the band back together." Next weekend, local music fans of a certain vintage are apt to be positively giddy as Burlington acid-jazz/hip-hop greats Belizbeha are indeed getting their sprawling crew together again for a two-night stand at the Rusty Nail in Stowe on Friday and Saturday, October 7 and October 8. In fact, we think they'll be so excited that we're pimping this show a week earlier than we normally would, just to give antsy Belizbeha fans ample opportunity to compose themselves.
Next weekend's reunion double feature is actually the third time Belizbeha have reunited since breaking up in 1999. The last occasion was during the 2014 Burlington Discover Jazz Festival, five years after they initially reformed as a BDJF headliner in 2009. That's all relatively recent history, meaning there's not much of a new angle. But if you're just joining us, here's the CliffsNotes version of the band's story:
Back in the mid to late 1990s, Belizbeha ruled the roost in Burlington, musically speaking. Next to Phish, Strangefolk and perhaps the Samples — who by that point were actually based in Colorado — they were just about the biggest thing out of the Queen City. Famed producer Tony Shimkin, who worked with the likes of Madonna, Paula Abdul and Wreckx-N-Effect, proclaimed Belizbeha "the next big thing in the music industry." A tad more creatively, the Jungle Brothers' Mike G dubbed the band's music "the funk of the future."
The band traveled far and wide, touring all over the U.S. and Europe. Its members played the 1996 Summer Olympics in Atlanta. They sold 35,000 records as an independent band. Major labels courted them. They made lots of "next-big-thing" lists in magazines — yes, actual magazines, because the 1990s. They played a pickup basketball game against Maceo Parker's band and got whupped.
Belizbeha traded in a unique — especially for the time — hybrid of funk, soul, R&B, jazz and hip-hop. The star of the band was a larger-than-life rapper called Fattie Bumbalattie from, of all places, Bristol. You might be more familiar with him as DJ Fattie B, who, among numerous other gigs, is the longtime host of the weekly Retronome dance party at Club Metronome. He also sometimes goes by his birth name, Kyle Thompson. Stars 1A and 1B were vocalists Shauna Antoniuc and Kadiatou Sibi. Backing them was a ridiculous rhythm section consisting of keyboardist Jeremy Skaller, guitarist Bob Dunham, bassist Shawn Williams and drummer Mark Robohm.
Just as Belizbeha's star was fully ascending, they called it quits, partly for interpersonal reasons and partly because the grind of touring had finally caught up with them. Averaging more than 200 shows per year for seven years will do that. The band played its final show in Portland, Maine, on New Year's Eve in 1999, which was probably the worst thing that happened on Y2K.
If their last two reunion shows are any indication, Belizbeha can still bring the funkdafied grooves. I think I'm still sweaty from their Waterfront Tent show in 2014. Like they do, they'll have plenty of help from their friends for the Rusty Nail shows. Local rapper Konflik, Thompson's partner in the underrated hip-hop band Eye Oh You, will drop in. An iteration of the Phish-famed Giant Country Horns will be on hand both nights, this time including saxophonists Dave Grippo, Joey Somerville and Chris Peterman, as well as trumpet diva Jennifer Hartswick, whose own band opens the Saturday show. Local house-music guru Craig Mitchell will open the Friday show with his Purple One tribute, Operation Prince.
Next to seeing Belizbeha live once again, perhaps the coolest part of the show is what you can take home with you. (No, not a band member. They're pretty much all coupled up.) In celebration of this latest reunion, the band has put together a monstrous, 66-track package of music, which will be available at the show. It includes remastered versions of both of Belizbeha's studio albums — the 1995 classic Charlie's Dream and 1998's Void Where Inhibited. It includes very early demos cut at Low Tech Studios, which provide a fascinating starting point to the band's sound evolution over the years. It includes their groovy cover of the Pants' "High Water Mark" from Good Citizen's Burlington Does Burlington comps. It also features two covers of Belizbeha tunes by other local acts, Queen City All Stars and the Middlebury College a cappella group the Dissipated 8. But wait, there's more.
Because Belizbeha were first and foremost a live band, the compilation includes live cuts from two shows: Durango, Colo., in 1997 and that 2014 BDJF gig. There are also several unreleased studio demos featuring guest rappers A-L and House of Reps and trumpeter Kenyatta Beasley (Shakira, Jay Z).
Near the end of their run, Belizbeha supplemented their success with club remixes by the likes of Choco, Dolemite and Orange Factory Music, all of which are in the package, as well. (BTW, OFM is Skaller's successful music-production company with producer Rob LaRow, whose solo remix of a Belizbeha cut is also in the, um, mix.)
And if you're worried about getting to and from Stowe in one piece, party buses will be running round-trip to the Rusty Nail from Nectar's in Burlington both nights.
BiteTorrent
Wondering where all the cool local bands are this weekend? They're in Portland, Maine. That's because, for the second year, the industrious folks from Waking Windows Presents have exported their awesomely cool Waking Windows festival to the Forest City for a slimmed-down, one-day version this Saturday, October 1.
Much like the Winooski version of WW that we know and love, the Portland iteration features a slew of killer indie acts of local and national renown at venues all over the city. Among the Vermont contingent are Rough Francis, Kelly Ravin, Apartment 3, Paper Castles, Wren Kitz and Henry Jamison, to name a few. As you'd expect, the fest features some glitzy headliners, too, including the Luyas, Jeff the Brotherhood, Vetiver, Lisa/Liza, Nat Baldwin and Yonatan Gat. For more details, check out wakingwindowspresents.com.
---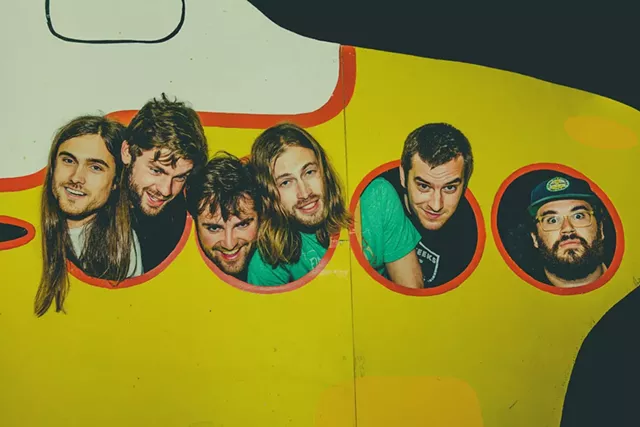 If you can't make it to Portland, you can still get your fix of Waking Windows cool this weekend. On Friday, September 30, the four-guitar rock assault that is Nashville's Diarrhea Planet drop by ArtsRiot in Burlington, for a WW-branded show with support from Western Medication and locals Dino Bravo.
I caught DP at the Monkey House in Winooski about two years ago, and it was one of the best and loudest rock shows I'd seen in ages. Don't let the name fool you — or gross you out. These guys shred.
Last but not least, there was a small factual error in last week's feature profile of local alt-country songwriter Kelly Ravin. In it, I referred to the song Ravin wrote for his daughter as "Virginia." The song is actually titled "Engine" and, yes, it leans heavily on a car metaphor. It's also one of the sweetest songs you'll ever hear.
Apologies to Ravin — and Virginia.
Listening In
A peek at what was on my iPod, turntable, eight-track player, etc. this week. Follow sevendaysvt on Spotify for weekly playlists with tunes by artists featured in the Music section.
Beach Sland, A Loud Bash of Teenage Feelings
Hamilton Leithauser / Rostam, I Had a Dream That You Were Mine
Kool Keith, Feature Magnetic
The Gaslamp Killer, Instrumentalepathy
Diarrhea Planet, Turn to Gold