Courtesy Of Michael Weintrob
Nick Cassarino
Last week, actor/comedian Aziz Ansari performed two back-to-back sets at the Flynn MainStage in Burlington. Higher Ground Presents brought the "Master of None" star to the Queen City theater, as it often does with high-level comedians. What's most notable about this particular show is that Ansari is one of many men accused of sexual misconduct in the past year — though his case was more hotly disputed than most, in the press and on social media. Many wondered whether Ansari was ready to step back into the spotlight.
As I mentioned two weeks ago in this column, I hoped he would use the show, titled "Working Out New Material," to at least briefly discuss the controversy. Even more optimistically, I wanted him to find a way to use the experience to comment on the larger problem of communication in relationships. But, as I assumed would be the case, he didn't really do either.
And the more I think about it, the more it makes sense to me that he didn't. An apology directed at the audience would do no one any good. Let's say he did apologize. What, we would all just clap for him or something? Lame. And cracking jokes about the situation or others like it would only belittle the experience of "Grace," the anonymous young photographer who accused the 35-year-old in January.
However, the comic did touch on some adjacent subjects, such as the hysteria of internet commenting, social media's constant grind of who's-more-woke one-upmanship and the ever-growing division in our country. All of those factors played into his trial in the court of public opinion. He also told some amusing anecdotes about his new, unnamed girlfriend and the frustrations that come along with interracial dating. (Ansari described his current lady friend as a Danish Mary Poppins.)
So where do we go from here? Based on the overwhelmingly warm welcome he received as he took the stage during the first show (I wasn't at the second, but I didn't hear about him getting booed or anything), it seems like the local consensus is that, despite the allegations, Ansari remains well liked.
I wonder what he'll do next.
Homecoming King
What the hell is homecoming, exactly? I don't think my high school had one. Or, if we did, we called it spirit week or something. I've always wondered where the football jocks are coming home from, exactly. I've seen every episode of "Friday Night Lights," and I still have no idea. All I know is, it's something that happens in the fall and it's a big deal.
With that in mind, this coming weekend kind of feels like Burlington's musical homecoming. Aside from ex-Nocturnals guitarist Scott Tournet's band Elektric Voodoo taking over Nectar's on Friday, October 5 — read my interview with Tournet — a whole slew of hometown heroes is rallying for a few unique shows spearheaded by the Nth Power's Nick Cassarino. Collectively, the two-day event is known as the Vermont Music & Arts Festival. (And I can't believe that name wasn't already taken.)
"I wanted to celebrate the state and community that's nurtured so many incredible musicians over the years," the Burlington-expat guitarist says.
He and guitarist Paul Asbell kick off the weekend with a duo set on Friday at the Light Club Lamp Shop. Then, on Saturday, October 6, Cassarino and collaborators Jennifer Hartswick, James Harvey and Dave Grippo perform some stripped-down sets at the Battery Park amphitheater.
Hartswick just released a new album of jazz and R&B tunes, Nexus, which she cowrote with Cassarino. I imagine we can expect to hear at least a little bit of that. Also, Cassarino's parents and brother get in on the action with a tribute to James Taylor, a family-favorite artist.
Later that evening at Nectar's, Cassarino leads the Vermont Legacy Band, a group of talented locals and expats featuring Joe Davidian, Geza Carr, Dan Ryan, Conor Elmes, Luke Laplant, Bryan McNamara, Rob Morse, Aaron Hersey and the crew from the Battery Park show.
"I don't want to give it all away, but we're going to do some great covers," Cassarino says.
Basically, what you'll see at these shows is a group of old friends fully in their element doing what they do best.
"I've been traveling around the world for the past five years, and there's nowhere in the world like Burlington," says Cassarino. "This shit is not normal."
BiteTorrent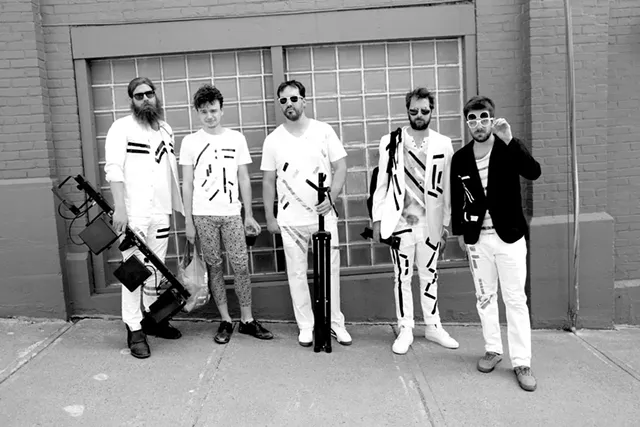 Courtesy Photo
Madaila
Happy birthday to Autumn Records! Winooski's one and only record store opened approximately one year ago, and Saturday marks its first birthday. To celebrate, a coterie of vinyl DJs hits the decks all day, including Xavwax, Leo from Vermont, Lucille Sunday, Ian Doerner, Matthew Kloss and Light Club Lamp Shop resident Taka. Complimentary drinks and nom-noms, as well as special pricing, are also compelling reasons to show up.
Madaila are going on hiatus. On Monday, the Burlington-based psych-pop group posted a lengthy Facebook update with the news that their Higher Ground Ballroom show on Friday, November 2, will be their last local event for the foreseeable future.
"In a nutshell, we have grown apart in terms of where we see Madaila fitting into the lives we are building as musicians and people, and need to take space with the hope that we will be able to come back together," reads the post.
The post also mentions the ongoing financial burden of being an independent band in 2018. If ever there were a reminder to support music at the local level, this should be one. Go. See. Live. Music.
We'll surely have more information about the band's upcoming break soon.
Remember last week when I detailed doing seven nights of karaoke in a row? Consider this a belated disclaimer: Attempt at your own risk. I came down with a nasty cold two days after finishing the seventh night of rocking the mic. It definitely gave me newfound respect for touring musicians who use a different, presumably dirty mic every night for a month straight and remain healthy. Also, why aren't mic condoms a thing?
Listening In
If I were a superhero, my superpower would be the ability to get songs stuck in other people's heads. Here are five songs that have been stuck in my head this week. May they also get stuck in yours. Follow sevendaysvt on Spotify for weekly playlists with tunes by artists featured in the music section.
Danny L Harle, "Broken Flowers"
The Avener & Phoebe Killdeer, "Fade Out Lines"
The Günter Kallmann Choir, "Daydream"
Horse Feathers, "The Drought"
The Beta Band, "Squares"