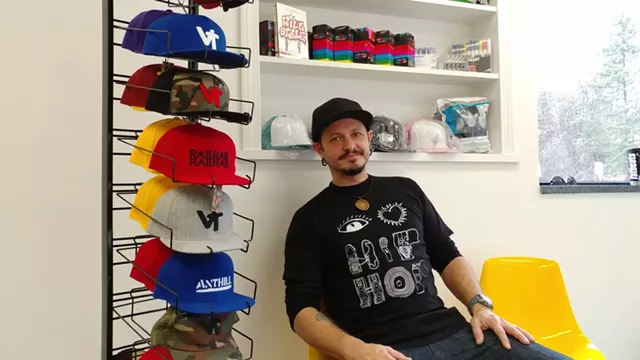 Jordan Adams
Scottie Raymond at the AnteGallery
Burlington's Anthill Collective is constantly on the move promoting street art and hip-hop culture in Vermont. From making murals for A_Dog Day and the Above the Radar festival to the group's monthly hip-hop showcase at the Monkey House, the collective always has something in the works. The latest is the AnteGallery, a one-stop shop for all things Anthill.
"It's gonna kind of be like our gallery," says Scottie Raymond, cofounder of Anthill Collective. He and cofounder Brian Clark recently began setting up shop in Shelburne within a small block of businesses adjacent to the larger Shelburne Bay Plaza. The building also houses a newish yoga studio, Second Circle, and Sweet G Smoke Shop.
The pint-size exhibition room and retail store is expected to open on Friday, December 7, with DJ Kanganade on the decks and free beer.
"When I was growing up and starting to get curious about graffiti and hip-hop, there were really no influences in southern New Hampshire," says Clark of his hometown region.
With that in mind, the AnteGalley is meant not only as an art supply shop and gallery space, but also as an educational resource for Vermont's next wave of spray-paint masters.
"If we can get the kids we already know are doing this work in the streets in our door, we can start to talk to them about the ethics, rules and possible evolution of [the art form]," says Raymond.
As of right now, the shop will sell primarily paint, high-end acrylic markers, DVD copies of the 1983 graffiti doc Wild Style and local apparel, including flat-brimmed lids from Rail City Hat.
Clark and Raymond have lofty goals for the space, which include live events and low-key gatherings. But right now, they're focused on getting the petite space ready for this week's soft opening.
"It's an opportunity for us to display our own work and to display the work of our friends," says Raymond. "It just feels like a logical offshoot of our mural work, Above the Radar, Third Thursdays — all of the other things that we're already doing to promote hip-hop culture and graffiti as a viable art form."
Glad Rags
Put on your finest formal duds, shine your shoes and pick up a corsage for an event dubbed Burlington Winter Ball. On Friday, local indie outfits J Bengoy, Full Walrus, Grease Face and LEAN TEE take over Club Metronome in style.
In advance of the show, J Bengoy have shared a new demo track called "Clara," which features vocals from singer-songwriters Francesca Blanchard and Laurel (aka Alexis Hughes). It's the first new music the band has released since its debut LP, Dogwood Winter, dropped in April.
Though the Ben-boys are known for playing "bummer rock," I daresay none of their previous tracks has sounded as gloomy as this one. Like, gee whiz. Is everything OK, folks? Let me know if you all need a hug. I kid, I kid!
If you want to hear the dirge-like tune, act fast, because the single — which heralds the group's upcoming, as-yet-untitled sophomore LP — will be removed from Bandcamp after Friday's show. So listen to it now while you still can!
BiteTorrent
Courtesy Photo
Alpenglow
Meadowlark Studios introduces a new series of live performances at its recording space in Williston this week. The first installment features blues trio Dwight & Nicole on Sunday, December 9. Seating is limited, and the event is BYOB. Think of the series as Meadowlark's answer to Sofar Sounds — which makes sense, given that the recording studio's owner and producer, Yasmin Tayeby, was the international pop-up concert's liaison for its Burlington shows.
Speaking of Meadowlark, check out the review of the studio's star-studded holiday compilation album, A Vermont Christmas, which features Dwight & Nicole among several other local luminaries. If enough folks in the crowd are on the "Nice" list, perhaps they'll play their contribution to the comp: a killer cover of Stevie Wonder's "Someday at Christmas."
Burlington expats Alpenglow return to the Queen City on Thursday, December 6, at the Hive Collective. Given that it's been almost three years since the New York City-based group's last release, Callisto, we can expect to hear some new material. They said as much on Facebook, teasing an upcoming show at Brooklyn's Union Pool.
Joining Alpenglow are local slack-tastic four-piece Paper Castles. Familiarize yourself with their latest full-length, Acceptionalism, which came out in April. And rounding out the bill is formerly local — and now local again — lo-fi rock outfit Hello Shark. The mastermind behind the project, Linc Halloran, just relocated back to the area after a five-year stint in Philadelphia.
Cinema Casualties strikes again! The recurring film event takes over Burlington's ArtsRiot on Wednesday, December 12. Known for screening horror flicks full of schlock and "Aw, shit, don't go in there," the series continues with a heartwarming holiday disaster-piece, Silent Night, Deadly Night. I doubt I need to explain the plot. Just think Santa Claus plus slasher flick.
It was on Time's 2008 list of top-10 worst Christmas movies. Richard Corliss wrote of the film, "We're not knocking the transformation of a hallowed holiday figure into a homicidal maniac — that's just smart exploitation filmmaking." He wrote some less-than-flattering things, as well. Google it if you must.
Listening In
If I were a superhero, my superpower would be the ability to get songs stuck in other people's heads. Here are five songs that have been stuck in my head this week. May they also get stuck in yours. Follow sevendaysvt on Spotify for weekly playlists with tunes by artists featured in the music section.
Skin Town, "Iceplant"
Mark Ronson, "Nothing Breaks Like a Heart (featuring Miley Cyrus)"
Sissy Wish, "Milk"
Willverine, "Oh Beauty"
Keeper, "Dock"