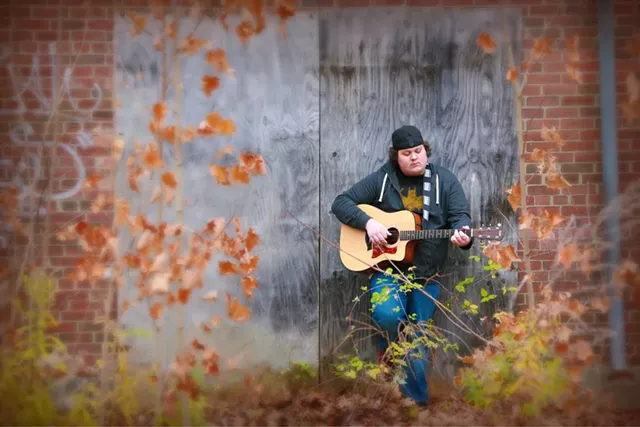 Courtesy of Tia Rooney
Troy Millette
Last week, numerous Vermont-based bands, artists and DJs aggressively campaigned via social media to get on the bill at this year's Grand Point North music festival. More than 70 acts, each nominated either by themselves or their fans, were included on the ballot. Yet only one would claim the coveted opening slot this September.
Out of 3,874 total votes cast, the duo of singer-songwriter/guitarist Troy Millette and violinist Dylan Gombas emerged victorious with 901 votes. There's no point in ignoring the obvious: With well-known names such as Twiddle, Madaila and Kat Wright on the ballot, it's safe to say that Millette and Gombas were solidly considered underdogs.
A little bit about the fellas: The two met while studying at Saint Michael's College and both have been lifelong music enthusiasts. In an email to Seven Days, Millette sheds some light on his musical origin story.
"When I was a kid, I used to think I was Elvis [Presley]," Millette writes. "I would run around in this white jumpsuit singing 'Blue Suede Shoes' all day."
Since no one will be able to get that image out of their head, I'd like to make a request, Mr. Millette: Please bring this vision to life. Perform your GPN set clad in the finest white jumpsuit money can buy. Bonus points for actual blue suede shoes.
Both Millette and Gombas are Vermont natives, hailing from Fairfax and Peacham, respectively. The acoustic duo plays a straightforward mix of originals and covers, with Millette as primary lyricist. He comes from the '90s school of soft-rock singer-songwriters and even has the requisite raspy, Matchbox Twenty drawl. (I call that particular affectation a "yawrl.")
Gombas comes from classical and bluegrass backgrounds. He's a former member of the Vermont Youth Orchestra and has claimed multiple victories at the Cracker Barrel Bazaar & Fiddle Contest in Newbury.
Another fun fact about Millette: His second cousin, Greg Kriesel — aka Greg K. — is the bassist in the Offspring. Yup. The Offspring. Will we hear a cover of "Pretty Fly (for a White Guy)" during their set?
Other exciting stuff on the duo's plate: They're working on a debut EP and have a pretty dope opening gig booked just days before their GPN set. On Friday, September 8, they're heading to the Bank of New Hampshire Pavilion to open for two of yesteryear's studliest powerhouse crooners: Richard Marx and Rick Springfield. And then they'll be, ahem, right there waiting for you as they open GPN on Saturday, September 16.
If you want to see Millette and Gombas before their GPN performance, you'll have plenty of chances. The two perform fairly regularly in the Burlington area. For instance, you can catch them on Friday, May 19, at Farnham Ale & Lager in South Burlington. They're also at Nectar's on Tuesday, May 23, as part of an ongoing residency.
Out to Sea
Courtesy of Travis Weitzman
Boy Harsher
Local experimental concert promotion group Burlington Gull recently announced its final shows. Masterminds Caroline DeCunzo and Jack Braunstein are taking their talents to Philadelphia. But in an email to Seven Days, they mention that they're looking forward to taking a short hiatus from the promoter lifestyle.
"We're excited to just spectate for a bit [and] experience new stuff from that angle," they write. They go on to thank all of the "brilliant artists, open-minded showgoers [and] misguided haters" they've worked with in the Queen City. (Kudos for acknowledging the haters. Everyone's opinion is valid, I guess — even if it's a dissenting one.)
Their departure also means that their cassette tape label, Como Tapes, is making the move to the City of Brotherly Love, as well. The label's cofounder, Greg Goldstein, lives just over the Delaware River in New Jersey.
Of course, DeCunzo and Braunstein wouldn't leave town without making a big old noisy ruckus. They've announced two final Burlington Gull shows, both of which are copresented with local promoters Friends + Family.
On Sunday, May 21, they take over Speaking Volumes' warehouse for a "weird graduation party" for "turnt-up dads and grads." The description references Braunstein's impending graduation from the University of Vermont. The school's 2017 commencement ceremonies are also this coming weekend.
Northampton, Mass., cold-wave duo Boy Harsher is set to headline. DJ Organic Mommy provides beats, and DILLIGAF — aka the seldom-seen, loosely incorporated R&B band composed of Braunstein, DeCunzo and performance artist Harvey Bigman — will also make an appearance. (Bigman is making the move to Philly, too.)
The second and final event, dubbed the Peaceout Party, on Sunday, May 28, is purported to be a low-key affair with "inventive singer-songwriters" Wendy Eisenberg (Birthing Hips) and Olivia Wilkins-Becker (OJ). Locals chopan and Pat Coppinger are also scheduled to appear. Email Como Tapes for the event's semiprivate location.
Fight for Your Right
Courtesy of HennaMalik
Dave Randall
British guitarist Dave Randall visits Phoenix Books Burlington on Thursday, May 18, as part of his ongoing book tour. The former axe-man of electronica band Faithless also played with Dido and Sinéad O'Connor, and recently published Sound System: The Political Power of Music. Part memoir, part cultural analysis, the book examines the inherent political power of music and how it can be used as vehicle for change.
In the first chapter, "Roots," Randall recalls his first exposure to protest music: the Special A.K.A.'s 1984 anti-apartheid anthem, "Nelson Mandela." He goes on to name a few other inspirational acts, such as Billy Bragg, Ani DiFranco and Rage Against the Machine, before diving deep into topics such as the Arab Spring and the intersection of youth culture and political resistance.
After his presentation, Randall will field questions regarding the book and other related topics. If you aren't able to make it out to the event, he recently recorded an in-depth podcast with UK record label Rough Trade, during which he examines the historical context and various themes from his book. Stream it on RT's SoundCloud page.
Listening In
If I were a superhero, my superpower would be the ability to get songs stuck in other people's heads. Here are five songs that have been stuck in my head this week. May they also get stuck in yours. Follow sevendaysvt on Spotify for weekly playlists with tunes by artists featured in the Music section.
HAIM, "Want You Back"
Ebn Ezra, "Gimme Back My Baby"
Kiiara, "Whippin (feat. Felix Snow)"
ROMANS, "Uh Huh"
Le Matos featuring PAWWS, "No Tomorrow"