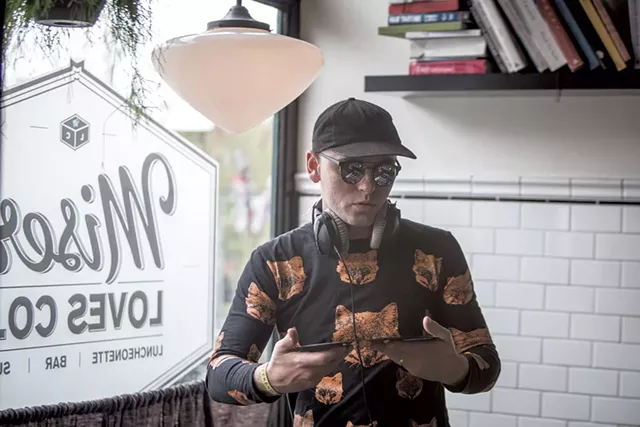 File : Luke Awtry
Radio Bean owner Lee Anderson
Sick Beat: Part 2
I don't really know where to start. I know saying "I don't know where to start" is a cliché, and pointing out that it's a cliché is a cliché, but I think I'm past the point of caring about the originality of my opening line. There's far more important stuff going on.
Concerns regarding COVID-19 have led to sweeping closures of music venues all over the country, Vermont included. And the toll that said closures have taken on the local music, comedy and nightlife scenes is, frankly, incomprehensible. So we'll try to make sense of some of it here. But first...
Even under normal circumstances, writing this column on a Monday, two days before the paper hits the streets, risks certain items changing. That's exponentially true in the early days of a global pandemic, when news seems to break by the minute. We had originally planned to run club listings only in our online calendar. Since venues were voluntarily shutting their doors left and right, we knew we'd have trouble keeping up. But now, Gov. Phil Scott has mandated that all bars and restaurants close for the next several weeks. That means we can dispense with club listings for the time being. However, we are working on ways to announce livestreamed concerts and events. Read more about livestream concerts below.
And though our coverage of local music in the coming weeks is likely to focus mainly on how the pandemic is affecting our venues and artists, we will continue to run album reviews, because people need new music to listen to, goddammit. At a time of social distancing and self-quarantining, I imagine that we can expect some interesting home recording projects to emerge. I definitely want to hear about those, so please continue to send in albums for review.
Also, are you doing something interesting or creative in response to the new world created by the spread of COVID-19? Get at me.
Now, please join me as we sail off into uncharted territory. Cue the Enya song.
An Uncertain Time for Venues
By now you likely know that venues including Higher Ground, Radio Bean, Vermont Comedy Club, the Skinny Pancake, Red Square, ArtsRiot and more have canceled all of their upcoming programming for the foreseeable future. As of last week, Gov. Scott had banned all large gatherings of 250 people or more, and he lowered the threshold on Monday to gatherings of 50 people or 50 percent of a business' capacity, whichever is fewer. On Monday, he ordered the closure of all Vermont bars and restaurants until at least April 6.
For venues that have flat-out canceled or postponed events, the impact is unprecedented.
"In the last three days, our entire revenue model has been eliminated," Alex Crothers, co-owner of Higher Ground, said on Sunday. "Our operations are designed around continually hosting and promoting shows. And a lot of overhead does not disappear."
Crothers said that he's doing everything he can to keep costs low during the lull, such as halting trash services and regular deliveries. At press time, he was unable to comment on what measures will be taken in terms of staffing. The club employs 12 full-time staffers and more than 70 part timers.
But Crothers did confirm that, of 65 upcoming shows affected by the shutdown, only eight had to be canceled altogether. The remaining events have been or will be rescheduled.
Nathan Hartswick and Natalie Miller, owners of Vermont Comedy Club, said they spent the entire weekend sorting out cancellations, credits and refunds. Late last week, the club remained open with a limited patron capacity. But the couple knew that plan wouldn't hold up much longer, since headlining standup Maria Bamford was scheduled for a nearly sold-out run Thursday, March 19, through Saturday, March 21. For now, all programming at VCC is suspended until further notice.
"We're not going to open until we can safely," Miller said.
One thing VCC has done to help its furloughed employees, other than sending them home with all of the perishable foodstuffs in the club's kitchen, is to add a "Tip Our Staff" button to the home page of its website. Nearly the entire staff is paid hourly and relies on tips, which is typical across the club landscape. Hartswick and Miller thought it was important to at least attempt to funnel some funds into the pockets of their people. They also added links on the home page for VCC fans to donate to the club or purchase gift cards.
Radio Bean and the Light Club Lamp Shop had also attempted to stay open by reducing their patron capacities but decided to close down until further notice as of Sunday. Owner Lee Anderson said that his employees had ramped up sanitation efforts to nearly comical proportions.
"We had people just walking around with spray bottles of disinfectant," he said. "Someone would get up, and we'd spray down where they were sitting."
Despite their best efforts, Anderson said that staying open safely was just too difficult.
"I don't want to have to put Hula-Hoops around people," he joked. "I don't have the training or the time to train every person that comes in the door to properly, ethically interact. I want to, but I just can't do it."
Though Radio Bean and the LCLS are closed, Anderson's global street food restaurant, ¡Duino! (Duende), is open for curbside pickup. He said customers would not be allowed into the space.
As soon as possible, though, Anderson also said, he plans to set up livestreaming concerts from the Radio Bean stage. As of press time, no shows had yet been scheduled.
"If you can't rally the people, because rallying the people is what's causing the problem, how do you organize and fight back? It's really a mind fuck," he continued. "Radio Bean's not going to close its capacity or [ignore] the duty that I feel to uphold it as a community space, even if we can't [physically] go there. I feel like I'm on Earth to create community and space where people can not feel alone and [can] share ideas and creativity."
One outside-the-box suggestion Anderson has to promote communication and potentially quash loneliness during the time of self-quarantining: CB radios. He pointed out that such devices are a unique source of communication that don't rely on towers or telephone cables, nor do they require subscription fees, logins, passwords, etc. He described them as sort of an open chat room. A typical CB radio has about 40 channels, which anyone can hop onto.
"It's truly anonymous," Anderson said. "You can just get on there and talk about what's happening. If you're lonely and you're getting cabin fever, you can be on the CB."
Venues around the state continue to announce show cancellations, postponements and other measures to practice social distancing to prevent the spread of COVID-19. We'll be doing our best to stay on top of the latest updates.
An Uncertain Time for Artists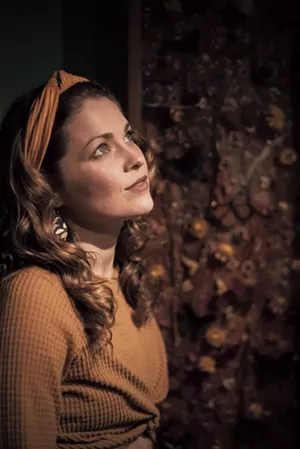 Courtesy Of Riptide Photography Hc
Hayley Jane
In case you didn't know, artists struggle during the best of times. The amount of income that performers of all kinds have lost because of the pandemic is incalculable. But leave it up to the creative types to get, well, creative during this period of uncertainty.
For one thing, livestreaming is on the rise. What once was mostly regarded as an add-on, bonus feature of live concerts is now the only thing possible. Therefore, it's kind of the only thing that matters in terms of performance. In just the past few days, I personally checked out livestream sets from singer-songwriter Zack DuPont, formerly local J Bengoy member Chazzy Lake, party-starter DJ Steal Wool and singer-songwriter Hayley Jane. A certain energy that's difficult to put my finger on came through in these small-screen shows. Something like purity of spirit mixed with total abandon.
Local music archive and nonprofit Big Heavy World, which regularly livestreams its radio program "Rocket Shop" on its own radio station, 105.9 FM the Radiator, is offering its studio to artists who would like to set up livestream events.
"We're trying to do our best to be a resource for the community," BHW executive director Jim Lockridge said. "Big Heavy World can't do a lot to address the loss of revenue, but we can come at it with our resources to help bolster the social connections."
Lockridge said that he is, in fact, looking into resources that may help artists to backfill lost revenue.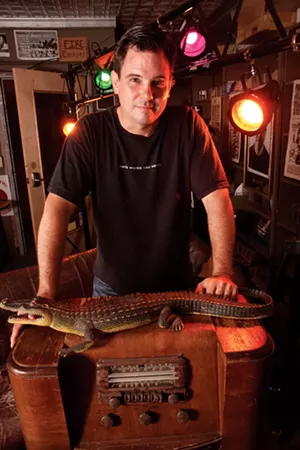 Matthew Thorsen
Jim Lockridge
"There are programs in Vermont meant to help businesses that are affected by the current situation," he continued. "I hope artists are recognized within [those] program[s]."
Revelry Theater, a small comedy outpost in Burlington's South End, already has four livestreaming shows set up for the end of the month, including the return of "Sex w/Jenna" on Saturday, March 28. Revelry board member Jenna Emerson hosts the sex-ed-themed comedy variety show.
The theater's founder and artistic director, Anthony Apodaca, says that they're working on ways to make the shows, which are often interactive with the audience, have the same flow they would with a crowd full of chuckling people.
"Our space is so small that there's no way to limit the audience without just getting rid of it," he said. All shows will be free to stream, but, obviously, viewers are more than welcome to still pay for "admission."
Apodaca also noted that rehearsals for the theater's improv comedy musical Abortion: The Musical are still on. The show originally debuted in December 2019, but a newly revamped version with a slightly different cast is in the works, currently scheduled for Saturday and Sunday, April 11 and 12. It's undecided whether the performances will be pushed back.
If you're wondering how you can support artists right now, it's pretty easy: Buy their merch. Buy their records. Do early Christmas and birthday shopping if you have to. Hell, even listening to music on streaming services helps a little bit.
But the most direct thing fans can do while the world swiftly locks down is to support artists via websites like Patreon. If you aren't familiar with the platform, users pledge a certain amount of money per month to artists whose work they admire and want to foster. In return, fans receive rewards and special content.
Singer Hayley Jane, who's also a painter, started her account with the artist subscription service about a year ago. She said she's grateful for the modest but steady stream of supplemental income it provides. But she thinks there's more to it than that, both for her and her fans.
"They get to hear my songs before anybody else does. They get to see photographs from photo shoots before anybody else does, or photos I don't even put out at all," she said. "I also ask them for their opinion about things. It's like this tight-knit group. When somebody is willing to give you money every month, they really care about what you're doing. They care about your art and care about who you are as an artist. I find myself making these little videos, asking them how I could do better or what photos ... they like. It's really nice to have these people that have invested in you."
Hayley Jane has been in self-quarantine for nearly two weeks after coming down with flu-like symptoms. As of press time, she said that she hadn't been tested for COVID-19, despite her best efforts. However, during her self-imposed sequester, she's been making the most of things and trying to stay as busy as possible without leaving the house.
During her livestream concert last Friday, a measure she took after two of her shows were canceled last week, she debuted a new song called "I'm Just Bored." She wrote it on a recent songwriting excursion to Nashville, Tenn. Though Hayley Jane penned it well before her voluntary imprisonment, its lyrics eerily predicted some aspects of her current situation: "Just take me somewhere / I don't care if I've been there before / I'm just bored," the airy folk tune goes.
"It's hilarious," she said. "I wasn't bored at all [when I wrote it]. I was having a wonderful time. [But] this song really kept me company during the first week [of quarantine]."
Hayley Jane was kind enough to re-record a self-contained video version of the song, which you can watch on our website.
That's all for now, folks. As I said, we're doing our best to monitor any and all breaking news with regard to local music and nightlife. If you have a tip, please send it my way!
In compliance with social distancing, all conversations were obviously conducted by phone.