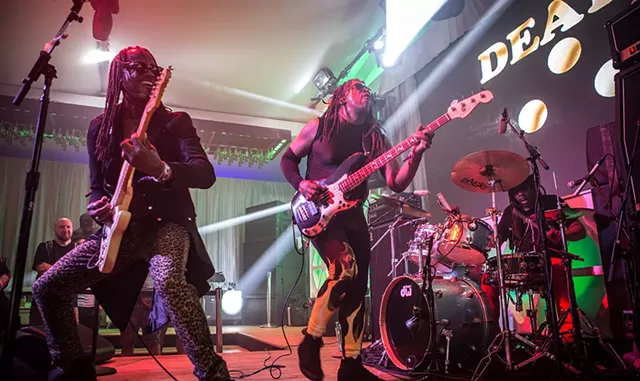 Courtesy Of Luke Awtry
Death
Dead Men Rocking
If you haven't yet caught a show at the Double E Performance Center at the Essex Experience, you need to get on that. Last Friday, Miriam Bernardo and co. rocked the T-Rex Theater during the singer's much-anticipated Songs From the Well album release show. In terms of sound quality — not to mention its dynamic lighting and beautiful cosmic backdrop — the room ranks exceedingly high, locally speaking. Screw that — it ranks high, period.
One of the best reasons yet to check out the movie-theater-turned-concert-hall arrives on Saturday, October 19: Death. The legendary Vermont-by-way-of-Detroit rock band reunites for a special set, preceded by a screening of Mark Christopher Covino and Jeff Howlett's 2012 documentary feature A Band Called Death, plus a Q&A with founding band members Bobby Hackney and Dannis Hackney and guitarist Bobbie Duncan.
In case you aren't hip to the Death saga, here's a quickie primer: In 1970s Detroit, brothers Bobby, Dannis and David Hackney (who died in 2000) formed rock band Death. After a few brushes with fame and success, the group disbanded, and the brothers Hackney moved to Vermont to settle down — Bobby and Dannis would go on to form the popular local reggae band Lambsbread. Years later, Bobby's kids, Urian, Julian and Bobby Jr., discovered the forgotten Death music and formed their own group, Rough Francis, to pay tribute.
For years, collectors had viewed Death's long-lost record ...For the Whole World to See as something of a Holy Grail or missing link in the evolution of punk music. When record label Drag City reissued the disc in 2009, critics rejoiced and music journalists swarmed. The doc came a few years later.
"They really did our story justice," Bobby Sr. says by phone.
This week's show marks Death's first local performances since the end of 2016, when they played both the Flynn Center for the Performing Arts MainStage and punk club 242 Main's massive, bittersweet farewell party.
The level of interest and support from fans still blows Bobby Sr.'s mind on a regular basis.
"First of all, we never thought it would be such a continuing thing," he says. "We still get emails that pour in every week from people who've just discovered [us]."
He notes that the event may be the most in-depth and personal show the group has ever performed in Vermont. Expect to hear the classics, plus some new tunes and "a couple of surprises." Oh, and fear not: Dancing or moshing of some kind is allowed, even though the venue is generally more of a sit-down affair.
"It's gonna be a rock-and-roll good time," Bobby says. "We plan to just blow it up."
In other Death news, the flick receives its most prestigious screening to date on January 23 — at the freaking Library of Congress in Washington, D.C.! That's some historic ish right there.
Bills, Bills, Bills
Courtesy Of Shane Kaseta
99 Neighbors
Just a quick word on the University of Vermont's upcoming FallFest: The annual concert, which hits Patrick Gymnasium on Saturday, October 18, features Los Angeles pop duo Coast Modern in the headlining slot. But local hip-hop collective 99 Neighbors are also on the bill, marking a rare occurrence for the yearly event. Normally, a national touring act takes the secondary slot, such as indie band Frankie Cosmos, who opened for Dr. Dog in 2018.
It's not unusual for UVM student bands and artists to find themselves on this bill. Former Burlingtonians argonaut&wasp performed in 2013, jam band Kudu Stooge added support in 2017, and slow-core group Father Figuer opened the show last year. And this year, R&B badass Princess Nostalgia, a current UVMer, is also set to perform.
99 Neighbors have been on something of a rocket ride this year after inking a deal with Nice Work, a creative incubator run by Chance the Rapper manager Pat Corcoran, and distributor Warner Records. Even so, I just want to stress that it's a big freaking deal for a local group to land this spot. I'm pleased for the crop of burgeoning artists at UVM to witness the rise of some hardworking local musicians.
Is There Anybody Out There?
Last week, we unveiled the new layout for our music and nightlife listings. Did you get a chance to see them? Instead of breaking them up by date and region, they're now organized into five categories: live music, DJs, comedy, open mics & jams, and karaoke/trivia/etc.
I envisioned the changeover as a way to help people find what they're looking for more quickly. You can read more about my thought process in last week's Soundbites. I'm just mentioning it again because I didn't receive any reader feedback, positive or negative. I'm going to assume that means that you all love the new way of sorting club events, and we'll continue on that way in the future. Hooray!
Come to think of it, while I'm directly addressing the public, I'd like to urge all local bands and artists that are releasing albums in what remains of 2019, and hoping to have their work reviewed in Seven Days, to get in touch with me ASAP. The end of the year rapidly approaches, and we only have so many review slots available. While we aren't super-duper strict about it, we do like our album reviews to stay current with local releases. That means we'll likely review some 2019 material in the early weeks and months of 2020. But, at the rate we receive album review submissions, we pretty quickly move on to reviewing what's new.
Listening In
If I were a superhero, my superpower would be the ability to get songs stuck in other people's heads. Here are five songs that have been stuck in my head this week. May they also get stuck in yours. Follow sevendaysvt on Spotify for weekly playlists with tunes by artists featured in the music section.
Coast Modern, "Guru"
MUNA, "Hands Off"
Phantogram, "In a Spiral"
Active Child, "When Your Love Is Safe"
Robyn, "Cry When You Get Older"