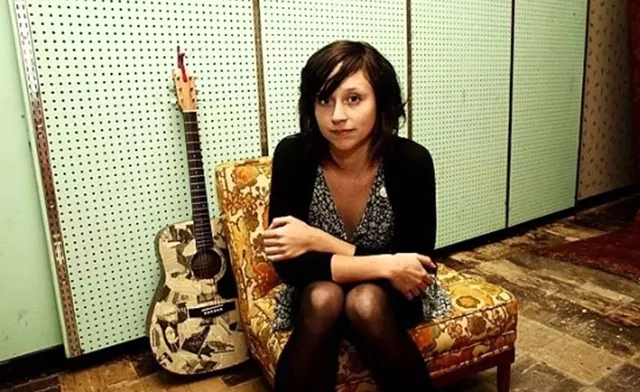 Wakeup Call
It's late January, which traditionally means things are kind of slow on the local music scene. Though the typical winter doldrums haven't been quite as dire in recent years as they once were, the period from New Year's Eve to, oh, Saint Patrick's Day is still relatively quiet. That's partly because the frozen hellscape of winter makes an ideal time to hole up, rather than hitting the clubs with the fervor and frequency we might come June. For normal folks, that means binge-watching Netflix — and maybe binge-drinking hot toddies — in the cozy comfort of home. For musicians, that often means hunkering down in the studio making the records that will rock us once warmer months finally come. And even though we all know those warmer days are indeed coming, in the bleak midwinter it can be easy to lose sight and wallow in the darkness. The endless, icy darkness...
Where was I? Ah, yes! Combating my cabin-fever-induced seasonal affective disorder. (All work and no play makes Dan a dull boy.)
Especially this time of year, little reminders of what lies ahead can do wonders for our collective mental well-being. For fans of local music, those reminders typically take the form of announcements from any and all of the roughly 43,562 summer music festivals that will thrill us from May through September. As luck would have it, this week we have an early line on one of our favorites: Waking Windows.
Savvy fans likely already know that early-bird tickets for the ultra-hip Winooski festival went on sale last week. And the savviest of those likely jumped on the discounted tickets — $35 for the whole weekend. Even at full price, WW is, dollar for dollar, the best festie deal in Vermont, and maybe the entire Northeast.
What those fans didn't know is who they were buying in to see. WW plans to make a larger announcement on February 1, but cofounder Paddy Reagan was kind enough to leak some of the acts who will be rockin' 'round the roundabout in May.
The big name is Waxahatchee. The recent Merge Records signees last played Vermont in May 2015, under the aegis of Waking Windows Presents. Reagan notes that the first time they were here was three years ago for a living room show. The lesson, as always, is you never know who you might see at a living room or underground studio show in BTV.
Several other bands on the WW6 slate also have nifty connections to VT and the festival. For example, Lady Lamb. The Maine native has made Burlington a regular stop in recent years, but she played her first VT show at the Monkey House, the unofficial home of Waking Windows, six years ago. That was, presumably, when she still kept bees. Last summer, Lady Lamb opened for the Decemberists at the Shelburne Museum as part of the Ben & Jerry's Concerts on the Green series, which should tell you how her career has progressed since.
Rockers Low Cut Connie closed last year's festival, and they're coming back for more this year. Portland, Maine's Jaw Gems have played almost every WW fest. They'll be back after hitting the road with STS9 and Lettuce — including a gig with the latter at the Higher Ground Ballroom in South Burlington on Wednesday, January 20. Rounding out the nonlocal teasers are Montréal's Plants and Animals, whom Reagan describes as "awesome." Over the years, I've learned to trust Paddy when it comes to all things awesome, musically speaking.
Reagan also dished on some locals who are confirmed for the fest, including Rough Francis, Waylon Speed, Caroline Rose, Disco Phantom and his own band, Paper Castles. But you can bet that list will multiply by the first weekend of May. After all, even with the increasingly glitzy marquee names, the backbone of Waking Windows remains homegrown talent.
Oh, and speaking of glitzy names, I should point out that the previous bands are not the headliners. Reagan is keeping that info under lock and key for the time being. But that should give you an idea of the caliber of bands we can expect.
Waking Windows runs from May 6 to 8 in locations all over Winooski. A limited number of early-bird tickets are available via wakingwindows.com.
Bites in Brief
It's been a while since last we heard from Vermont expat Jamie Lee Thurston. But the aspiring Nashville country star is back in his home state this week in support of a deeply worthy cause. On Saturday, January 23, he headlines a benefit show called Make Veterans Count at the Higher Ground Ballroom, with support from local country band the Woedoggies. Proceeds from the gig go to Veterans Count, a national vets' organization that recently opened a chapter in Vermont. All of the money raised at the show will remain in-state to aid local veterans.
The plight of American veterans has long been an important issue to Thurston. For years he's helped raise money for the Intrepid Fallen Heroes Fund. Most recently he teamed up with an Atlanta-based group called Battle Saint to work on a documentary/music video project called Ghosts in His Eyes — they also released a Thurston EP of the same name. The film takes a hard look at the struggles faced by soldiers returning home from combat with PTSD, and the phenomenal toll that illness takes, not only on the soldiers themselves but on their families and communities. If you've been to a local movie theater recently, you might have seen the trailer for it.
---
Speaking of expats, Andrew Paley, of BTV-born post-punk band the Static Age, makes a homecoming stop this week. On Tuesday, January 26, he'll be at the Light Club Lamp Shop with Adam Rubenstein, formerly of Chamberlain.
Since leaving Burlington for Brooklyn and then Chicago, Paley has toured all over the U.S. and Europe with the Static Age. He's also carved out a successful career as a solo act, touring Europe twice in 2015 and releasing a new record, Songs for Dorian Gray, on Flix Records.
Last but not least, David Bowie's death last week sent shockwaves of sadness around the globe. In Vermont, a number of tributes were offered to the late pop-culture icon. Grace Potter offered a touching and really good rendition of "As the World Falls Down." Madaila offered a Madaila-ized version of "Starman," which was even better.
Last Saturday, Radio Bean held a celebration of the Thin White Duke's life called Ziggy's Dust: A Wake for David Bowie, featuring live performances and a funeral parade. I couldn't attend, but I can only imagine it was every bit as weird and wonderful as only such an event at the Bean can be. In other words, a perfect tribute to the man.
If you missed that last one, the Bean will play host to another Bowie bash this Friday, January 22. Local surf godfathers Barbacoa will serve as the backing band for a collection of ace local singers, including Heloise Williams, Rough Francis' Bobby Hackney Jr., and Swale's Amanda Gustafson and Eric Olsen. Barbacoa's Bill Mullins notes that the show will likely focus mostly on Bowie's glam era, with "probably nothing from Labyrinth or Tin Machine."
Welp, I guess I'll return the oversize codpiece I bought last week.
Listening In
A peek at what was on my iPod, turntable, eight-track player, etc., this week.
SOAK, Before We Forgot How to Dream
Anderson .Paak, Malibu
Banners, Banners
Lucius, Madness
David Bowie, Blackstar