courtesy of brett Hughes
Brett Hughes
Close Up the Honky Tonk?
On Tuesday, September 15, Honky Tonk Tuesday celebrated its 10th anniversary. The weekly Radio Bean residency hosted by songwriter, singer and all- around countrypolitan gentleman Brett Hughes was a star-studded affair that featured ghosts of Honky Tonks past and present. These included Lowell Thompson, Mark Spencer, Mike Gordon, Marie Claire, Brett Lanier, Mark Ransom, Kelly Ravin, Caleb Elder, Joe Cleary and many, many more. In short, the hootenanny was a hoot, much as it's been nearly every Tuesday night for a decade.
But amid the evening's boozy, celebratory air was an undercurrent of uncertainty bordering on melancholy. That's because, during an HTT a couple of weeks prior, Hughes had reportedly hinted that he would be stepping down, possibly as soon as the 10th anniversary had passed.
Unsurprisingly, the future of HTT was a hot topic in the crowd that night. In between classics by Waylon Jennings, George Jones, Merle Haggard and Hank Williams — and a few by Hughes himself — disbelieving whispers abounded that the end could be near. Even Bean owner Lee Anderson's onstage toast felt as much like a eulogy as a salute. I wasn't taking notes — I was there in a strictly celebratory capacity, as anyone who heard my annual butchering of a certain Buck Owens classic would attest. But Anderson's gist was that creating an institution like Honky Tonky Tuesday is something unique and special. That the night has been successful and vibrant every week for a decade is a testament to Hughes — and to Burlington itself. We're lucky, Anderson implied, to have had it.
He's right on all counts. But before we discuss that, a brief aside:
Longtime readers might recall that I have a small personal connection to Honky Tonk Tuesday. Namely, it was my idea. However, my involvement was relatively minimal and extremely brief. Long story short: A few weeks after Hughes, my then-bandmate David Stockhausen and I debuted HTT, I met a girl and promptly proceeded to drop off the face of the Earth — as one does when he's young, foolish and in love. From then on — roughly 500 Tuesday nights since — it's been all Hughes, who deserves any and all credit for what the event has become. Speaking of which...
Anderson was absolutely correct when he called HTT an institution. It's also been one of the Bean's most consistently profitable nights. In a side conversation at the anniversary party, Anderson told me that, because he could rely on fans filling up the coffee shop every week on what would normally be a dead night, he could take chances on other bands the rest of the week. It's not a stretch to say that Honky Tonk Tuesday helped keep Radio Bean afloat during some lean and uncertain years, in addition to fortifying the café's eclectic vibe.
But the legacy of HTT runs deeper. The musicians who have logged time at the residency over the years number in the hundreds. There have been numerous iterations of the core HTT band during that time. And the connections made on that stage have extended well beyond the tiny shop on North Winooski Avenue. For instance, Phish's Mike Gordon commandeered one generation of Honky Tonkers for his country side-project Ramble Dove and took them to Bonnaroo. Kelly Ravin and the Crowther boys met at a Honky Tonk and soon after formed Waylon Speed. These are but a few of many such examples.
From a nonmusical perspective, I know of at least one couple that met at HTT and is now married. And I know a few others that hired versions of the band for their weddings. In Hughes' hands, Honky Tonk Tuesday has been far more than just a weekly country-music jam session. It's been a vital thread in the greater musical tapestry of Vermont. So is it really all coming to an end?
Definitely maybe.
In a recent email exchange, Hughes calls the decade of Honky Tonk an "amazing" run, saying it's "(almost) always a blast." But it's sometimes something else, too. Namely, "a downright pain in the ass."
That's no joke. Somewhat by design, HTT has always been a pretty loose gig. On the nights when people show up, it can be transcendent. But corraling three or four or six other musicians to come out to play late on a school night, for practically no pay, is like herding cats. It's not hard to imagine that, some weeks, HTT is more hassle than it's worth. Other nights, though...
"I couldn't be more grateful for the opportunity to just start playing the first song and being thrilled and fascinated and humored and humbled by what happens then, week after week," writes Hughes. "It's one of the great joys of my life."
Hughes stops just short of saying that it's over. For one thing, his longtime friend and frequent musical partner Mark Ransom is in town from Hawaii for a bit, so HTT will at least keep going while he's around. After that, even Hughes isn't quite sure.
"I don't really know what the hell I'm going to do at this point," he writes. "Things are 'evolving,' always."
He closes by quoting Michael Hurley's version of "I'm Getting Ready to Go," which suggests that, when it goes, HTT might see a more gradual, gentle end: "When you go out, you're going in smoke."
BiteTorrent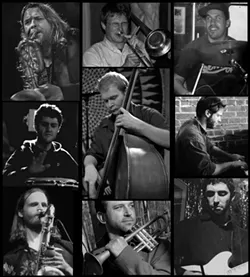 courtesy of Sound of Mind
Sound of Mind
If you missed the debut of Rob Morse's new band, Sound of Mind, at the Burlington Discover Jazz Festival this year, fret not. The supergroup has a pair of local gigs this week: Thursday, September 24, at Radio Bean and Friday, September 25, at Positive Pie in Montpelier. More than one hepcat I spoke with after the festival called the band's BDJF Signal Kitchen show a highlight of the week. And given their pedigree, that's not a surprise. SoM includes Luke Laplant, Andrew Moroz, PJ Davidian, Dan Ryan, Bryan McNamara, Jake Whitesell, Parker Shper and Taylor Haskins — or basically nearly all of the area's best young jazz and funk players.
In other SoM news, Morse writes that the band will soon hole up in Haskins' upstate New York studio to begin tracking its debut record. Stay tuned.
Speaking of new records, local songwriter Linda Bassick is set to release her first album of children's music this week. To celebrate, she'll perform a special version of her weekly Friday Morning Sing-Along residency on Sunday, September 27, at Radio Bean. BTW, the album is a live recording captured at a December Sing-Along and reportedly features scads of cute kids belting their favorite tunes alongside Bassick. Look for a review — both in these pages and in Kids VT — in the coming weeks.
Courtesy Of Spit Jack
Spit Jack
Last but not least, welcome back, Spit Jack! The late, infamous local punk band is reuniting for a gig at the only bar in the state they have yet to be kicked out of: Charlie-O's World Famous in Montpelier. The show is Friday, September 25, which, in a seemingly cruel twist of punk-rock fate, is the same night that the iconic-ish 1990s punk band the Queers play Club Metronome in Burlington with locals Nobodys, Lord Silky and Be Aggressive. But there's good news! Because Friday is a dance party night at Metronome, the Queers show is on the early side, at 6:30 p.m. So, in theory, and provided you have a DD — looking at you, Spit Jack — you can probably make both shows, since music at Charlie-O's starts at 10 p.m. m
Listening In
A peek at what was on my iPod, turntable, eight-track player, etc., this week.
Quiet Hollers, Quiet Hollers
Idgy Dean, Ominous Harminus
Lana Del Ray, Honeymoon
Julia Holter, Have You in My Wilderness
The Queers, Love Songs for the Retarded