Jordan Adams
Advance Music in Burlington
Advance to Go
This just in: Advance Music, Burlington's long-standing, independent gear shop and all-around musicians' hub, has been sold to national chain Music & Arts. Longtime owner Mike Trombley inked the deal on Wednesday, March 4. He told Seven Days that the new ownership, which itself is owned by Guitar Center, plans to "keep the vibe in the store" the same. We'll have an in-depth look at the change and what it means for the local music community next week.
Sick Beat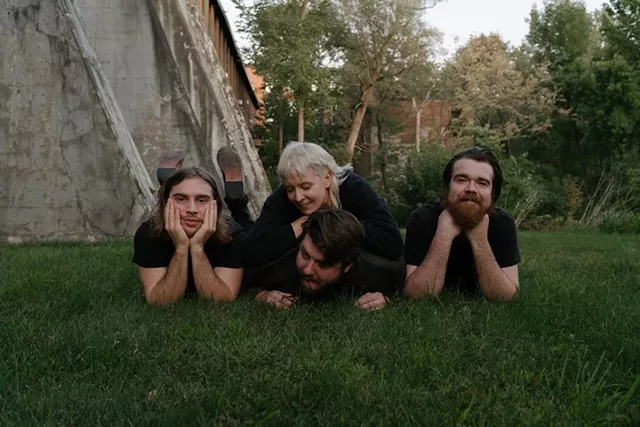 Courtesy Of Jacquelyn Potter
Clever Girls
Did you watch "The Last Man on Earth" before its untimely cancellation in 2018? The Fox sitcom takes place in the aftermath of a deadly virus that wipes out nearly all of the population, leaving only a ragtag band of misfits to live out their personal drama and existential crises in a postapocalyptic world. It was one of my favorite TV shows of the last decade. But now, because of COVID-19, the highly infectious coronavirus sweeping the globe, the series has lost a smidge of its hilarity. Just a smidge, though. That Will Forte cracks me up.
As reported by Seven Days' Kevin McCallum, the first person infected with COVID-19 in Vermont has been identified. The virus is here, and we can expect disruption. As of press time, no major nightlife events in Vermont have been canceled. But it certainly could happen.
Cancellations outside of Vermont — such as the shocking recision of South by Southwest, the music/film/tech conference in Austin, Texas — are reverberating to local residents, namely rock band Clever Girls. The Burlington group, which is currently on tour, was set to play a number of shows in the Austin area, potentially including an official SXSW showcase.
"I found out [about the cancellation] as soon as the news broke while watching a live broadcast on my phone," front person Diane Jean wrote in an email to Seven Days.
"My initial reaction was fury," she continued. "I am not at all worried about catching COVID-19. But after zooming out a bit, I am realizing that it is important to protect the at-risk populations of any community. Lots of conflicting emotions going on over here."
It's unclear whether any of the band's scheduled shows in and around Austin are moving forward.
This comes atop another recent setback the band faced. A portion of the members' gear was stolen just before they embarked on their current tour. Fortunately, Clever Girls were able to recoup the loss through a successful crowdfunding campaign.
"It sucks that this is all happening," Jean wrote, noting the emotional and financial toll the sudden cancellations have taken on the group — not to mention that the SXSW performances were particularly crucial since the conference is "crawling with industry folks." Clever Girls are currently ramping up to a new record, as was heralded by the release of two new singles, "Spark" and "Remember Pluto."
Seven Days reached out to a number of performing arts venues and nightclubs in the area to find out what's being done to ensure the safety of its patrons. So far, most responses have been more or less identical.
"We're being super vigilant," Vermont Comedy Club co-owner Natalie Miller responded via email. She wrote that hand sanitizer and disinfectant wipes are readily available for staff and customers throughout the downtown Burlington club. Spruce Peak Arts' Jenny Davidson echoed Miller's statement, noting that they've "intensified their cleaning routines."
Kevin Titterton, the Flynn's director of marketing and communications, ensured that the performing arts center is "staying current on Vermont Department of Health and CDC guidelines." He added that the venue will continue to operate as usual unless state or federal agencies step in. He also passed on a message from the management of China's world-renowned Peking Acrobats, who are set to hit the Flynn Main Stage on Tuesday, March 17. The note stated that all of the performers have been stateside since at least November — a month before the outbreak began in December — and that none is from Wuhan, nor has anyone been in close contact with anyone from that region.
Looking ahead, the fates of all major events seem to hang in the balance. For instance, what would it take for this year's Waking Windows festival to be canceled? Cofounder Brian Nagle pointed to Winooski's city officials, noting that it wouldn't be a decision made by the festival planners themselves. As of right now, Waking Windows is set to take over the Onion City Friday, May 1, through Sunday, May 3.
"We're directing people to receive their COVID-19 updates and health/safety resources from the official Vermont Department of Health website," wrote Winooski communications coordinator Paul Sarne. "The City of Winooski will continue to look to our partners at the Vermont Department of Health regarding these updates. At this time, it would be difficult to hypothesize on their behalf about an outcome as far out as May."
On a personal note, I'm a bit concerned about my own upcoming travel plans. In a few weeks, I'm supposed to fly to southern England and Copenhagen to see two of my biggest musical heroes: British siren Goldfrapp and Danish alt-pop weirdos When Saints Go Machine, respectively. I haven't seen the former in about 10 years, and I've never seen the latter. I'd be devastated to miss out on either. Not nearly as devastated as the families of the thousands of people who've already died from the virus, of course. A soiled vacation is nothing compared to losing a loved one.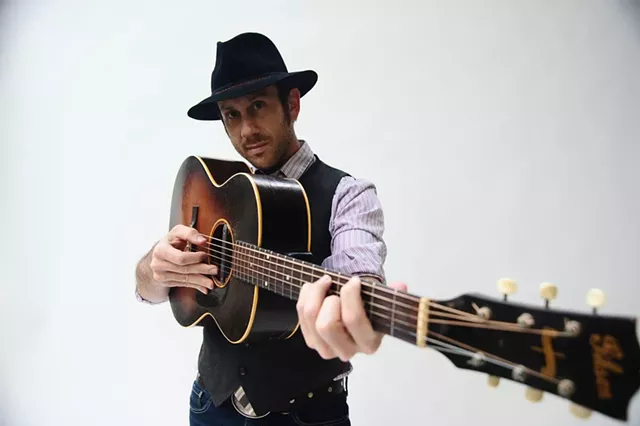 Courtesy Photo
Kris Gruen
Coincidentally, Vermont singer-songwriter Kris Gruen has scheduled a European tour that coincides with my dates in the Danish capital. Obviously, I'm planning to check that out, too. According to Gruen's management, his tour is still on. However, Danish authorities have called for a cancellation or postponement of "all events in March with attendance of over 1,000" people, according to the Local, a European English-language news network. Even if the ban continues into April, Gruen's show is not likely to be affected, given the 500-head capacity of Lille Vega, the venue at which he's set to perform.
Consider this only the first installment of COVID-19-related coverage as it pertains to local music and nightlife. As much as I hate to say it, I fear there will be more news to report in the coming weeks.
Listening In
If I were a superhero, my superpower would be the ability to get songs stuck in other people's heads. Here are five songs that have been stuck in my head this week. May they also get stuck in yours. Follow sevendaysvt on Spotify for weekly playlists with tunes by artists featured in the music section.
Lipps Inc, "The Gossip Song"
Tahiti 80, "Crush!"
Jessie Ware, "Spotlight"
Big Wild, "6's to 9's (featuring Rationale)"
The Police, "King of Pain"