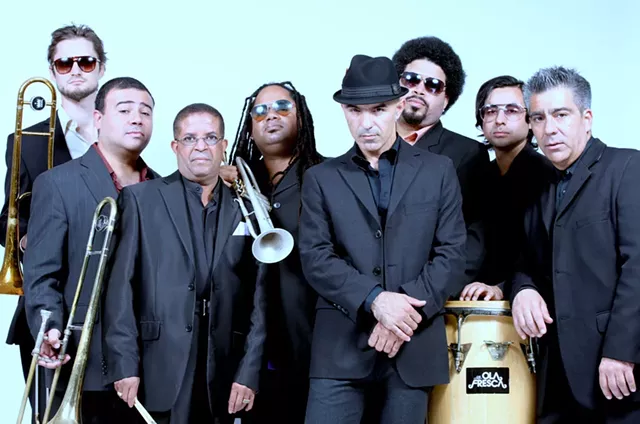 courtesy of Ola Fresca
Ola Fresca
Back in Black
Not too long ago, live music in the capital city was in a bad place. In the span of about a year, Montpelier lost several key venues. The most notable and vital of these was the Langdon Street Café in 2011, but Radio Bean South was hardly the only one. LSC was predeceased by a nifty alt-venue called Lamb Abbey. Shortly after, in 2012, the Black Door Bar & Bistro shuttered its doors. For a small city with a lively arts community, the series of tough blows had some nervously wondering if live music in Montpeculiar was on life support. But in recent years the city's live music scene has rebounded.
Staple venues such as Charlie-O's World Famous and Positive Pie continued bringing in quality local and regional bands. Sweet Melissa's opened in the old LSC spot and, while it caters to a slightly different crowd than the artsy LSC contingent did, it's been a welcome addition. Ditto Bagitos Bagel & Burrito Café, which has proven to be a cozy spot for live tunes, especially of the acoustic variety. Even Buch Spieler Records, long the city's go-to spot for recorded music, began offering hip live shows on a semi-regular basis. And this week the upward trend continues as an old favorite makes a welcome return of sorts.
Earlier this summer, the Black Door was given new life as a restaurant called La Puerta Negra — for you non-Spanish speakers, that translates to, wait for it, "the black door." When rumors first surfaced that the funky, multi-floor space would be reopening, locals hoped that live music would be on the menu alongside "modern Latin" fare. Good news: It is.
This Friday, August 14, La Puerta Negra will celebrate the opening of its top-floor nightclub with a free blowout bash. Fittingly, the show features a kick-ass Cuban band from Brooklyn, Ola Fresca. Led by Cuban American firebrand José Conde, the group is in the forefront of NYC's vibrant Latin music scene. Its most recent record, Elixir, has been praised far and wide for its sensuous blend of Cuban son, rumba, timba and Puerto Rican salsa. The New York Times called it music "for dancing and for thinking." International urban music TV network Trace described it as a "heart-stopping smorgasbord of sounds that keeps listeners in a diasporic daze."
No word yet on how often the club will host music. But given that LPN's general manager is Xavier Jimenez, who recently became the co-owner of Buch Spieler, the guess here is that the joint will be jumping most weekend nights.
Chill Waves
If you're an electronic music fan in Burlington, chances are you spend a fair amount of late nights at local dance clubs. But what if you're, say, gettin' too old for this shit? Or, conversely, if you're too young for this shit and can't legally hang out at bars? What's a house-music head to do?
Fortunately, the folks from Nexus Artists and 2K Deep have your back. This Saturday, August 15, the two local electronic music outfits will host their fourth annual Grillin Chillin Shwillin party at the Waterfront Shelter in Burlington. The daylong party is free and family friendly, meaning you can bring the kids if you have them — or are one yourself. You can also bring lawn games, food for the grill and whatever else you might want or need to spend the day dancing by the lake. Like, for example, shwillin' materials — provided you're of legal shwillin' age, of course.
"It's super laid-back, and there's nothing ravey about it," writes 2KD's Adrian Sackheim in an email to Seven Days. "It's something different than what Nexus and 2K Deep usually do, obviously."
Indeed.
The party features 13 local DJs, including representatives from the 2KD crew (Haitian, Sharkat, L Yeah) and Nexus (Justin R.E.M., Harder They Come), among others.
BiteTorrent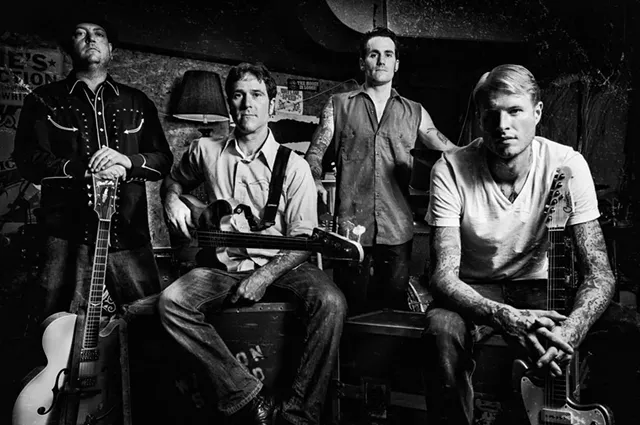 courtesy of Waylon Speed
Waylon Speed
In festival news, this Sunday, August 16, is the Oxbow Music Festival at Oxbow Park in downtown Morrisville. The fest is a fundraiser for the future Morrisville food co-op, and it features a solid lineup of local talent aiming to put more organic kale in the bellies of town residents.
Local outlaw dirt rockers Waylon Speed headline, which is never a bad thing. If you go, see if you can convince guitarist and vocalist Kelly Ravin to play a tune or two from his new solo record, County Tracks. You'll be glad you did. That album is gorgeous.
Rounding out the lineup are the Mud City Ramblers, Coquette, the Smokin' Js, and an all-star tribute to the Grateful Dead featuring Seth Yacovone and members of Dead Sessions and Flat Nose Diesel Bus. Because God forbid a weekend goes by in Vermont without a tribute to the Dead happening somewhere. (I kid, Deadheads. I kid.)
If you get a chance, try to catch Last Train to Zinkov at one of their shows this weekend. That's a father-son duo featuring David and Nate Gusakov. And judging by the recent demo tracks posted on their website, the music will be worth your time.
The Gusakovs, who pretty much play anything with strings, specialize in a melodic blend of Appalachian old-time, gypsy jazz and swing that reflects their own Eastern European roots. And, perhaps owing to their shared DNA, they've hit upon a stirring combination of fiddle and banjo. Catch them at the lunchtime City Hall Park Free Concert Series in Burlington this Friday, August 14, or at the Old West Church in Calais on Sunday, August 15, with fellow local folk favorites Deb Flanders, Pete Sutherland and Michèle Choinière.
Last but not least, kudos to Guster for sponsoring a really cool contest that offers high school and college bands the opportunity to open for the group on its upcoming fall tour. Guster, you may recall, rose to prominence as a college band 25 years ago and were greatly helped by more established acts taking a chance on them in support roles.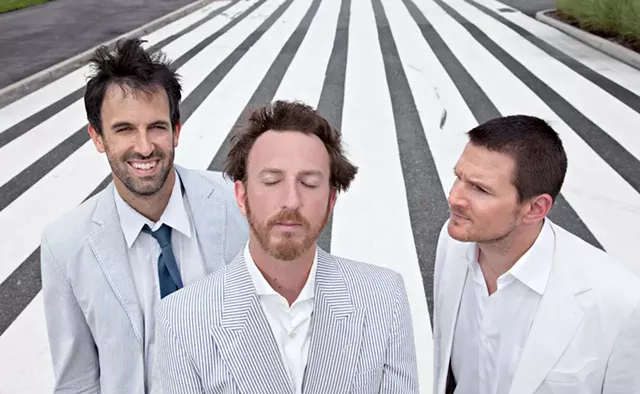 courtesy of Guster
Guster
Announcing the contest, the band wrote, "Getting in front of these audiences helped us gain the confidence to give 'being in a band' a real shot. And we'd like to spread that karma, so we're inviting college and high school bands to open for us on our upcoming November tour. Maybe we can even join your band for a song and vice versa? We're going to make this happen at every stop on our tour between November 5th and November 21st."
Sadly, none of those dates include Vermont, which, in case you didn't know, is where front man Ryan Miller now lives. There are, however, a couple of regional dates in Providence and Northampton, so maybe the locals could travel?
To enter, hopeful bands should head over to Guster's website and fill out a questionnaire. The form asks some pretty basic stuff, such as the origin of your band name, what your web presence is (Twitter, Facebook, etc.), what you sound like and who your influences are. But, Guster being Guster, there's also some cheeky stuff, such as this question directed at female musicians: "What's it like being a girl in a band?"
To qualify, the majority of your band members must be in high school or college. For more, check out guster.com.
Listening In
A peek at what was on my iPod, turntable, eight-track player, etc., this week.
Mas Ysa, Seraph
White Reaper,White Reaper Does It Again
Dirty Ghost, Let It Pretend
The Intelligence,Vintage Future
Animal Omen, Feral Moans