Courtesy Photo
Night Protocol on the "Time Is Running Out" video shoot
Dim Sum, Lose Some
Most weeks, a couple of larger, meatier news items break up this column. And sometimes, you get a bunch of little bites of different things, like dim sum. This is a dim sum week. Enjoy!
BiteTorrent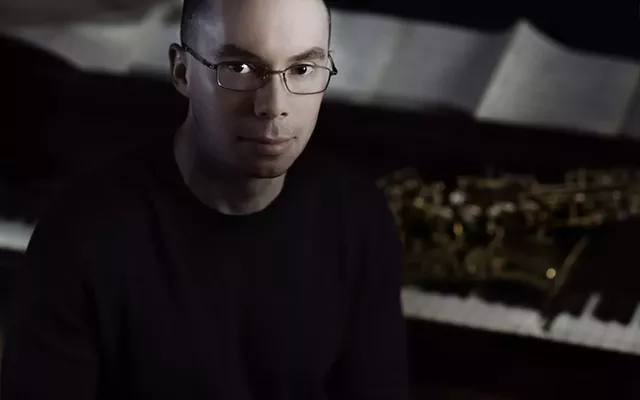 Courtesy Photo
Brian McCarthy
Saxophonist Brian McCarthy unearths his project The Better Angels of Our Nature on Saturday, March 7, at the McCarthy Arts Center at Saint Michael's College in Colchester. The jazz composer first issued the suite of music in 2015. After considerable research and study, McCarthy deconstructed and reworked a collection of Civil War-era music, tunes such as "The Battle Hymn of the Republic" and "The Bonnie Blue Flag," transforming the 19th-century pieces into a fresh selection of modern jazz. McCarthy released the work as an album in 2017 to local and national critical acclaim.
Rounding out his nonet is a group of players from Boston and New York City, including Matt Aronoff, Adam Birnbaum, David DeJesus, Andrew Gutauskas, Bill Mobley, Cameron MacManus, Felipe Salles and Jared Schonig. The show is free and open to the public.
Night Protocol just dropped a music video for their tune, "Time Is Running Out," from the 2019 album Tears in the Rain. The Burlington synthwave band's unabashed love for all things '80s, such as neon-streaked visuals and video-arcade culture, is strong in the recently released clip. The video features all of the Night Protocol members — Matthew Binginot (Nechromancer), Ryan Blair, Justin Goyette and Amanda Marquis, plus newcomer and saxophonist Sebastian Zervos — as digital avatars in a motorcycle racing game that resembles the Sega hits "OutRun" and "Hang-On."
Timbre Lee Trez of Trez Filmz directed the video. The production company continues to make a name for itself with local music videos, having also created visuals for nightmare pop-punk group Miku Daza, rapper S.I.N.siZZle and global-psych outfit Barika.
Willoughby Morse unveils his newish project, Good Baby, on Saturday, March 7, at the Higher Ground Ballroom in South Burlington. He provides an opening set for his main gig, drumming for indie-pop superstar Caroline Rose. (See our interview with Rose.) What exactly is Good Baby? Due to a scheduling conflict, Morse was unable to answer questions before press time. But a SoundCloud page with several uploads over the past year or so indicates good old-fashioned contemplative indie rock. Best way to find out what he's got up his sleeve: Go to the show on Saturday.
Speaking of Rose, this just in: Fans can call in to a special hotline to hear clips from the singer-songwriter's forthcoming album, Superstar. A cheeky promotional video tells viewers to dial 855-777-7871 to get a sample of unreleased tunes. The stunt is a viral marketing campaign for record subscription company Vinyl Me, Please, which has selected Superstar as its official March pick.
Something that should have been mentioned in last week's profile of Couchsleepers' front person Harrison Hsiang: The indie-rock band performs this week on Friday, March 6, at the Light Club Lamp Shop in Burlington, with support from Will Orchard and Alpacka.
In a now-annual tradition, the Vermont Comedy Club's March Madness kicks off on Wednesday, March 4. On Wednesdays and Sundays all month, the club pits pairs of improvisers in a bracket-style competition to determine who is the best at making shit up on the spot. According to the club's website, "Dozens of dollars in prize money are at stake!" I can already feel the tension.
One question that often haunts me as a music editor is: How many Grateful Dead tributes can a state with a population of less than a million sustain in a given week? I'm always shocked that the answer is nearly always more than one. In fact, the average is closer to two or three at this point.
This week alone we have Dead Set at Nectar's, which happens every Tuesday; a similar event at Zenbarn with Zach Nugent every Wednesday; plus Dan Weintraub at Radio Bean on Monday, March 9. And that's not to mention such acts as Dark Star Project and Dead Sessions appearing regularly at Monkey House in Winooski and Whammy Bar in Calais, respectively.
It's just funny to me that a tiny state far away from the lauded band's stomping grounds would be so collectively obsessed — especially when Vermont manufactured one of the other most successful jam bands of all time. Oh, well. It's not my place to create programming. I'm only here to comment on it.
While I'm getting personal, I would like to make a public pledge: At some point in 2020, I will return to a Burlington hot spot I have not set foot in for nearly 20 years: Rasputin's Bar. While exceedingly popular — the line for admission often stretches nearly half a city block long — the subterranean joint has a local reputation of being, um, not exactly the classiest joint in town.
But I've come to realize that I'm judging the nightclub based on one or two experiences from my early twenties. Given how much society and culture is currently focused on reexamining our preconceived notions, I feel it's my responsibility to do the same with regard to the lower Church Street danceteria. Perhaps there are other venues that deserve a reevaluation, as well. Don't worry. I'll report back soon.
Listening In
If I were a superhero, my superpower would be the ability to get songs stuck in other people's heads. Here are five songs that have been stuck in my head this week. May they also get stuck in yours. Follow sevendaysvt on Spotify for weekly playlists with tunes by artists featured in the music section.
Labrinth, "Mount Everest"
Baio, "DANGEROUE ANAMAL"
The Turtles, "You Showed Me"
Kelela, "Frontline"
When Saints Go Machine, "Last One to Know (Club Edit)"