Courtesy photo
George Petit
San Francisco's Hardly Strictly Bluegrass Festival stacks its lineups with more than just banjo pickers. The Newport Folk Festival in Rhode Island is populated with plenty of pop and rock acts between wistful balladeers. Even the Burlington Discover Jazz Festival brings us plenty of R&B, reggae and, sometimes, the odd experimental electronic musician. It makes you wonder how many purists are out there shaking their heads — and maybe fists — thinking, This isn't really a jazz festival.
Guitarist, recording engineer and record producer George Petit is one of those people. It's a big part of his decision to found and organize the brand-spankin'-new Stowe Jazz Festival, which runs Friday, September 8, through Sunday, September 10. Various locations throughout the village — as well as an outdoor main stage headquartered at the Alchemist brewery — will host local, national and international acts.
"We're trying to have a festival that's not like the Burlington Discover Jazz Festival," Petit says. "It's definitely a jazz festival and not a music festival. A classical festival doesn't usually have a whole lot of jam bands. A jam festival doesn't have a whole lot of classical. There's a tremendous amount of subgenres of jazz, whether it's Brazilian or Latin or bebop or swing or gypsy — you name it. There's more than enough phenomenal music in those subgenres to populate a jazz festival."
Petit, 58, is a longtime participant in the BDJF who has returned to Vermont after living in New York City for nearly two decades. His life behind the mixing console has placed him in the orbit of many influential musicians, though he's a bit cagey about name-dropping.
"There have been a tremendous amount of household names I've been involved with," Petit says. "That's the best way to say it. What's the [point] of saying I've worked with Michael McDonald or Boz Scaggs or whoever the hell it is?"
Locally, he leads a few combos of various sizes and has played with Grippo Funk Band. In addition to his incredulity about the comingling of genres, he feels passionately about the ineffable energy a festival instills in its performers.
"I played my first festival in New York when I was 13," Petit says. "And I've never forgotten [that] feeling — as opposed to playing in a bar or club or coffeehouse. The feeling of playing at a festival that you assume has a very high level of quality is a very special feeling. That's what I wanted to start in Stowe."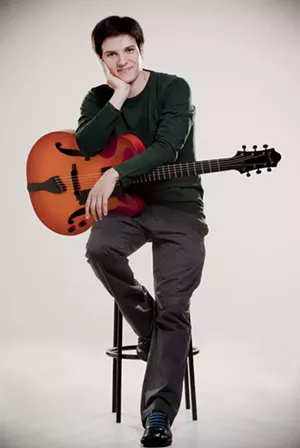 Courtesy photo
Chico Pinheiro
The inaugural run includes a mix of local and nonlocal performers. On Friday, Brazilian guitarist and composer Chico Pinheiro and his quartet headline the Alchemist Stage. Mark F. Turner of the website All About Jazz wrote that Pinheiro's 2010 album There's a Storm Inside "reaffirms Brazilian music as still one of the most romantic and vivacious genres in the world." Local acts include Bryan McNamara and Souls' Calling, Joe's Big Band, the Dixie Six, the Will Patton Quartet, the Paul Asbell Quartet, Bruce Sklar's Sklarkestra, the Patricia Julien Quartet and the Nate Reit Quintet.
Petit stresses the high level of quality his festival brings.
"There's a tremendous amount of phenomenal players up here, but a lot of players kind of ... throw something together for [a] gig," he says. "And in a lot of those situations, I've said, 'No, I don't want you to throw something together. I want you to bring something that's original and extremely well rehearsed — so it's special, as opposed to whatever.'"
Oh, by the way, you won't have to break the bank to enjoy the music at this multiday affair unless you want to purchase food or drinks. Every performance is free. Patrons don't need a ticket, wristband, hand stamp or lanyard.
The first year of any large-scale event is always a crapshoot, but Petit is feeling pretty confident.
"I see it lasting 20 or 30 years, whether I'm running it or not," he says.
Visit stowejazzfestival.com for more information.
BiteTorrent
Courtesy photo
Bat House
Folk-rock trio Navytrain celebrate their one-year anniversary on Thursday, September 7, at Nectar's in Burlington. During that year, they've played high-profile events, such as SpringFest at the University of Vermont — the band's alma mater — and Twiddle's Tumble Down festival at Burlington's Waterfront Park. The band's debut EP, Souls, dropped last December.
On Saturday, September 9, Montpelier's Buch Spieler Records presents a super-special event called Labor of Love Show. Four musicians from varied backgrounds come together for a night of modern, jazz-infused experimentalism. The band features vocalist Malcolm Mooney of the legendary kraut-rock band Can, keyboardist Alexis Marcelo (Yusef Lateef, Lexiglass), drummer Chris Guttmacher (Bullet LaVolta) and horn player Devin Brahja Waldman (Brahja, Heroes Are Gang Leaders). Jazz poet Toussaint St. Negritude and local post-rockers July 26 Movement add support.
If you're cruising through the South End Art Hop on Saturday night and looking for a music hot spot, check out the Hope All Is Well showcase at Speaking Volumes. Sludge-rockers Kal Marks and psych-rock quartet Bat House — both out of Boston — co-headline the show. Providence, R.I.-based experimental rock group Night Nurses and Burlington-based indie rockers Clever Girls take on opening duties.
Here's something that might make you grimace: The last-ever Cringe! A Night of Hilarious Humiliation is Tuesday, September 12, at the Monkey House in Winooski. The recurring event celebrates a curated collection of embarrassing poems, diary entries, works of art and songs — all presented by the authors and creators themselves. It's your last chance, at least for a while, to see this one-of-a-kind exercise in soul-crushing embarrassment.
The show's host, comedian Annie Russell, is pulling up stakes and moving to Chicago. The Vermont Comedy Club sends her off with a "reverse-roast" on Sunday, October 1. What's a reverse-roast, you ask? Russell explains in an email: "I've matched up some of Vermont's best comedians and instructed them to write compliments about each other in the style of roast jokes," she writes.
We'll take a closer look at this event as the date draws near.
Listening In
If I were a superhero, my superpower would be the ability to get songs stuck in other people's heads. Here are five songs that have been stuck in my head this week. May they also get stuck in yours. Follow sevendaysvt on Spotify for weekly playlists with tunes by artists featured in the music section.
Sevdaliza, "Hubris"
Divine Fits, "The Salton Sea"
Turkuaz, "20 Dollar Bill"
Liza Minnelli, "Twist in My Sobriety"
Tanlines, "Real Life"