File: Luke Awtry
Ray Vega
Greetings, music lovers. We're just a few days away from bidding adieu to 2018. Take a moment to remember the best show you saw this year. Now think back to the worst show you saw. Which stands out more clearly, the good or the bad? For me, it's always the good — although I did see Mark McGrath of Sugar Ray perform a particularly uninspiring set at the Champlain Valley Fair in 2017. That clearly stuck with me. I'm thinking about it right now...
In a normal week, I use this column to preview events, espouse opinions and provide updates on the latest music- and nightlife-related news. But, as is tradition, the final Soundbites of the year looks back on the past 12 months to remind you of many significant and noteworthy happenings. In 2018, some items were cause for celebration; others, not so much.
Let's start with some personnel changes. In January, Waking Windows cofounder Brian Nagle — aka DJ Disco Phantom — stepped into the role of talent buyer for the Monkey House in Winooski. He followed previous talent buyers — and Waking Windows cohorts — Paddy Reagan and Matt Rogers. Nagle's sensibilities and tastes were evident throughout the year, as more and more up-and-coming, cutting-edge indie and electro-pop artists filled out the club's roster: Iowa indie-pop outfit Karen Meat, Philadelphia weirdos Pill and Los Angeles fuzz-pop act TV Girl, to name but a few.
Vermont Public Radio's weekly "Friday Night Jazz" program found a new host after poet Reuben Jackson stepped down in April. The following month, Bronx-born, South Burlington-based trumpeter Ray Vega took the reins. Vega, a senior lecturer at the University of Vermont, is known for his work with prominent Latin jazz icons Tito Puente, Mongo Santamaria and Ray Barretto, as well as his weekly jazz sessions at Hotel Vermont in Burlington. 2018 marked Vega's 10th year in the state.
Speaking of anniversaries, several entities celebrated a 20th this year: rockabilly group the Starline Rhythm Boys, Club Metronome's house/techno series Sunday Night Mass and the state's premier nightclub, Higher Ground. The last booked acts in both its Showcase Lounge and Ballroom practically every night in April. Huge stars such as Jeff Tweedy, Margo Price, Mike Gordon, Squirrel Nut Zippers and many more came on board for the South Burlington club's 20th birthday bonanza.
Vermonters and touring entertainers now have more places than ever to perform. In March, Deli 126 opened in Burlington. Aside from providing the Queen City with delectable cocktails and, from what I've heard, dope-ass sandwiches, the swanky speakeasy has become a new hot spot for local jazz cats.
In April, former Higher Ground co-owner Kevin Statesir introduced the Double E Lounge in Essex Junction. Housed in the Essex Cinemas building at the Essex Shoppes, the venue showcases intimate performances in a lounge space as well as large-scale concerts in the colossal T-Rex Theater.
File : Dylan Kelley
Owen Daniel-McCarter at Babes Bar in Bethel
In June, Babes Bar in Bethel became the small town's community-oriented hub for live music, movie nights, cribbage tournaments and authentic Chicago-style hot dogs. A hop-skip down the road in White River Junction, the folks at Maple Street Catering took over the former Tupelo Music Hall. Since opening as the Engine Room in March, the club has offered EDM dance parties, musical theater, standup comedy and, of course, plenty of rock, country and blues bands.
Arrivals inevitably came alongside departures. After one of the most frigid New Year's Eves in recent memory, Burlington's First Night announced in April that the 2017 edition was its last. Fortunately, Signal Kitchen and Burlington City Arts stepped in to take on curatorial duties for the December 31 madness. Known as Highlight, the similarly sprawling event features family-friendly music and cultural happenings all over Burlington. Anaïs Mitchell, Henry Jamison, 99 Neighbors, Brett Hughes and others are planning to knock your socks off as you ring in the New Year.
We also lost one of the state's loftiest groups. In October, psych-pop heroes Madaila announced via Facebook that they would be going on indefinite hiatus. In an exit interview with Seven Days, band members Mark Daly, Eric Maier, Walker Allen and Jer Coons cited numerous reasons for the split. In a nutshell: Life got in the way. The band played its last show — at least for the foreseeable future — on Friday, November 2, at the Higher Ground Ballroom.
2018 also brought a couple of memorable controversies — and at least one resolution to a debacle from the previous year. Remember Shrinedom out in Irasburg? Sure you do. It was the Shriners-sponsored hard-rock music festival supposedly featuring Vince Neil, Lita Ford, Warrant and more. But on that fateful day in late summer of 2017, all of the headliners walked out without striking so much as one power chord, claiming they hadn't been paid. Nearly a year later, the Vermont Attorney General's Office announced that sanctions had been placed on the festival's promoters, barring them from launching similar events for the next several years. Additionally, those who purchased tickets were eligible for a refund.
In September, news broke that actor/comedian Aziz Ansari was to perform at the Flynn Center for the Performing Arts. Earlier in 2018, the "Master of None" star came under fire after babe.net published an anonymous woman's detailed account of a sexual encounter she claimed to have had with the actor. She alleged numerous instances of misconduct. Ansari did not address the controversy in his performance yet was well received by his audience.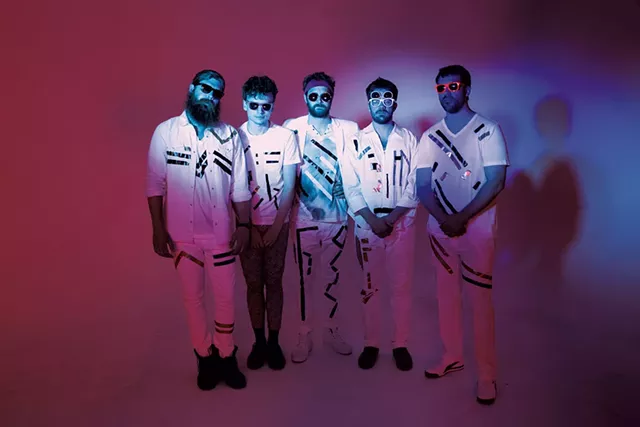 Courtesy Photo
Madaila
Finally, perhaps the most intriguing bit of local music-related news came just a few weeks ago. As reported by Seven Days' Sasha Goldstein, on December 5, Burlington police arrested Madaila keyboardist Maier on suspicion of twice vandalizing the controversial "Everyone Loves a Parade!" mural located just off the Church Street Marketplace. Critics of the public artwork, including Maier, have claimed that it reinforces white supremacy by failing to properly honor the Abenaki and by generally lacking nonwhite persons.
Back in October, the word "colonizers" was spray-painted across a section of the piece. The word was removed, but on Halloween the mural was again defaced. This time, some of the painting's faces were erased with a chemical solvent and replaced with pink dollar signs.
As Seven Days' Taylor Dobbs reported, Maier was originally due in court on December 13 and was expected to face felony and misdemeanor charges of unlawful mischief. But prior to arraignment, his case was remanded to the Burlington Community Justice Center's Rapid Intervention Community Court. According to an email from Chittenden County State's Attorney Sarah George, Maier is "not officially charged ... but we didn't decline to prosecute, either. If [Maier] completes CJC, then he won't have to appear in court."
And that's it for 2018! I hope you had a wonderful year full of music, comedy and nightlife. We'll see you on the other side.
Listening In
If I were a superhero, my superpower would be the ability to get songs stuck in other people's heads. Here are five songs that have been stuck in my head this year. May they also get stuck in yours. Follow sevendaysvt on Spotify for weekly playlists with tunes by artists featured in the music section.
BØRNS, "Second Night of Summer"
PREP, "Don't Bring Me Down"
Human Touch, "Promise Not to Fall"
Cautious Clay, "Cold War"
Jungle, "Cherry"