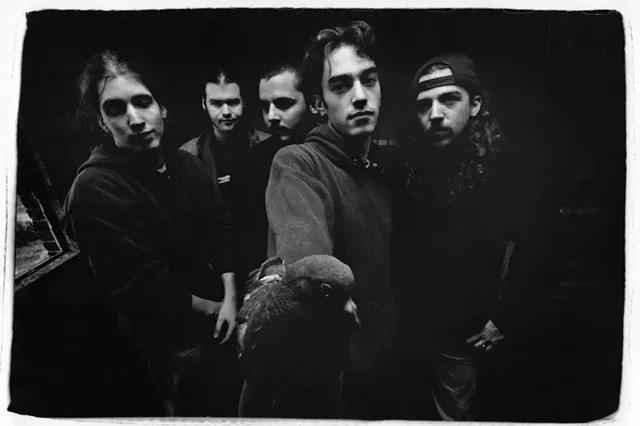 Matthew Thorsen
Rocketsled
Will you look at that? 2017 is all but over. That means it's time to recap some of the most newsworthy music events of the past 12 months. Also, on a personal note: It means that I've been writing this column for almost a full calendar year. That is full-on, crazy-town, banana-pants bonkers, and I've loved every second of it. Now, let's revisit the last year, shall we?
In January, local 1990s-era metal champions Rocketsled reunited at Higher Ground to celebrate and pay tribute to the all-ages Burlington rock club 242 Main, which ceased operation in late 2016. Along with 242 alums Jesus Nut, From the Ground Up, Hemlock Verdict and a surprise mini set from the Cancer Conspiracy — all bands that cut their teeth within 242's sticker- and tag-spattered walls — the year started off with a face-melting bang.
Also in January, Burlington's music archive and preservation nonprofit, Big Heavy World, left its long-standing downtown location for a spot in the South End. BHW now shares space with the South End Arts and Business Association — and probably always smells like java, given its proximity to Speeder & Earl's Coffee.
In February, a new venue opened in Burlington: Social Club & Lounge. The fresh nightspot staked its claim to downtown debauchery at 165 Church Street, the same space that formerly housed Zen Lounge, Lift, Second Floor, Millennium, Club Extreme and Club Toast. From Top 40 dance parties to drag shows, hip-hop film screenings to a cappella singing groups, Social Club offered a surprisingly eclectic and inclusive array of entertainment. Which was important, because...
That same month, Winooski wine bar Oak45 rebranded as an LGBTQ bar called Mister Sister. The new name — which some consider a slur toward trans people — sparked a vitriolic, drawn-out controversy within the very community the bar aimed to serve. It was an ugly, divisive episode that didn't fully resolve until the bar's closure in July.
In March, Speaking Volumes, the vinyl records and arts hub in Burlington's South End, dramatically increased its square footage with an expansion to an additional space at 7 Marble Avenue — formerly Battery Street Jeans — directly across the street from the secondhand shop's original Pine Street location.
Also in March, the Vermont Youth Orchestra Association named Benjamin Klemme its new music director. Klemme previously served as music director and conductor for several orchestras and youth ensembles in Davenport, Iowa, and in Minneapolis.
April marked the one-year anniversary of the passing of rap MC and DJ Ryan Morin — aka BP. Morin's unexpected death sent shock waves through the local hip-hop community. To remember their departed brother, members of the Aztext family, Cultural Chemistry and Anthill Collective, along with many others, gathered for a benefit concert at Club Metronome, which bolstered a fund to send a lucky youngster to Camp Dudley at Kiniya, a Colchester summer camp where Morin once worked.
Also in April, Brattleboro-based rockers the Snaz called it quits only a few months after dropping their magnum opus, Sensitive Man. The band cited inner turmoil and the transition from teendom to adulthood as a reason for the split. However, front woman Dharma Ramirez can still be seen in her grungy project OSABA.
In May, Waking Windows Presents served up another fiery iteration of its three-day, Winooski-based music and arts festival, Waking Windows. Taking over the outdoor Main Stage, glitch-pop weirdo Dan Deacon orchestrated what was likely the largest dance-off the pint-size city has ever seen. Later in the year, the WWP crew once again brought a version of the festival to Portland, Maine, and debuted one in Detroit.
Also in May, cartoonist and musician James Kochalka Superstar went supernova. That is to say, the "American Elf" cartoonist announced his retirement from music ... probably. You never know, right?
That same month, Section Sign Records met its end as founder Britt Shorter changed lanes to pursue a master's degree in veterinary medicine at Tufts University. He liquidated the label's entire stock — but remnants can likely still be found at various Vermont record stores.
Additionally, Nectar's Entertainment Group announced that not only was the building that houses Nectar's and Club Metronome for sale, but the businesses were on the table, as well.
In June, the Burlington Discover Jazz Festival brought heavy hitters such as Diana Krall, Pink Martini, Terence Blanchard and E-Collective, and Arrested Development to the annual celebration of jazz, swing, funk, soul, bebop, hip-hop, rock — basically all genres, at this point. Also, saxophonist Kamasi Washington and his band, the Next Step, made quite an impression on the Queen City. In short: People lost their damn minds at his Flynn MainStage performance.
In July, Peg Tassey triumphantly returned to the stage after a 12-year hiatus. She reformed her folk-noir band Peg Tassey and the Kissing Circle for a three-night run at various locations around the state, supporting band member David Symons' project Inner Fire District. Tassey's Light Club Lamp Shop show was one of the most powerful local performances of the year.
Also in July, the global, super-secretive concert series Sofar Sounds established itself in Vermont. The first installment was about as Vermont-y as possible, staging artists at the edge of an apple orchard in Williston. Singer-songwriter Justin LaPoint, Massachusetts-based rapper Billy Dean Thomas and psych-popsters Madaila had the honor of being the first bands to play the VT branch of the series.
File Photo
Madalia at Sofar Sounds
In August, Ryan Miller of Guster and avant-pop group Arc Iris teamed up for a new, collaborative project called Bwahaha. They debuted at Radio Bean's fantastical off-site shindig at the Barn at Lang Farm, the Active Galactic Ball.
In September, Vermont Public Radio's deputy news director and standup comedian Annie Russell left the state to start a new life in Chicago. As a final farewell, she hosted a special event called Desperate for Approval: A Reverse Roast at the Vermont Comedy Club, in which a horde of local comedians teamed up to compliment each other, roast-battle-style. In case you missed it: You have no idea how funny it can be to hear people say nice stuff about each other.
File Photo
Emma Ruth Rundle
In October, Higher Ground hosted the first installment of the Belgian post-rock dunk!festival. Darkness reigned as headliners Pelican, Russian Circles and Emma Ruth Rundle crushed the souls of eager onlookers.
Also in October, local experimental composer Greg Davis opened a new vinyl store, Autumn Records, in Winooski.
Meanwhile, in Burlington, Half Lounge reopened under new ownership after closing earlier in the year. The hole-in-the-wall club got some much-needed sprucing up, including reclaimed-wood furniture and a redesigned floor plan.
In November, folk duo the DuPont Brothers announced a big change: They're no longer called the DuPont Brothers. Now known as SoundBrother, the new band has a more rock-oriented aesthetic. Catch its (sort of) debut on Sunday, December 31, supporting Kat Wright and Julia Caesar at the Higher Ground Ballroom.
Finally, in December, the news that roots trio Pete's Posse would appear on an episode of ABC's upcoming reality dating series "The Bachelor: Winter Games" in February had us all trying to figure out how far in advance we could program our DVRs.
And that's it for 2017! Here's to a fantastic New Year. See you on the other side.
Listening In
If I were a superhero, my superpower would be the ability to get songs stuck in other people's heads. Here are five songs that have been stuck in my head this week. May they also get stuck in yours. Follow sevendaysvt on Spotify for weekly playlists with tunes by artists featured in the music section.
Electric Guest, "Back & Forth"
Charli XCX, "Boys"
Dornik, "God Knows"
Goldfrapp, "Systemagic"
Weslee, "Bathwater"