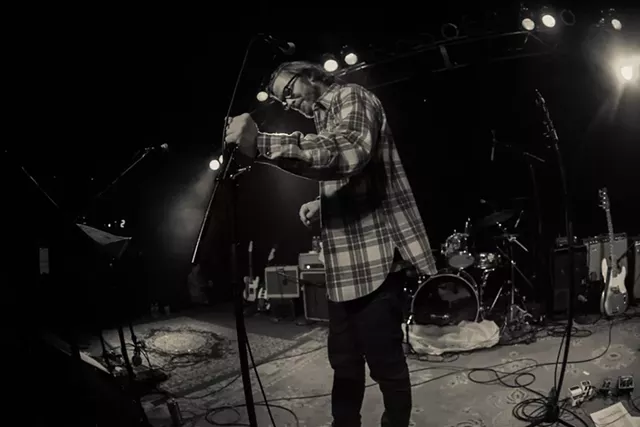 Courtesy of Jim Lockridge
Tom Lawson of the Pants
There's no sugarcoating it: 2016 sucked. From a rash of musical icons passing away to the election of an orange-skinned misogynistic racist to the White House, there was not a lot to feel good about lo, these past 12 months.
It wasn't exactly all good in the Vermont music scene, either. Though there were some high notes, we experienced our fair share of hardship this year, too. With that in mind, let's take a look back at the year that was in Vermont music.
The passing of David Bowie notwithstanding, January was a quiet month locally. Hopefully, y'all enjoyed the downtime, because things got interesting in a hurry.
In February, local beer baron Alan Newman (Magic Hat Brewing, Seventh Generation, Gardener's Supply) bought out Higher Ground cofounder Kevin Statesir and assumed co-ownership of the nightclub with Alex Crothers. As from an oddly controversial new logo, the average fan probably hasn't noticed much of a change at the club, as Newman's work has mostly been behind the scenes to this point. But given his track record, especially with Magic Hat, it will be interesting to see if and how Newman makes his mark on the area's marquee live-music spot in 2017.
In March, local filmmaker Bill Simmon finally premiered his long-awaited documentary on beloved 1990s Burlington rockers the Pants, High Water Mark: The Rise & Fall of the Pants. After 10 years in the making, the flick debuted with a screening and concert at the Higher Ground Ballroom, featuring Pants front man Tom Lawson and an all-star cast of local guest musicians. Both the film and the concert were wonderful. And I'm not just saying that because I'm in the movie or because Swale — which includes my brother — served as the house band for the show. If you were a product of the 1990s rock scene in BTV, or have just been curious about that era, do yourself a favor and check out the film.
In April, tragedy struck with the unexpected death of local rapper and DJ Ryan Morin, aka BP. Morin's reach extended well beyond the hip-hop scene, and his passing reverberated throughout the greater Burlington community. As his UnKommon partner Kin told me, "You've never seen so many tough guys crying and hugging each other as you have since Ryan died. There's a lot of sad rappers in this town right now."
Indeed there were. But 2017 may offer a little bit of solace to Morin's friends and fans. His old bandmates, the Aztext, are working on a new album of material to be released as the Aztext Family. In addition to original Aztext members Pro and Learic, the family also includes rappers Kin and Truth, songwriter Jamie Bright, and Morin's brother, drummer Ross Lincoln. Look for that album next year. We miss you, Ryan.
In May, the cool kids from Waking Windows Presents opened festival season in Vermont with Waking Windows 6, the biggest and best edition of the annual Winooski music festival to date. In short, the fest was astonishing, featuring a savvy blend of big-name favorites (YACHT, Waxahatchee, Speedy Ortiz), cutting-edge up-and-comers (Hop Along, Arc Iris) and other locals (like, all the local bands). The second edition of WW in Portland, Maine, in October was also a success.
Also in May, BTV expat and Rubblebucket founder Alex Toth teamed up with famed indie-pop songwriter Kimbra for an extravagant multimedia tribute to Bowie, "Farewell, Starman: The Music of David Bowie Re-imagined." Held at the ECHO Leahy Center for Lake Champlain, it was, simply put, one of the two or three best shows of the year in Vermont.
In June, the massive skate park on the Burlington waterfront was officially dedicated to the late, great DJ, artist and skater Andy "A-Dog" Williams. Not only that, but skating legend Tony Hawk made a surprise appearance to shred the new park in front of hundreds of revelers. We miss you, Andy.
Also in June, noble local do-gooder Big Heavy World celebrated its 20th anniversary. Undoubtedly, some volunteers working for BHW right now hadn't yet been born when Jim Lockridge founded the nonprofit. That blows my mind — and makes me feel really old.
Also in June, the Burlington Discover Jazz Festival gave us yet another great 10 days of jazz, funk, soul and reggae. Also on the short list for best shows of the year: Randy Newman's headlining solo show at the Flynn MainStage.
In August, another beloved 1990s-era Queen City band reunited: Envy. I'm biased, because I heart them as much as I do the Pants, but the band's set at the Monkey House was probably my favorite local-music moment of the year.
Also in August, Montpeculiar hot spot Charlie-O's World Famous — aka the greatest bar in the world — celebrated its 40th anniversary.
In September, fans faced perhaps the greatest dilemma in Vermont music history: whether to check out Madaila on Main, the unprecedented street festival hosted by the neon-clad psych-pop phenoms, which closed down one of Burlington's busiest streets; or to go to the Champlain Valley Fair in Essex Junction to see Vanilla Ice, Salt-N-Pepa and Young MC, among several other '90s hip-hop throwbacks. Fortunately, both shows were great, so it was impossible to make a bad choice.
Later that month, Grace Potter again held Grand Point North, her end-of-summer bash at Burlington's Waterfront Park. As per usual, it was a blast.
October saw still more band reunions. In Stowe, acclaimed 1990s acid-hop greats Belizbeha rocked a two-night run at the Rusty Nail in Stowe. And though it received far less fanfare — perhaps because the band only stopped playing three years ago — Montpelier surf-metal outfit the Concrete Rivals reconvened for a show at Charlie-O's.
In November ... You know what? Fuck November.
In December, iconic Burlington venue 242 Main closed its doors, ending a 30-year run as the oldest all-ages punk club in the country. In celebration, the club hosted a daylong punk and hardcore blowout featuring some of the finest bands from the local heavy-music scene past and present.
Though the future of the club is uncertain, there's a push to save the space and preserve the club's legacy. A documentary on 242 is in the works, helmed by — who else? — local filmmaker Simmon. Look for updates on both in the months to come.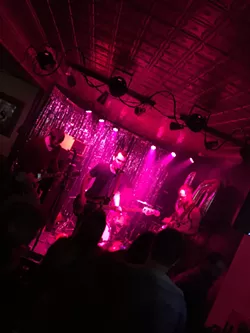 Finally — and to end on a positive note — in December the Monkey House celebrated its 10-year anniversary as the hippest, funnest and bestest live-music hot spot in Winooski. Point of order: Yes, the bar has been open longer than 10 years. But a decade ago current owner Ryan Smith bought the joint and helped turn it into a haven for underground rock.
The daylong celebration at the Monkey was another of the year's live-music highlights, featuring a slew of favorite current acts. It also featured the return of one of the most explosive local live bands of the past 10 years, In Memory of Pluto. Well, mostly.
Unfortunately, IMOP front man Seth Gallant blew out the radiator in his car on the way to the show from Maine. Undeterred, IMOP played anyway, with bassist Zach Jandl filling in on lead vocals. And lemme tell ya, he absolutely crushed it. Those who only know Gallant from his mellow solo material might now realize what a dynamo the man was with IMOP. For Jandl to step in and not only nail all of the vocals but do so with such unbridled energy and force was remarkable. Hats off.
Here's hoping 2017 has a few more surprises like that one in store for us. I think we're gonna need them.
Listening In
A peek at what was on my iPod, turntable, eight-track player, etc. this week. Follow sevendaysvt on Spotify for weekly playlists with tunes by artists featured in the music section.
Alex Izenberg, Harlequin
The Rolling Stones, Blue & Lonesome
The King's Singers, King's Singers Christmas
Various Artists, A Colbert Christmas: The Greatest Gift of All!
Dean Martin, The Dean Martin Christmas Album